Miller looks to keep NL Central lefties in check
First, new St. Louis closer has eventful spring debut vs. Astros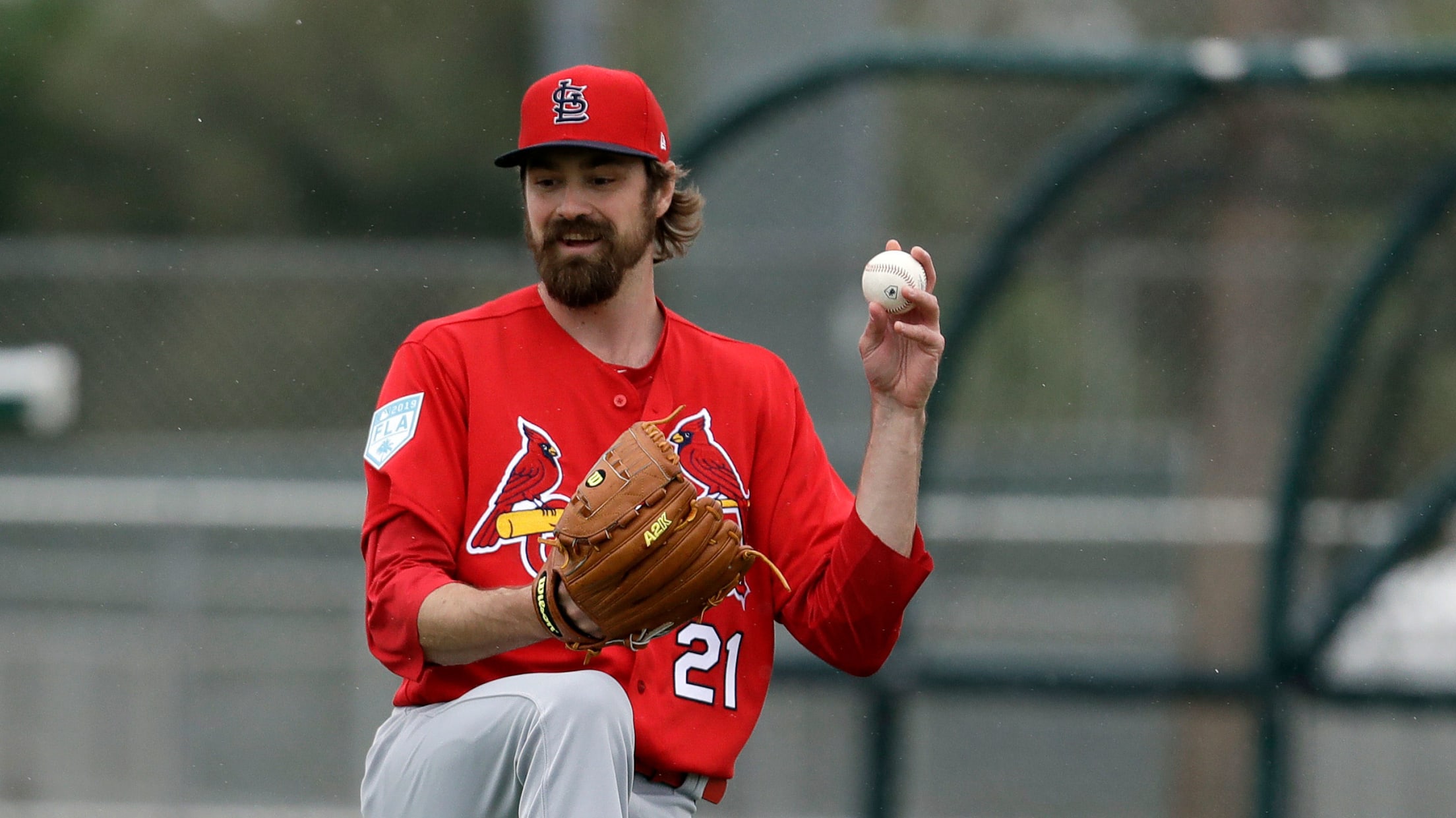 WEST PALM BEACH, Fla. -- If Andrew Miller had any questions about why the Cardinals, seemingly so deep in pitching talent, were targeting a 13-year veteran to anchor their bullpen, he found the answer within their sales pitch. The club had plenty to offer Miller, from a multiyear deal to
WEST PALM BEACH, Fla. -- If Andrew Miller had any questions about why the Cardinals, seemingly so deep in pitching talent, were targeting a 13-year veteran to anchor their bullpen, he found the answer within their sales pitch.
The club had plenty to offer Miller, from a multiyear deal to its storied history to the chance to join a team built to win now. President of baseball operations John Mozeliak also presented Miller with a challenge: Come compete against the best.
Coming off a season in which their lefty relief was serviceable, at best, the Cardinals targeted Miller largely because of how exposed they had been in their own division, where some of the game's most formidable left-handed bats loom.
Milwaukee's Christian Yelich padded his National League Most Valuable Player Award-winning resume with a .650 slugging percentage against the Cardinals in 2018. Chicago's Anthony Rizzo finished with a 1.149 OPS in 19 games. Cincinnati's Joey Votto boasted a .451 on-base percentage versus them.
Pitch around any of those left-handed bats and you may just have to face another, the likes of Mike Moustakas, Scooter Gennett, Kyle Schwarber or Gregory Polanco.
Enter Miller, the man St. Louis signed to be the kryptonite.
"We knew we needed to be able to equalize and thwart the lefties we're going to see," manager Mike Shildt said. "In our division, there's two to four to five guys you have to game-plan for an execute with, so Andrew's ability to do that is a weapon."
Miller's done it for years, most successfully during his run through Boston, New York and Cleveland. Along the way, he distinguished himself as one of the stingiest left-handers in the game. And yet, this next challenge will have some newness to it.
Andrew Miller is getting ready for his #STLCards debut! 🔥 pic.twitter.com/h04ifxHKoP

— St. Louis Cardinals (@Cardinals) March 1, 2019
An American League pitcher since 2010, Miller has limited experience against the National League Central's most feared left-handed bats. He faced Rizzo four times in the 2016 World Series but otherwise has a sample size of eight regular-season at-bats against him, Yelich and Votto. Against Miller, the three have combined for one extra-base hit.
The opportunity for a new challenge in his age-34 season was part of what drew Miller to St. Louis.
"I think you always want to face the best," Miller said following the team's 4-4 tie against the Astros on Friday. "When I went from Boston to New York, I couldn't wait to face David Ortiz. … You don't get a whole lot of credit or praise for getting guys out that you should get out. It's when you step up and get the big names out."
Unscripted but welcomed, Miller had an opportunity to face three left-handed hitters in his spring debut at FITTEAM Ballpark of the Palm Beaches. The first, Tony Kemp, took Miller's first pitch as a Cardinal and lined a single to right. It was the start of what turned into a complicated inning for Miller, who exited with the bases loaded and two outs.
In between, he walked one, hit another, threw a wild pitch and stuck out Carlos Correa swinging through a 94 mph fastball.
"In some sense, I'd like to have results," Miller said. "I'd love to have a three-up, three-down, [a] three-strikeout inning, whatever. But the main thing is I'm trying to get better in Spring Training. I'm not necessarily pitching like I will in a game.
"It's a good place to start."