Miller not available in win due to back stiffness
Lefty to be reevaluated Sunday, but is confident he can pitch in series finale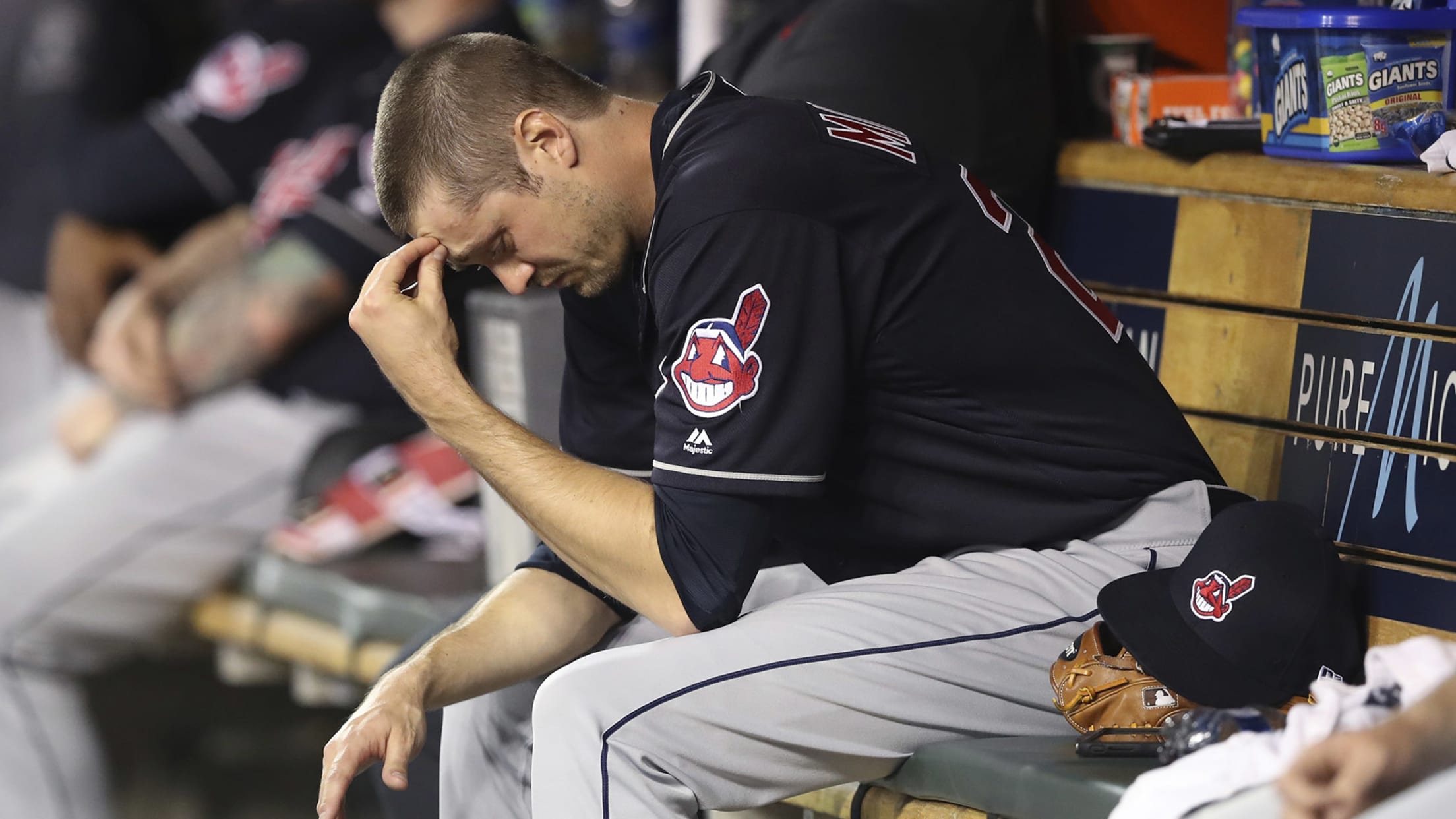 Cleveland Indians relief pitcher Andrew Miller sits in the dugout after being removed, having given up a bases-loaded walk during the seventh inning of a baseball game against the Detroit Tigers, Tuesday, May 15, 2018, in Detroit. (AP Photo/Carlos Osorio) (Carlos Osorio/AP)
HOUSTON -- Just as he was feeling fully recovered from the hamstring strain that kept him out of action for three weeks, Andrew Miller found himself sidelined again -- though this time, he's confident it's temporary.Miller, one of the cogs of the back end of the Indians' bullpen, was not
HOUSTON -- Just as he was feeling fully recovered from the hamstring strain that kept him out of action for three weeks, Andrew Miller found himself sidelined again -- though this time, he's confident it's temporary.
Miller, one of the cogs of the back end of the Indians' bullpen, was not available during Saturday's game in Houston due to back stiffness. The left-hander felt it lock up on him Friday after he went through his normal pregame routine, though he can't pinpoint any particular movement that caused the stiffness.
"It's frustrating," Miller said after the Tribe's 5-4 win over Houston. "I did all the pregame stuff fine. It just really locked up on me. I got treatment and it responded well. I think the smart thing was not to be out there today."
Miller will be reevaluated on Sunday. He's confident he'll be available to pitch in the finale in Houston, a night game that will be nationally televised on ESPN.
"I have to be good enough to go out and compete, and I think [Sunday] will be the day," he said.
Miller doesn't believe that the back stiffness is somehow related to the hamstring malady, but he admitted to being exasperated that a nagging ache appeared as soon as he seemed to be past the first one.
"I'm kind of going nuts," he said. "I'm frustrated. I have to get better."
Manager Terry Francona seemed resigned to the wait-and-see mode.
"If he gets out there [Sunday] and feels good, that would be great," he said. "You can bet if you see him pitching, he feels really good."