Miller begins rehab assignment at Triple-A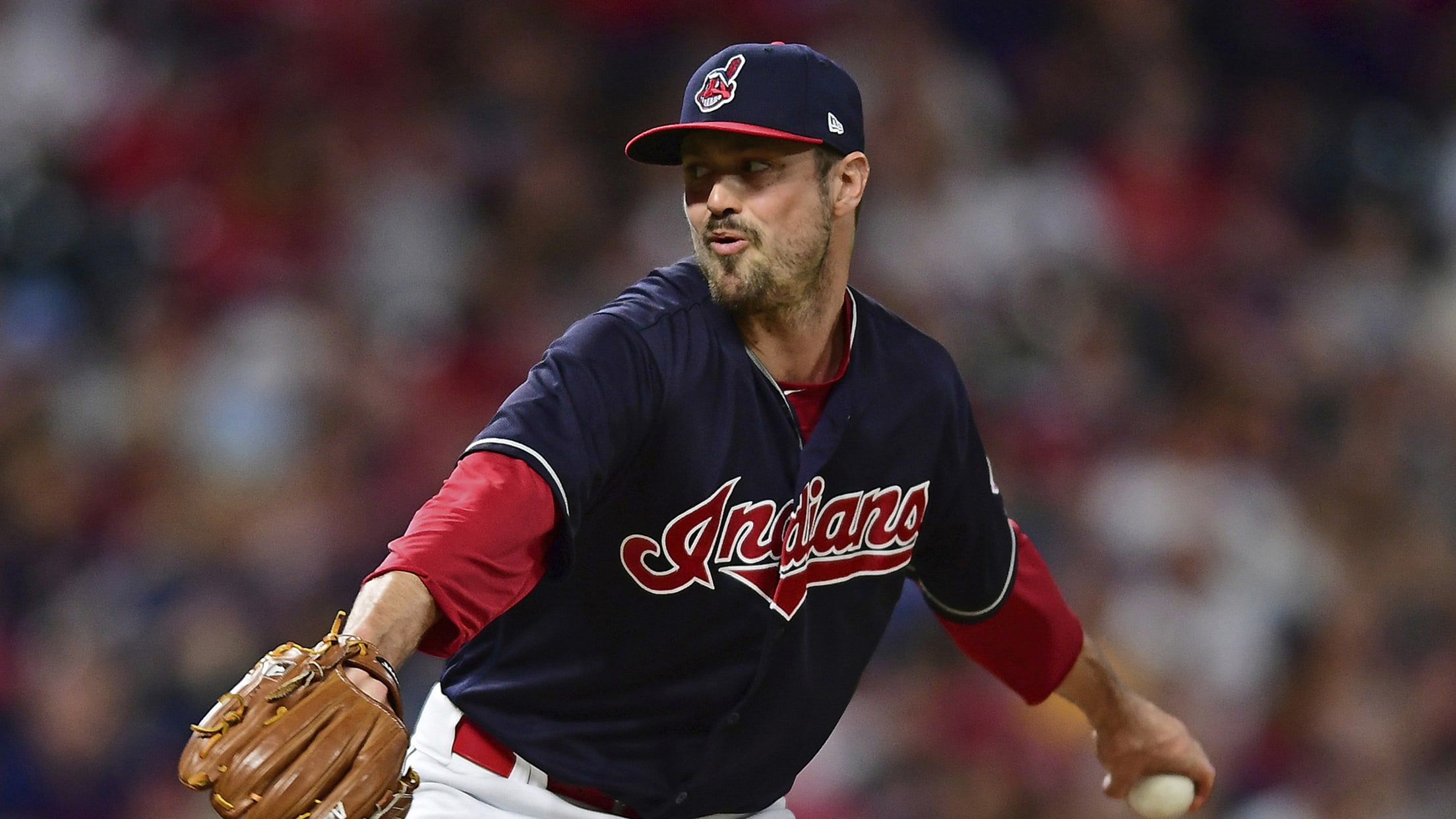 Cleveland Indians relief pitcher Andrew Miller delivers in the seventh inning of a baseball game against the Houston Astros, Friday, May 25, 2018, in Cleveland. The Astros won 11-2. (AP Photo/David Dermer) (David Dermer/AP)
CLEVELAND -- Indians relief ace Andrew Miller is one step closer to a return from the disabled list with the possibility of a comeback early in the second half, manager Terry Francona said Sunday.Miller, who's been on the 10-day DL since May 26 with right knee inflammation, is scheduled to
CLEVELAND -- Indians relief ace Andrew Miller is one step closer to a return from the disabled list with the possibility of a comeback early in the second half, manager Terry Francona said Sunday.
Miller, who's been on the 10-day DL since May 26 with right knee inflammation, is scheduled to begin a Minor League rehab assignment with Triple-A Columbus on Tuesday, the same day as the All-Star Game presented by Mastercard (7:30 p.m. ET on FOX) in Washington. Francona said the left-hander could split time between the Clippers and Double-A Akron.
"We're trying to keep him around here," Francona said before the Tribe's first-half finale against the Yankees. "I believe at some point he'll be back in Akron, but I don't have the exact date. He'll kind of flip-flop [with] whoever's home."
Miller threw live batting practice in Akron on Saturday, which Francona said went well, and the lefty has thrown four bullpen sessions since July 5. Francona said Miller's delivery was affected by the injury.
Francona didn't give a specific timeframe for Miller's return, but said it'll likely take multiple rehab games before Miller is evaluated for a return.
"We're not just going to have him pitch once," Francona said. "He's going. But just watching him the other day, that back leg was back up in the air again. And he wasn't flying off of that. It was really exciting to watch that."
Miller is 1-3 with a 4.40 ERA in 17 games this season. He was on the DL from April 26 to May 10 with a left hamstring strain. The two-time All-Star has appeared in 100 games for the Tribe since coming over from the Yankees in 2016, posing a 1.87 ERA while averaging 13.9 strikeouts per nine innings.
Mejia optioned
The Indians announced after their 5-2 win over the Yankees that catcher/outfielder Francisco Mejia was optioned to Triple-A Columbus. Francona indicated on Saturday when Mejia was called up that he would be sent back down to the Minor Leagues to continue playing during the All-Star break. Mejia, the Tribe's top prospect, is also ranked as the No. 15 overall prospect in the game and the top catching prospect, according to MLB Pipeline. He went 0-for-2 with two walks in Saturday's 5-4 loss and did not play Sunday.
Worth noting
Francona said Astros manager AJ Hinch -- the American League skipper for the Midsummer Classic -- has informed him that Trevor Bauer, who started Sunday, will only appear in the All-Star Game if the contest goes into extra innings. Hinch also said Jose Ramirez will play five innings as the starting third baseman, while reserves Francisco Lindor, Michael Brantley and Yan Gomes will likely appear after the fifth. Right-hander Corey Kluber withdrew from the game after receiving a gel injection in his right knee on Friday.
Gomes was named to the team during Saturday's loss to New York. He's the replacement for Rays backstop Wilson Ramos, who's expected to go on the 10-day DL with a left hamstring strain after sustaining the injury against the Twins over the weekend.
Francona, a three-time All-Star manager, was thankful for the gesture.
"For [Hinch] to take the time was really good," Francona said. "I was very appreciative."
Casey Harrison is a reporter for MLB.com based in Cleveland.