Andujar, Soto named game's top rookies in June
Young Yankees, Nats stars display elite power en route to Rookie of the Month honors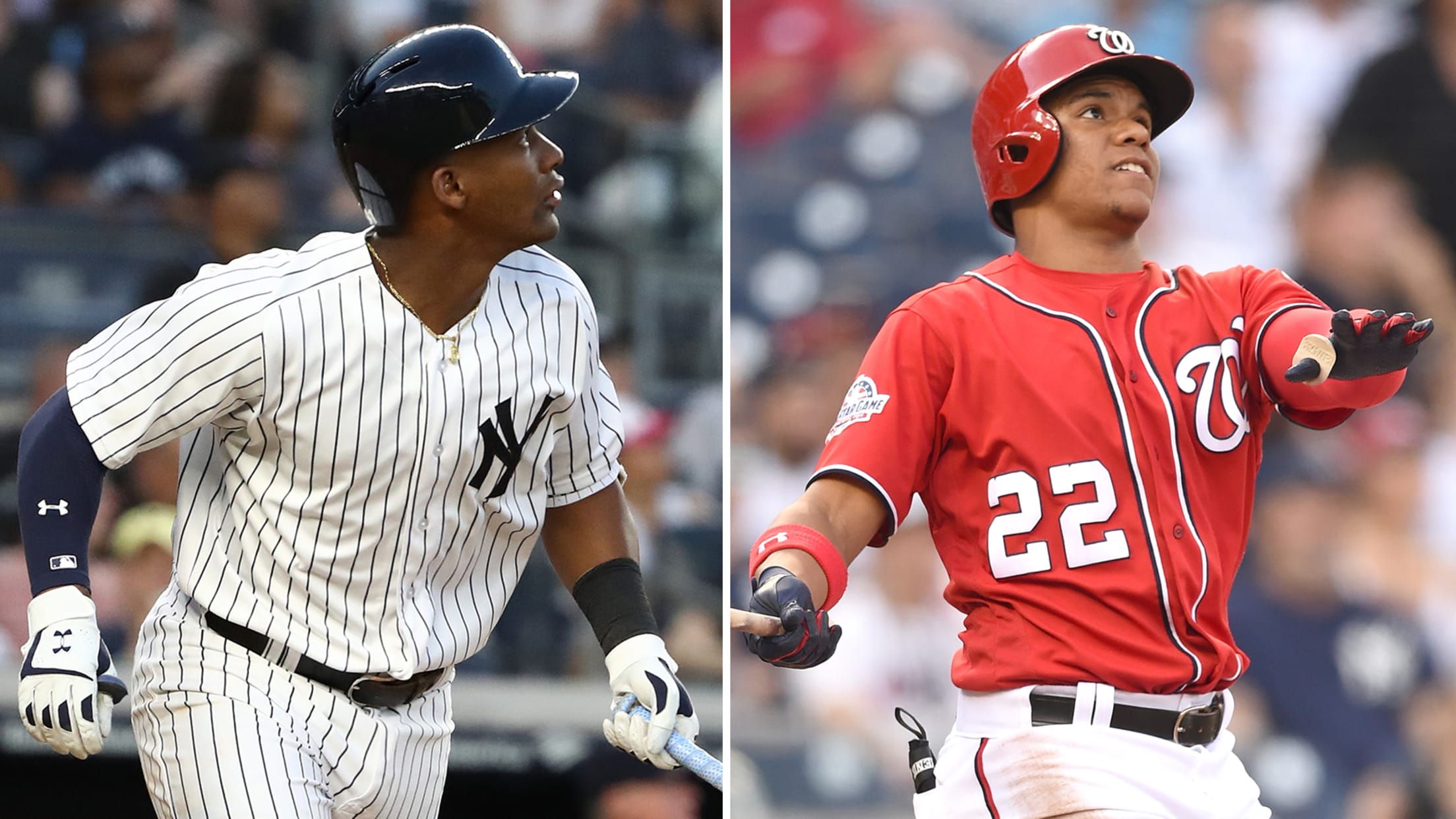 Few would have pointed to Miguel Andujar and Juan Soto before the season began as integral players to the fortunes of the Yankees and Nationals. But as the 2018 campaign passes through its midpoint, it's safe to say both contenders are delighted to have those youngsters in tow.Having already made
Few would have pointed to Miguel Andujar and Juan Soto before the season began as integral players to the fortunes of the Yankees and Nationals. But as the 2018 campaign passes through its midpoint, it's safe to say both contenders are delighted to have those youngsters in tow.
Having already made some history this summer, Andujar and Soto checked off another box Monday, when Major League Baseball announced the young stars as the American and National League Rookie of the Month Award winners, respectively, for June. Andujar is the second straight Yankees rookie to take home the honor after Gleyber Torres did so in May, while Soto is the first Nationals player to claim the award since Trea Turner in September 2016.
• All-time winners: Rookie of the Month
The 23-year-old Andujar paced all freshmen with seven home runs in June and tied Reds rookie outfielder Jesse Winker with 20 RBIs while slashing .264/.302/560. Andujar tallied seven mult-hit games in June as he continued to solidify his status as the Yankees' starting third baseman. The rookie came up big in the Yankees' series-opening victory against the Red Sox on Friday, when he tallied three hits, including a homer off Boston starter Eduardo Rodriguez.
Andujar's 38 extra-base hits ranked as the third-most by a Yankees player through his first 70 career games, behind only Joe DiMaggio (51) and Bob Meusel (43).
"From the beginning, the mentality has been to come here and do your job," Andujar said on Friday. "Stay positive, enjoy the game, and at the end of the day, just do your job. Is [having an impact so quickly] a surprise? I can't say that I'm completely shocked because of all the work that I've been putting in."
Soto, meanwhile, is in the midst of compiling one of the best seasons by any teenager in Major League history after his callup in mid-May. The 19-year-old emerged as one of the most consistent hitters in the Nationals' star-studded lineup, slashing .317/.440/.610 to compile a 1.050 OPS that ranked ninth among all players -- rookie or otherwise -- with at least 100 plate appearances in June. Perhaps the most impressive feature of Soto's game thus far is his power to all fields, as the rookie has knocked 11 of his 17 extra-base hits to the opposite field.
"I think we're all amazed every single day," Nationals ace Max Scherzer recently said of Soto. "He's got some antics. He's got some flair. He's a great young player."