Halos go on pitching run on Day 2 of Draft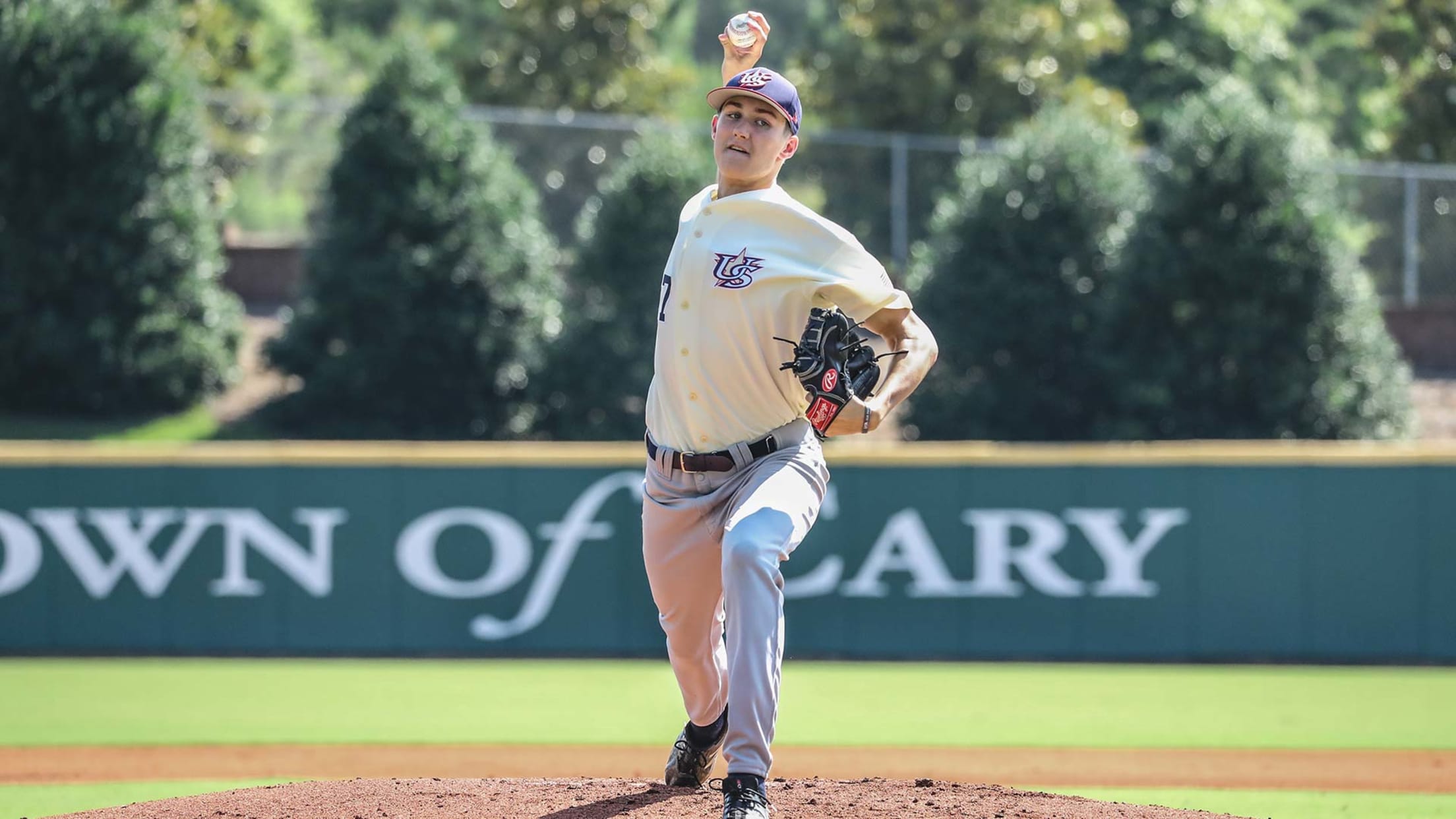 ANAHEIM -- Much like last season when the Angels drafted a run of eight pitchers on Day 2 of the Draft, the Halos selected eight pitchers again in rounds 3-10 on Tuesday, including highly touted third-rounder Jack Kochanowicz from Harriton High School in Pennsylvania. The Angels didn't draft a position
ANAHEIM -- Much like last season when the Angels drafted a run of eight pitchers on Day 2 of the Draft, the Halos selected eight pitchers again in rounds 3-10 on Tuesday, including highly touted third-rounder Jack Kochanowicz from Harriton High School in Pennsylvania.
The Angels didn't draft a position player on Day 2, but fourth-rounder Erik Rivera is a two-way player from Puerto Rico. Rivera has an intriguing left-handed bat with power and could profile in right field, but the Angels also plan to see what he has as a raw left-handed pitcher as well. It's similar to what they've done at the Minor League level with players such as Jared Walsh, Kaleb Cowart, Bo Way and William English.
• Angels draft shortstops Wilson, Paris on Day 1
The Angels went with a slew of college pitchers with high strikeout totals, as Kochanowicz and Rivera were their only two selections from the prep ranks on Day 2.
The Draft concludes on Wednesday, with exclusive coverage of Rounds 11-40 on MLB.com beginning at 9 a.m. PT. Here's a look at the Angels' eight selections on Tuesday:
Round 3: Jack Kochanowicz, RHP, 18, Harriton High School (Pa.)
The headliner is Kochanowicz, as the 6-foot-6 right-hander is ranked as the No. 75 overall prospect by MLB Pipeline, but was taken with the No. 92 overall selection. The Angels are likely going to need to go over slot to sign Kochanowicz, who is committed to pitch at the University of Virginia. The selection has a value of $637,600.
Kochanowicz is projectable, as he has size that allows him to get downhill action on his fastball that tops out at 95 mph, to go along with a mid-70s curveball and a developing changeup. He also repeats his mechanics and delivery well, especially for his height.
Round 4: Erik Rivera, LHP, 18, Puerto Rico Baseball Academy
Rivera is an interesting prospect because of his ability to hit for power offensively, to go along with a fastball that touches 95 mph as a pitcher. There is concern about his ability to make contact offensively and he's still developing offspeed pitches on the mound. The Angels, though, see value in two-way players, especially after Shohei Ohtani's breakout rookie season in 2018. He's committed to Florida International.
Round 5: Garrett Stallings, RHP, 21, University of Tennessee
Stallings, at 6-foot-2, 200 pounds, is more about polish than stuff, as he lacks a true plus pitch but commands all of his pitches well. His fastball maxes out at 93 mph, but he uses it well with his changeup and has improved his curveball. He led the Vols with 102 2/3 innings, posting a 3.33 ERA with 106 strikeouts and just 16 walks.
Round 6: Zach Peek, RHP, 21, Winthrop University
Peek, a 6-foot-3, 190-pounder struggled a bit in his junior year, posting a 4.02 ERA, but he led the Big South Conference with 91 strikeouts in 87 1/3 innings. He holds his velocity well during starts with a low-90s sinker and a harder four-seam fastball, to go with his curveball and changeup. His curveball was a bit inconsistent this year, but he has a clean delivery from a three-quarters arm slot.
Round 7: Davis Daniel, RHP, 21, Auburn University
Daniel threw just two innings this season, as he underwent Tommy John surgery in April. But before the injury, Daniel saw his fastball sitting in the 89-93 mph range to go with his curveball and changeup. He also has experience as a reliever, and he has seen his velocity reach as high as 97 mph in shorter stints. He struck out 70 batters in 66 2/3 innings in his last full season at Auburn, so the stuff is there. But now it's about how the 6-foot-1,190-pounder returns from the operation, which will keep him out of action until next summer.
Round 8: Kyle Brnovich, RHP, 21, Elon University
Like Stallings, Peek and Daniel, Brnovich has swing-and-miss stuff, as he's one of only two NCAA Division I pitchers -- Rice's Matt Canterino being the other -- to reach triple digits in strikeouts in each of the last three seasons.. He also led all Georgia high schoolers with 135 strikeouts in 72 innings as a senior in 2016. In 2018, he set a school record with 147 strikeouts in 105 innings, and he followed that up with 110 strikeouts in 86 innings as a junior this season. His best pitch is his knuckle-curve at 82-85 mph to go with a fastball that's in the 88-91 mph range. The 6-foot-2, 190-pounder could be headed to a relief role, as he has trouble with his delivery and fastball command.
Round 9: Zach Linginfelter, RHP, 22, University of Tennessee
Linginfelter is likely a reliever at the professional level with a fastball that has touched 95 mph and a solid slider. He was drafted by the Nationals in the 19th round after his sophomore year last season but didn't sign. The 6-foot-5, 225-pounder posted a 5.64 ERA with 71 strikeouts in 68 2/3 innings with Tennessee as a junior.
Round 10: Chad Sykes, RHP, 23, UNC Greensboro
Sykes is the lone college senior drafted by the Angels in the first 10 rounds, which should allow them to save money to spend on other players such as Kochanowicz. The reliever had an impressive redshirt senior season, leading all of NCAA Division 1 pitchers with a minuscule 0.96 ERA. He struck out 68, walked 22 and allowed one homer in 56 innings as the club's closer, while recording 11 saves. He also set a school record with at least one strikeout in 65 straight appearances. The 5-foot-11, 180-pounder's velocity hovered around 90-94 mph this season.