Wilson shut down with left biceps tendinitis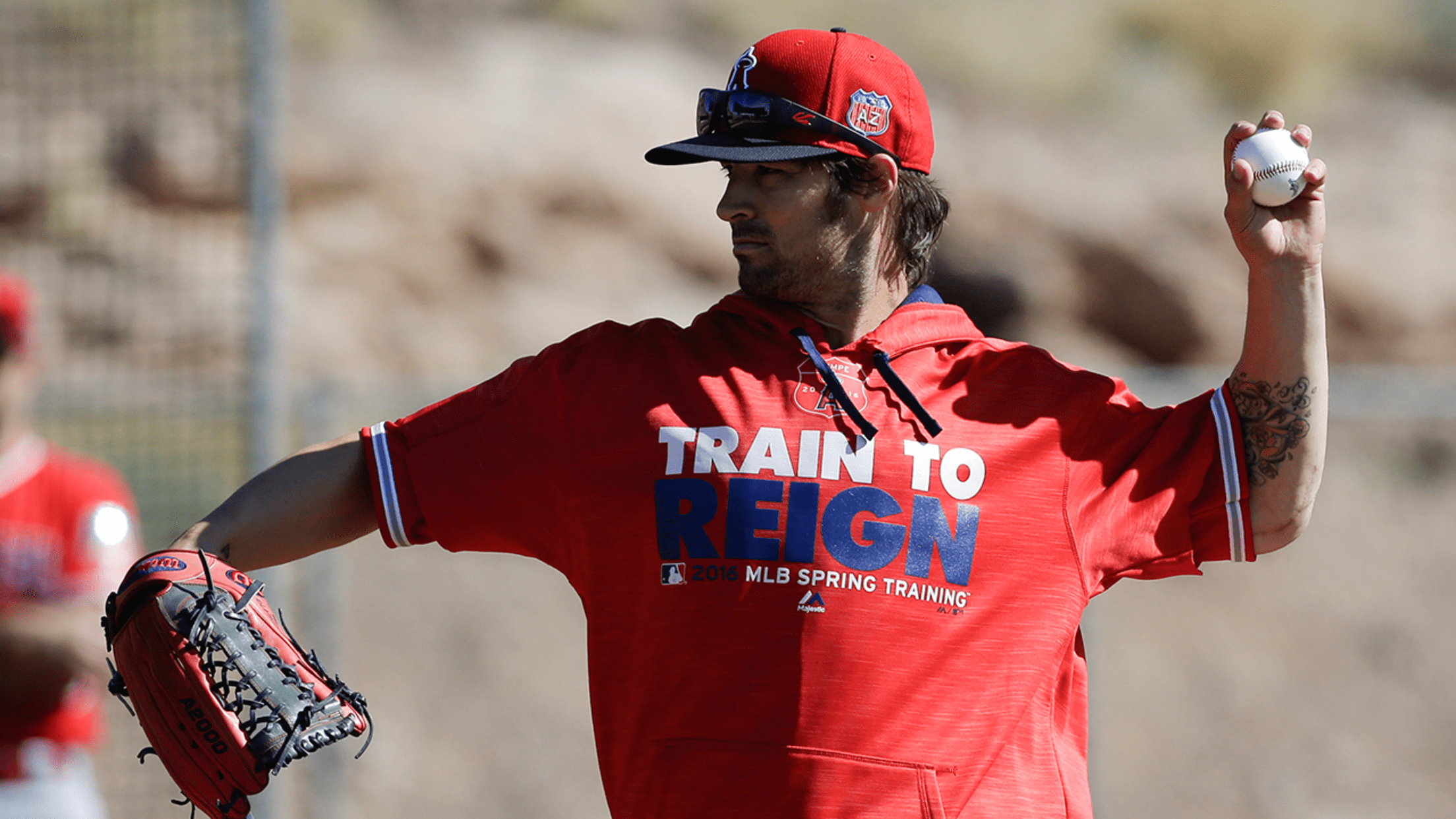 C.J. Wilson felt tightness in his left biceps during a bullpen session on Saturday. (AP)
ANAHEIM -- Just as it looked like he was nearing his Major League return, Angels left-hander C.J. Wilson has hit a setback.The veteran lefty, who made his first rehab start with Class A Advanced Inland Empire on May 25, has been shut down for a week, the team announced after
ANAHEIM -- Just as it looked like he was nearing his Major League return, Angels left-hander C.J. Wilson has hit a setback.
The veteran lefty, who made his first rehab start with Class A Advanced Inland Empire on May 25, has been shut down for a week, the team announced after Saturday's 4-2 loss. Wilson threw a bullpen session on Saturday and experienced some tightness in his left biceps. He was diagnosed with left biceps tendinitis.
"[It was] awful," Wilson said Sunday of the bullpen session.
Wilson, 35, was slated to make his second rehab start with Triple-A Salt Lake on Monday. He was on track to return in the coming weeks if all went well with his rehab starts. Wilson has not pitched in the Major Leagues since July 28, and has been on the 60-day disabled list with left shoulder tendinitis.
Angels manager Mike Scioscia said he's not sure if Wilson will require an MRI, though Wilson said the soonest one could occur would be Tuesday.
"I'm doing everything I can to get back," Wilson said. "It's not a linear process."
After a week of rest, the organization will determine the next step in Wilson's rehab. He was previously shut down from throwing during Spring Training, but had made solid progress in the last month and appeared on track to come off the 60-day DL in June. Now, the timetable is up in the air as to when, or if, Wilson will pitch in the Majors this season.
"I can pitch, but at what level? A competitive level to help the starting rotation? I don't know," Wilson said. "That's not the point. The point is that I'm going for it. The point isn't what I think is going to happen, it's that I'm trying."
The 35-year-old is in the final season of a five-year deal with the Angels. Wilson said he's doing his best to limit himself to what he can control within his rehab.
"I have not been presented with a scientific process on how this is supposed to work or going to work," he said. "I'm just going out there and taking the advice that I get and trying to push my body as far as it can go."
Worth noting
• Scioscia said closer Huston Street came out well from his one-inning, 20-pitch extended spring training outing on Saturday. Scioscia added that Street, who is recovering from a strained left oblique, could be activated from the 15-day disabled list before Monday's game, though he might need another rehab assignment in the Minors.
Fabian Ardaya is a reporter for MLB.com based in Anaheim.