Lucroy DFA'd as Angels clear space for Stassi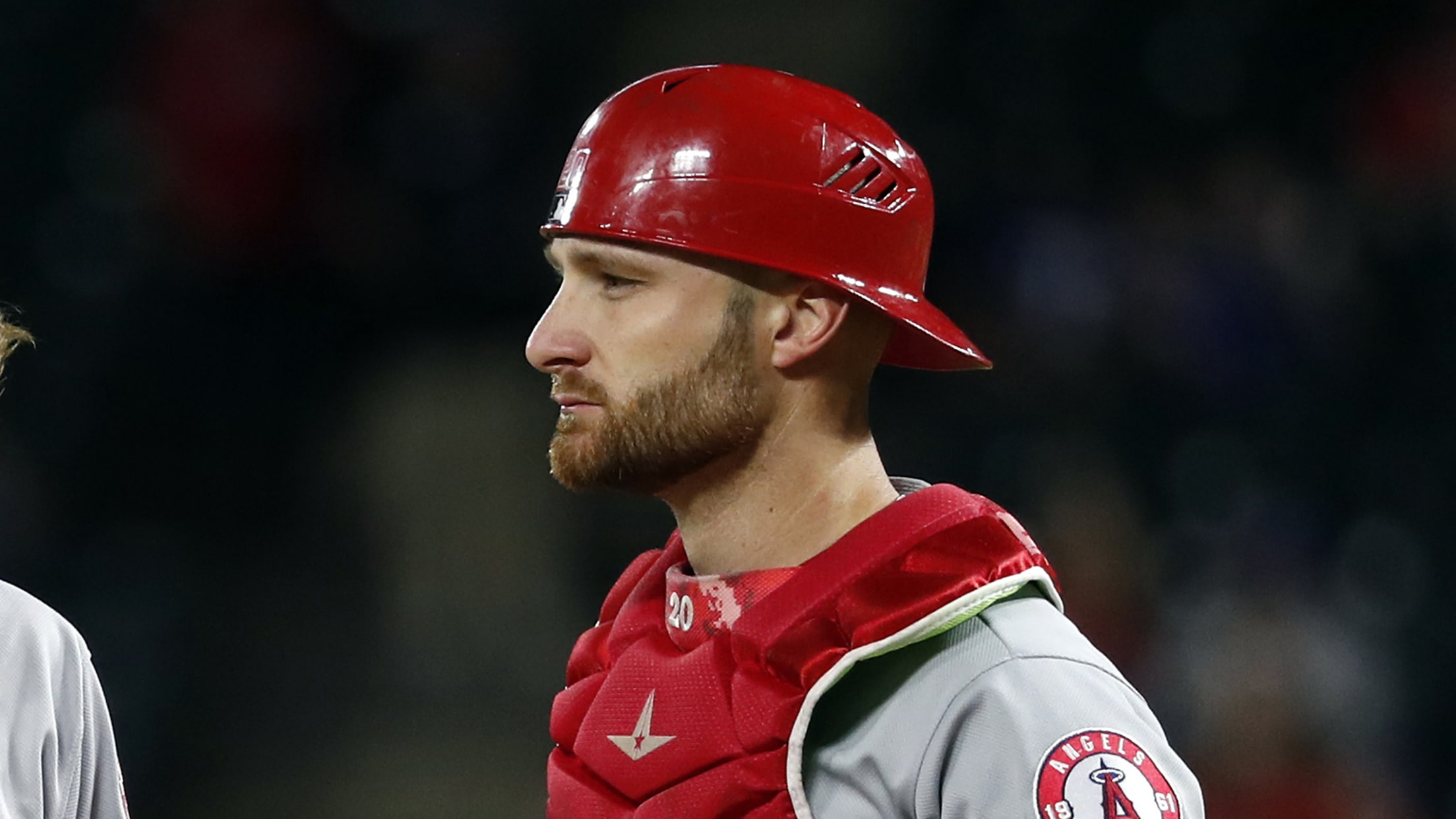 CLEVELAND -- The Angels made room for their newest catching acquisition, Max Stassi, by designating their primary backstop, Jonathan Lucroy, for assignment prior to Friday's three-game series opener against the Indians. Stassi went 0-for-2 in his first start with Los Angeles, a 7-3 defeat. Lucroy had just returned from the
CLEVELAND -- The Angels made room for their newest catching acquisition, Max Stassi, by designating their primary backstop, Jonathan Lucroy, for assignment prior to Friday's three-game series opener against the Indians. Stassi went 0-for-2 in his first start with Los Angeles, a 7-3 defeat.
Lucroy had just returned from the injured list earlier this week. The veteran catcher was slashing .242/.310/.371 with seven homers and 30 RBIs in 74 games for the Angels this season prior to the move.
"When you've got to give bad news to people you like, it's not a lot of fun," manager Brad Ausmus said.
Lucroy was signed by the Angels to a one-year deal prior to the 2019 campaign. His impending free agency played some role in the roster decision.
"[Stassi and backup catcher Kevan Smith] have a few years of control," Ausmus said. "It's a move looking at the future, as well as today."
When a player's contract is designated for assignment -- often abbreviated "DFA" -- that player is immediately removed from his club's 40-man roster, and 25-man roster if he was on that as well. Within seven days of the transaction (it was previously 10 days), the player must either be traded, released or placed on irrevocable outright waivers.
The other main factor was Stassi's superb defensive ability.
The 28-year-old catcher, who ranks fourth in strike rate (Statcast Catcher Framing Leaderboard), Statcast's catcher framing metric, was dealt to Los Angeles prior to Wednesday's Trade Deadline. The Angels sent Minor League outfielders Rainier Rivas and Raider Uceta to the Astros to complete the deal.
"We want to improve our pitching staff," Ausmus said. "Stassi is a good receiver."
Offensively, Stassi slashed just .167/.235/.211 in 98 plate appearances for the Astros this season. He owns a career OPS of .652 with 12 career homers in 163 big league games.
"I'm ready for that challenge of adjusting on the fly," Stassi said of acclimating himself to a new pitching staff. "That's kind of what I've done for my entire career. Being up and down from the big leagues to here, I've been in some big situations. I'm prepared and ready to go."
Luckily, Angels pitching coach Doug White served as the Astros' bullpen coach prior to this season. Stassi believes that familiarity will prove critical.
"He's brought a lot of insight to me," Stassi said. "He's going to be a huge help."
To make the transition even easier, Stassi didn't have to move to meet his new team. The Astros were playing in Cleveland prior to the trade, and Stassi was able to keep his same locker and hotel room while waiting for the Angels to make the trek to Progressive Field for the weekend's series.
"That was huge -- 100 percent," Stassi said with a giant smile. "You hear a lot of stories of guys getting traded. They're in Chicago, then they go to San Francisco. They show up in the sixth inning and pinch-hit. You get thrown in the lineup for a day game tomorrow. It's definitely made the transition easier."
In addition to Friday's moves, the Angels announced that left-handed pitcher Adam McCreery had cleared waivers and was outrighted to Triple-A Salt Lake.
Heaney update
Andrew Heaney (left elbow inflammation) successfully completed a bullpen session prior to Friday's game.
"All good," Ausmus said. "Hopefully there are no after side effects tomorrow."
The left-handed pitcher threw approximately 30 pitches, according to Ausmus. The team is still weighing the next step for the 28-year-old hurler. Their options include a simulated game or a Minor League rehab start.