Eppler reveals what he's seeking in next skipper
Angels' search for Scioscia's replacement already underway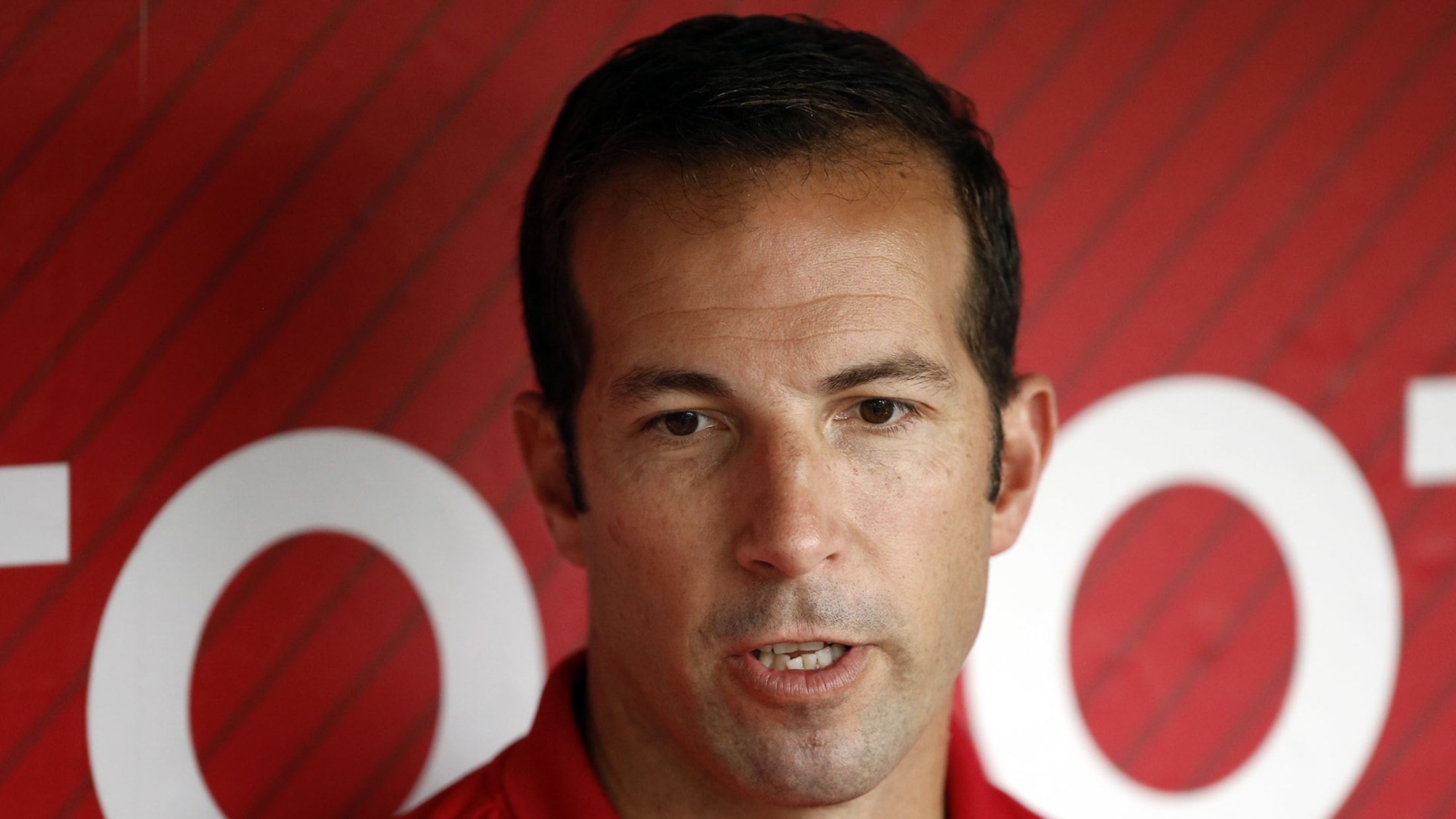 Los Angeles Angels general manager Billy Eppler talks with the media before a baseball gam against the Houston Astros in Anaheim, Calif., Monday, June 27, 2016. (AP Photo/Alex Gallardo) (Alex Gallardo/AP)
ANAHEIM -- The quest to find Mike Scioscia's successor is underway for the Angels.One day after Scioscia announced that he was stepping down after a 19-year run as the club's field boss, general manager Billy Eppler met with reporters to discuss the upcoming managerial search and describe the attributes he
ANAHEIM -- The quest to find Mike Scioscia's successor is underway for the Angels.
One day after Scioscia announced that he was stepping down after a 19-year run as the club's field boss, general manager Billy Eppler met with reporters to discuss the upcoming managerial search and describe the attributes he plans to prioritize as he sifts through potential candidates.
"What we're looking for in that next manager is connectivity with the players," Eppler said Monday. "We're looking for somebody who can think with a probability-based mindset. We're going to look for someone who is eager to grow and evolve. Someone that can develop a culture that will put the welfare of the team above any singular person. Those are the criteria that we're going to look for in our next manager."
How would Eppler define a "probability-based mindset"?
"Making decisions in-game tactically that tilt the win expectancy or the run expectancy in your favor," Eppler said.
Eppler said he expects the pool of contenders to include more external candidates than internal ones. Bench coach Josh Paul, third-base coach Dino Ebel and special assistants to the GM Brad Ausmus and Eric Chavez are among the current Angels personnel who will likely garner consideration for the job.
Of that group, only Ausmus has prior managerial experience in the Majors, which came with the Tigers from 2014-17. Eppler said that won't be a prerequisite for the position, though.
"It's not necessary," Eppler said. "But it's a factor that we'll look at. If that candidate had prior experience, [we'll look at] how that experience went, so on and so forth. We've seen managers with a lot of experience have a lot of success. We've seen managers that don't have experience have a lot of success."
Eppler said he hopes to begin interviewing candidates soon, though he didn't put a timeframe on when he'd like to have a new manager in place. Each contender's merits will be assessed during a lengthy interview that has already been developed by Eppler and his staff.
"We've set up an interview, and it's going to be a long one," Eppler said. "Some of it is going to involve some quantitative aspects, and some of it is going to involve some qualitative aspects. But we're going to try to peel back layers and identify the best candidate that we can."
While Eppler will now have the opportunity to pick a manager who is philosophically aligned with the Angels' front office, he praised Scioscia's work with the club and said he appreciated the chance to work alongside him for three years.
"He's been a lighthouse for this organization," Eppler said. "He's provided stability and direction when there was a lot of fog around and that's what lighthouses do, and that's how he was. I'm glad that I got an opportunity to be around him in what I think is a Hall of Fame career. He's a Hall of Fame manager, and I'm glad I got time with him."