Rotation hopeful Ramirez passes another test
Righty says arm 'felt normal' after throwing to hitters for 1st time since elbow injury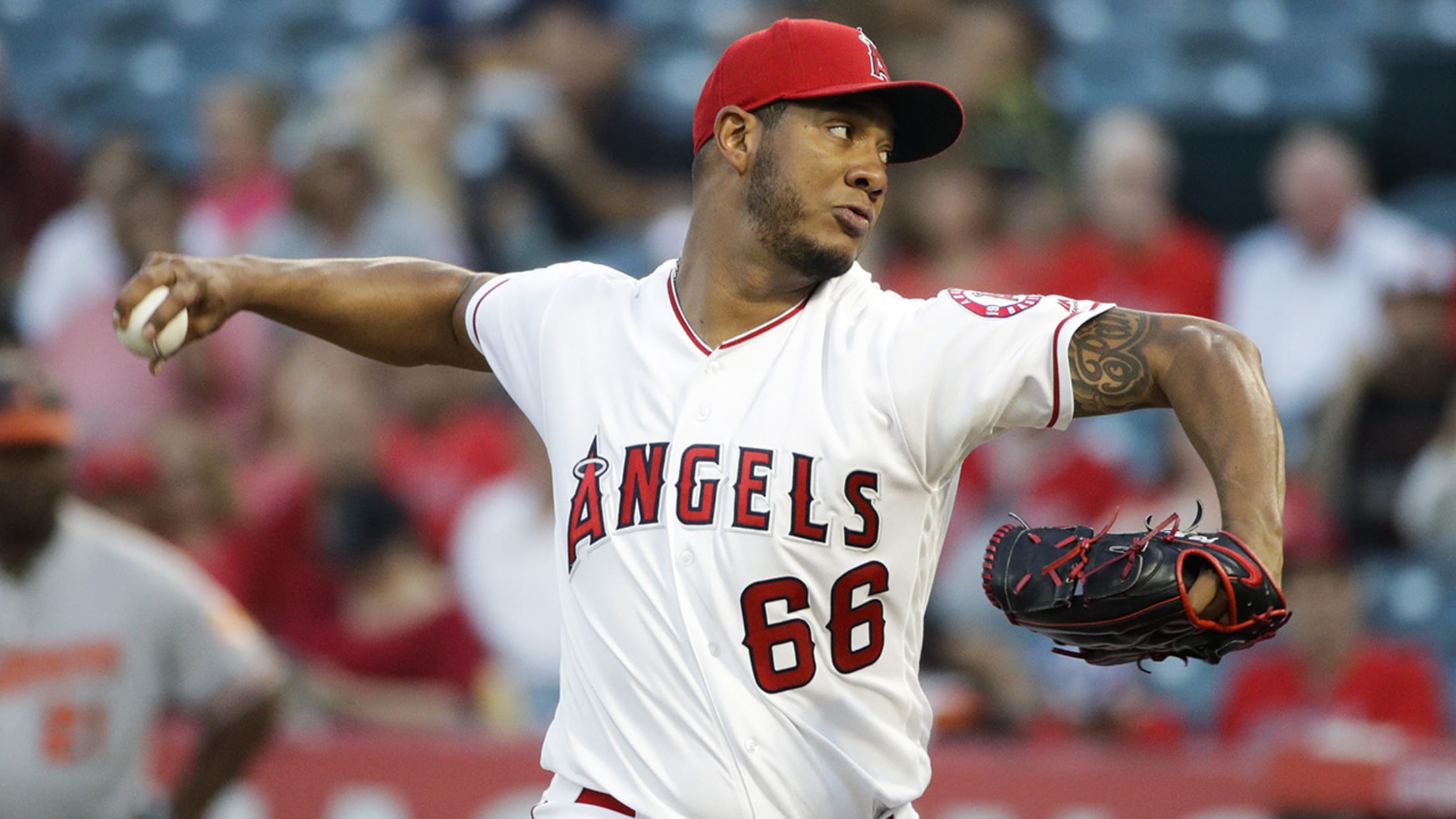 Los Angeles Angels starting pitcher JC Ramirez throws against the Baltimore Orioles during the first inning of a baseball game, Monday, Aug. 7, 2017, in Anaheim, Calif. (AP Photo/Jae C. Hong) (Jae C. Hong/AP)
TEMPE, Ariz. -- Angels right-hander JC Ramirez threw two simulated innings of live batting practice on Tuesday, marking the first time he's faced hitters since suffering an elbow injury in August."I felt normal, nothing in my arm," said Ramirez, who received a stem-cell injection last summer to help heal a
TEMPE, Ariz. -- Angels right-hander JC Ramirez threw two simulated innings of live batting practice on Tuesday, marking the first time he's faced hitters since suffering an elbow injury in August.
"I felt normal, nothing in my arm," said Ramirez, who received a stem-cell injection last summer to help heal a partially torn ulnar collateral ligament in his right elbow. "My elbow is good. I think velocity-wise I'll get there. It was my first time seeing hitters in a long time, but I feel really good."
• Angels' Spring Training information
Ramirez said he will throw one more session of live batting practice before making his first appearance in a Cactus League game on March 1. The 29-year-old Nicaraguan recorded a 4.15 ERA in 147 1/3 innings for the Angels in 2017, his first Major League season as a starter. Ramirez is expected to compete for a spot in the Angels' rotation this spring, though he also could be used as a multi-inning reliever in 2018.
The Ohtani brief
Commissioner Rob Manfred said Tuesday that Major League Baseball's investigation into the leak of Shohei Ohtani's medical report remains ongoing. In December, Yahoo Sports obtained a copy of Ohtani's physical, which revealed that the 23-year-old two-way phenom had received a platelet-rich plasma injection in October to treat a first-degree sprain of the ulnar collateral ligament in his right elbow.
:: Spring Training coverage presented by Camping World ::
"The investigation is not complete," Manfred said. "If we had figured out where those leaks came from, you'd probably know about it by now. We have not been able to do that, but we have also not given up. Look, medical information is a particularly sensitive topic, and I think we owe it to all players to make sure that we've done everything possible to figure out how that information became available."
Ohtani entered Spring Training without restrictions and took live batting practice for the first time on Tuesday, though he did not swing, preferring to use the session to track pitches and adjust to velocity.
Manager Mike Scioscia said Ohtani's next bullpen session will be on Thursday. The Angels have a plan for when Ohtani will appear in a Cactus League game, but they're keeping the details under wraps for now.
Canning update
Right-hander Griffin Canning, the Angels' second-round Draft pick out of UCLA last June, is expected to report to Minor League camp in the coming weeks and enjoy a normal spring. Canning has yet to make his professional debut, as the Angels decided to shut him down after he was drafted because of his heavy workload in college.
"He's full go," general manager Billy Eppler said. "I'm looking forward to seeing him start the year. Not sure where he'll be starting yet, but he should be breaking spring with a club and hopefully go out there. I'm not sure exactly how many innings he'll throw, but he'll throw a little more than he threw last year in UCLA."