Angels' Smith has inside scoop on Madness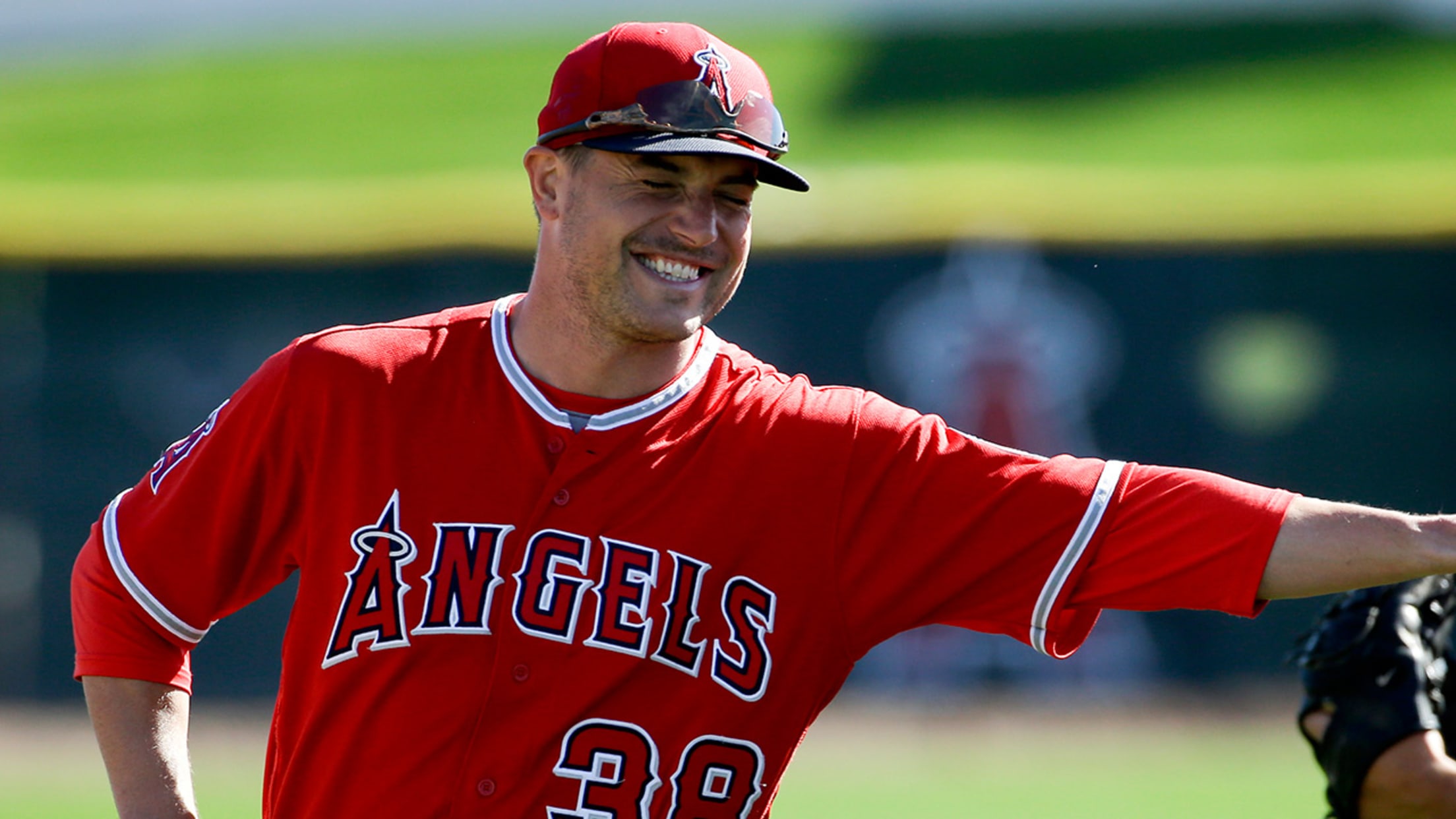 Joe Smith's wife, Allie LaForce, is a former collegiate basketball player and current CBS broadcaster. (AP)
TEMPE, Ariz. -- Angels reliever Joe Smith basically lives March Madness through his wife, Allie LaForce, a former collegiate basketball player and current CBS broadcaster.While Smith was in Spring Training with the Angels on Sunday, LaForce was in Brooklyn, N.Y., covering the men's Atlantic 10 Championship, an eventual victory by
TEMPE, Ariz. -- Angels reliever Joe Smith basically lives March Madness through his wife, Allie LaForce, a former collegiate basketball player and current CBS broadcaster.
While Smith was in Spring Training with the Angels on Sunday, LaForce was in Brooklyn, N.Y., covering the men's Atlantic 10 Championship, an eventual victory by Saint Joseph's that earned them an automatic berth in the NCAA Tournament.
Smith is LaForce's toughest critic. He lauds her when he believes she does good work, but he's always watching for ways she can improve her interviewing skills and on-air presence, never shy about providing his opinion.
• Spring:Tickets | Ballpark | 40-man roster | NRIs
LaForce got Smith passionate about Southeastern Conference football, a product of her hosting the "SEC Game of the Week" -- but Smith believes basketball is her greatest strength.
"She gets it," Smith said. "She understands everything."
Smith will be rooting for Xavier, ranked fifth in the AP Top 25 Poll, because he was born and raised in Ohio and always roots for the teams from his state. He thinks they "look pretty good," but he also believes the men's NCAA Tournament -- starting Tuesday, two days after Selection Sunday -- is wide open this year.
To Smith, Tom Izzo's Michigan State (ranked second in the AP Top 25), John Calipari's Kentucky (16th) and Mike Krzyzewski's Duke (19th) are always worth monitoring.
"I think coaching has a huge influence, especially at the college level," Smith said. "I think those coaches, especially in college, they do something, I don't know what it is, to get their guys ready. Those guys seem to have something in their back pocket, because they're always scraping into the Final Four or something like that."
'B' game for Richards: Rather than make his scheduled start against the Rangers on Sunday afternoon, Garrett Richards pitched in a "B" game against D-backs Minor Leaguers at Salt River Fields.
Richards, the presumed Opening Day starter, pitched four scoreless innings, giving up two hits, striking out three and throwing 52 pitches. Angels manager Mike Scioscia said he "looked strong" and even mixed in some changeups, a pitch with which he's experimenting.
Richards is slated to start Friday, a split-squad day.
Extreme shift: The Angels really believed Rangers left-handed-hitting first baseman Mitch Moreland would pull the ball on Sunday. When Moreland came up to bat, all four of their infielders were stationed on the right side of second base. Usually they'll keep at least one infielder on the left side to protect against balls being hit the other way.
"I've seen teams do it," Scioscia said of keeping all of the infielders on one side of the field. "We have not. It's tendencies, sensitive to some counts and who's pitching. It's going to be rare, but it was there for us this afternoon."