Yates hopes to ride new pitch to bullpen spot
Veteran righty's addition of splitter gives him three-pitch repertoire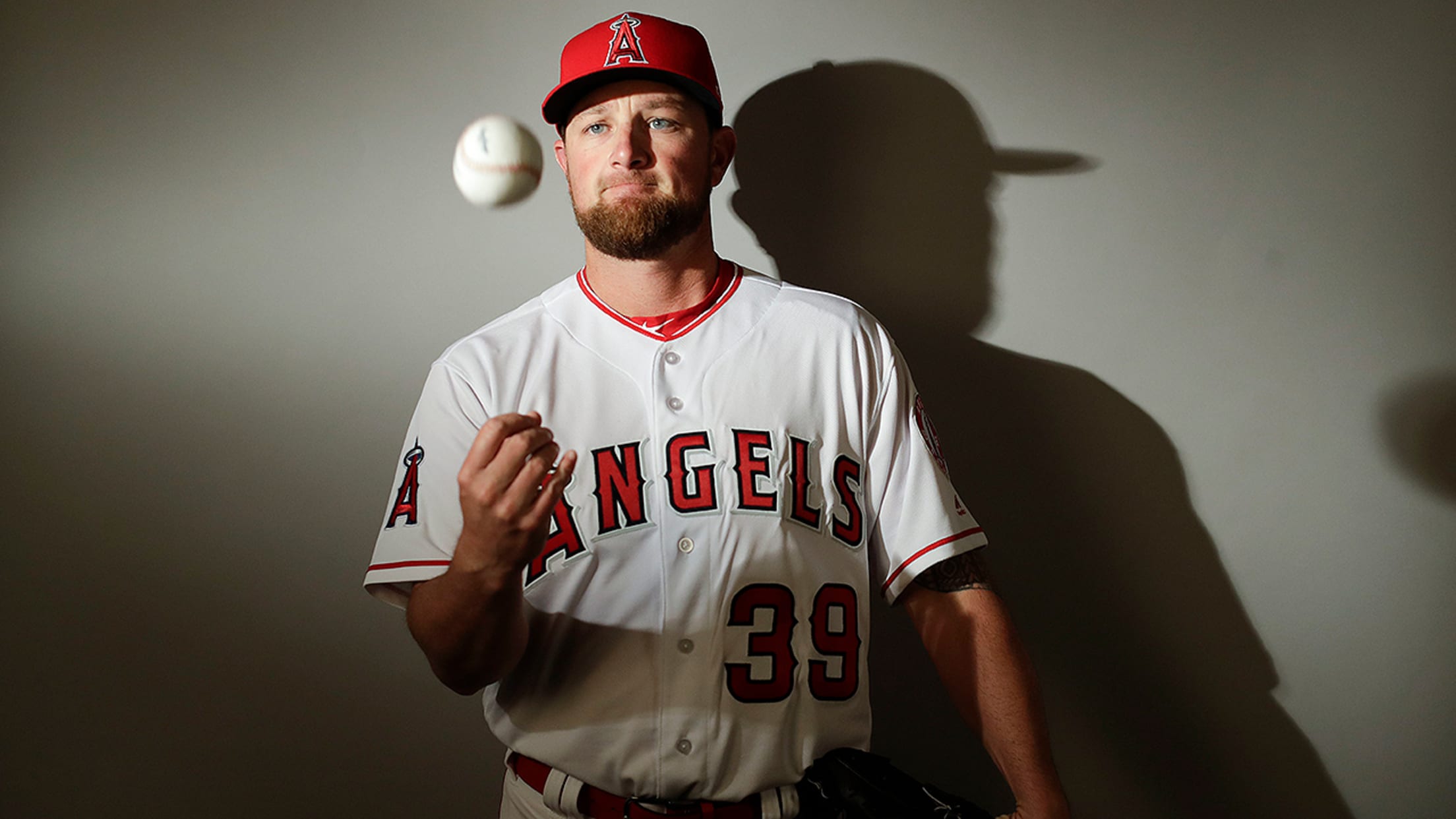 Veteran right-hander posted a 5.23 ERA and 1.45 WHIP for the Yankees last season. (AP)
TEMPE, Ariz. -- Right-hander Kirby Yates has introduced a split-finger fastball to his repertoire this spring, a new weapon he hopes will help him win a spot in the Angels' bullpen.Yates, who was claimed off waivers from the Yankees in October, has relied primarily on his four-seam fastball and slider
TEMPE, Ariz. -- Right-hander Kirby Yates has introduced a split-finger fastball to his repertoire this spring, a new weapon he hopes will help him win a spot in the Angels' bullpen.
Yates, who was claimed off waivers from the Yankees in October, has relied primarily on his four-seam fastball and slider since breaking into the Majors in 2014, but he said he decided to expand his arsenal after struggling to consistently throw his slider over the plate the past two seasons.
• Spring Training:Info | Tickets | Schedule | Gear
"The slider has been so hit and miss the last two years that I feel like I can't rely so heavily on the slider anymore," Yates said Friday. "I need something to back that up along with the fastball. If I have three pitches instead of two; I have a split-finger that I can go to when the slider is not there, or vice versa. It's just another weapon. Kind of another idea to throw around and give a hitter a different look."
Yates said he's pleased with how his new pitch is coming along.
"I wanted to work on it, and so far it's been pretty good," he said. "I feel like it's going to start turning into a weapon here pretty soon."
The 29-year-old reliever has enjoyed a strong spring so far, posting a 1.50 ERA over six innings, with seven strikeouts. Yates didn't allow a run in his first five Cactus League appearances, though his scoreless streak was snapped Thursday when he surrendered a solo home run to Rafael Ynoa in the Angels' 8-7 win over the Rockies.
With Huston Street injured, Cam Bedrosian and Andrew Bailey appear to be the only locks for the Angels' bullpen, leaving several openings for the club to fill this spring. Yates' performance in Cactus League play has put him squarely in the mix for a relief job, alongside Jose Alvarez, JC Ramirez, Mike Morin, Deolis Guerra, Yusmeiro Petit and Bud Norris.
It's not an unfamiliar position for Yates. He earned a slot in the Yankees' bullpen out of Spring Training last year, but he recorded a 5.23 ERA over 41 1/3 innings in 2016 and bounced between Triple-A and the Majors.
"I haven't really thought about it a whole lot," Yates said of the bullpen competition. "I'm kind of focused on myself. It's the third team in three years. I've kind of learned you just focus on yourself and get yourself right and whatever happens happens. You like to think that if you pitch well, you'll make the decision hard for them not to keep you on the team, so that's kind of the position you want to put yourself in."
Yates, a native of the Hawaiian island of Kauai, said that he's also excited about playing on the West Coast for the first time after stints with the Yankees and Rays. Yates' family still resides in Kauai, but they will no longer have to crisscross the country to watch him pitch.
"Me and my family were super, super excited for the chance to be here and a chance to pitch on the West Coast," Yates said. "They can actually make some sort of plan because it's only one flight. It's not two or three flights to get all the way to the East Coast from Hawaii."