Angels' No. 7 prospect replaces injured Cozart
Infielder Rengifo excited for first callup to Major Leagues
ANAHEIM -- Second baseman Luis Rengifo, ranked by MLB Pipeline as the Angels' No. 7 prospect, was recalled from Triple-A Salt Lake on Thursday to replace third baseman Zack Cozart, who was placed on the 10-day injured list with a neck strain he sustained on Monday. Rengifo started at second
ANAHEIM -- Second baseman Luis Rengifo, ranked by MLB Pipeline as the Angels' No. 7 prospect, was recalled from Triple-A Salt Lake on Thursday to replace third baseman Zack Cozart, who was placed on the 10-day injured list with a neck strain he sustained on Monday.
Rengifo started at second base and batted ninth in the Angels' 11-5 win against the Yankees in his Major League debut, singling off Masahiro Tanaka in the fifth inning for his first big league hit. The 22-year-old switch-hitter hit .240/.284/.387 with two homers, three doubles, nine RBIs and two stolen bases in 17 games at Triple-A before being called up. The Naguanagua, Venezuela, native said it was a dream come true to hear the news.
"I started playing baseball when I was 3 years old, and I can tell you I've dedicated just about all my life to this game," Rengifo said through an interpreter. "I feel like, for me, baseball is a passion, it's a love. It's something that's been a big part of my life, too. My dad was always such a big fan of the game. This was always the dream. From the moment I signed when I was 16 years old, my goal was to get to the big leagues. Thank God, today that opportunity arrived."
Rengifo, acquired from the Rays for C.J. Cron before last season, had a breakout 2018, hitting .299/.399/.452 with seven homers, 30 doubles, 64 RBIs and 41 stolen bases across three levels, including Triple-A.
"I really liked him when I saw him play last year at Mobile and Salt Lake," Angels manager Brad Ausmus said. "He brings a lot to the table. He's got speed, versatility, can play three infielder positions, he has some power, he's a strong guy even though he's not that big. With that combination of power and speed, he can be a dynamic player."
Rengifo's primary position is shortstop, but with Andrelton Simmons entrenched there, Ausmus sees Rengifo as mostly playing second base, although he does have experience at third. Rengifo said he's hopeful he can be a spark for the Angels, who have been scuffling.
"I bring a lot of energy," Rengifo said. "And create a lot of opportunities on the bases, and I like to hit the ball hard and play hard."
Cozart, meanwhile, was in the lineup on Wednesday before being scratched and wasn't progressing enough after injuring himself while diving back into second base on Monday. His head collided with second baseman DJ LeMahieu's leg but he avoided a concussion.
"The day after he felt pretty good and we used him to pinch-hit," Ausmus said. "The second day, he felt awful. He couldn't turn to the left at all, so couldn't hit. He wasn't available to hit last night, and there was not much improvement overnight, so it's best for him to go on IL."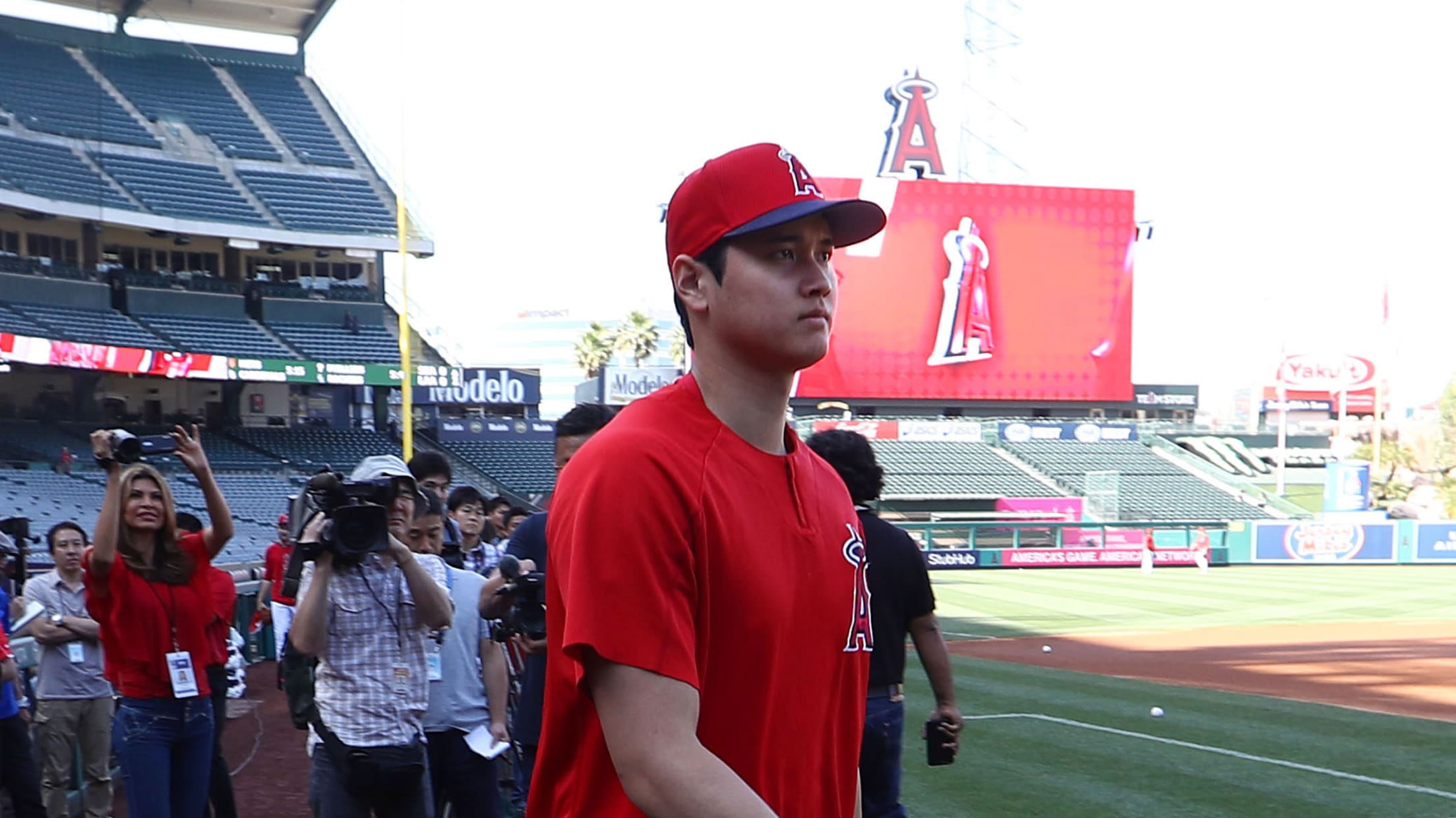 Ohtani says live batting practice going well
Shohei Ohtani, recovering from Oct. 1 Tommy John surgery, hit in a simulated game for a second straight day on Thursday, getting five plate appearances at Angel Stadium. He walked, struck out looking, hit two balls to the outfield and a grounder to second.
He met with the Japanese media early Thursday afternoon and reported that everything has been going well and that he believes he could be ready soon. He's expected to be activated from the injured list in early May.
"I think I'll be ready with less at-bats, but there's no guarantee that I'll be able to able to hit in a game," Ohtani said. "So I think it's important for the manager, coaching staff and everyone, including me, to feel comfortable about it."
Ausmus said Ohtani hasn't seen enough live pitching to be ready just yet. He's expected to hit in simulated games for at least week before returning as a designated hitter.
"He hasn't had enough at-bats," Ausmus said. "He's not ready right now. Physically, he might be ready but just in terms of seeing live pitches, he hasn't seen enough."
No. 2 prospect may be nearing a callup?
Right-hander Griffin Canning, the club's No. 2 prospect, threw 90 pitches in a simulated game in Arizona on Tuesday instead of making his normal start with Triple-A Salt Lake, as the Angels wanted to make sure he got to 90 pitches. Canning, who has a 0.56 ERA in three starts at Triple-A, could be called up soon to join the rotation.
"He's on the radar, for sure," said Ausmus, who wouldn't say where Canning's next start will come.
Heaney throws bullpen session
Left-hander Andrew Heaney, on the injured list with left elbow inflammation, threw a bullpen session on Wednesday, his first time on a mound since early March. He's expected to need at least a month before he's ready to return to the Angels' rotation.
"It was short and I don't think he used all his pitches," Ausmus said. "His next one is Saturday."