Radinsky feels 'lucky' after heart scare, surgery
Angels bullpen coach back with team on part-time basis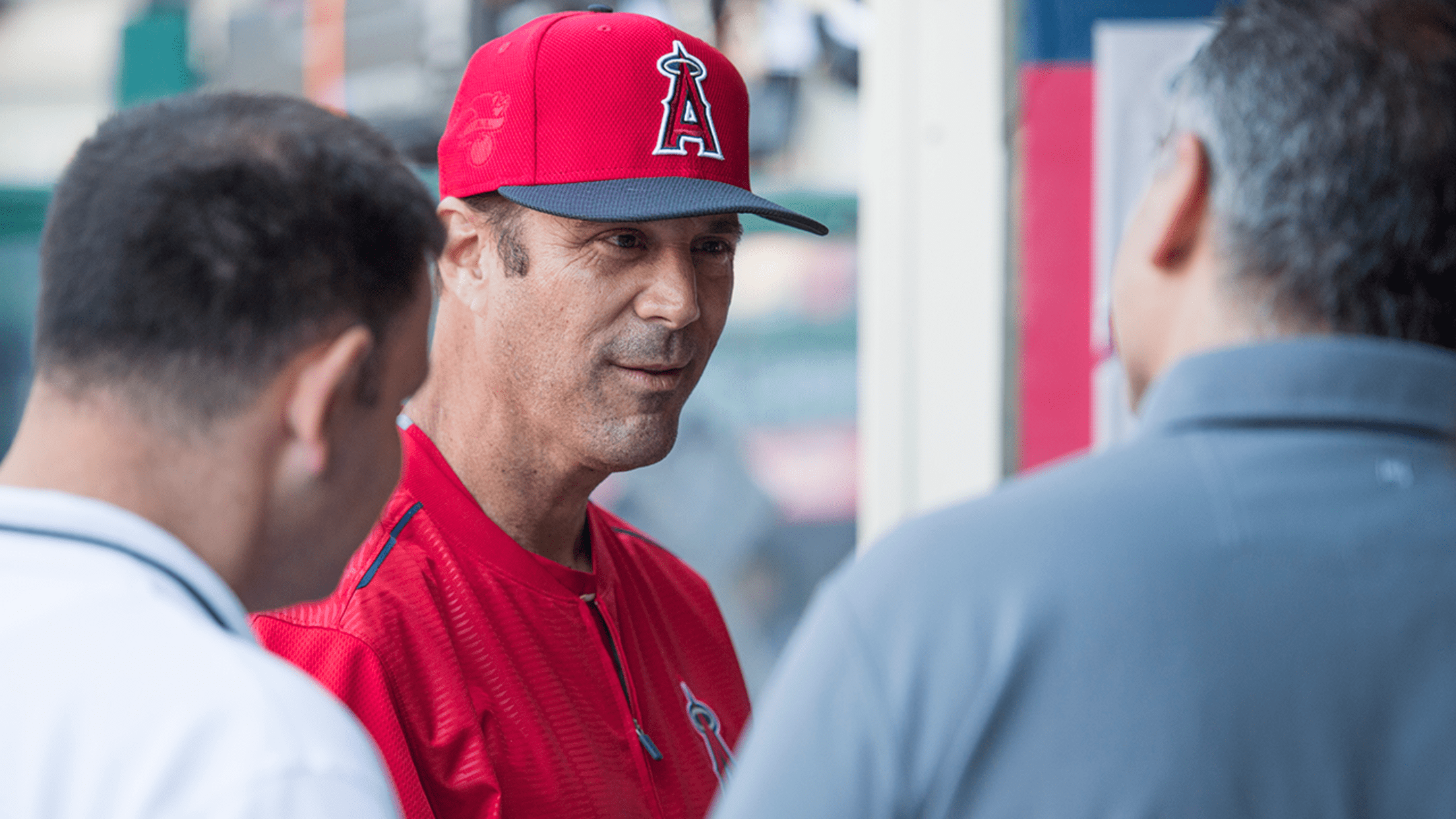 Scott Radinsky talks with reporters before Monday night's game at Angel Stadium. (Angels)
ANAHEIM -- It was April 13 in Oakland. The Angels had just beaten the A's, 5-1, on a Wednesday afternoon and would depart to Minnesota, the second leg of a three-city trip, within hours. But bullpen coach Scott Radinsky felt what he described as "a different type of shortness of
ANAHEIM -- It was April 13 in Oakland. The Angels had just beaten the A's, 5-1, on a Wednesday afternoon and would depart to Minnesota, the second leg of a three-city trip, within hours. But bullpen coach Scott Radinsky felt what he described as "a different type of shortness of breath" as he made his way up the long stairway that leads to the visiting clubhouse at the Coliseum.
He informed the Angels' trainers and was transported to a local hospital, where Radinsky was told he needed double-bypass surgery.
Radiation to treat the cancer he had -- and beat -- in the mid-1990s had shut down a couple of his arteries, yet somehow his heart continued to function. Doctors told him he should've had the surgery 10 years earlier.
"It was like a blow torch to a garden hose," said Radinsky, who survived Hodgkin's lymphoma. "It was radiation that basically mutilated the arteries. I think you have four. I was surviving on two, and somehow found some side streets to get to the main road without creating any damage."
Radinsky is back with the team now, albeit on a part-time basis. He estimates being a couple of weeks away from returning to his duties full time, which would tack on traveling and in-game duties.
Surgery took place at Hoag Hospital Newport Beach about a week after the incident, and Radinsky was discharged four days later.
"I was lucky," Radinsky said, "but it had to be repaired. So they basically sliced me open. They grafted in a couple of arteries and felt that I'd be good for 40-something years."
Now 48, Radinsky -- a Major League reliever from 1990 to 2001 and the lead singer of a popular Californian punk-rock band, Pulley -- lives an active lifestyle, his cholesterol and blood pressure always remaining low. The occasional shortness of breath was something he learned to live with, and nothing he ever really brought up until that fateful day in Oakland.
The first couple of weeks after surgery, Radinsky said he "felt like I got run over by a truck."
But then he started to feel better and get bored at home, and so Radinsky got active again. He rejoined the team for the first time around the middle of May, while the Dodgers were in town, and began sporadically showing up for pregame activities at Angel Stadium.
On Monday, Radinsky underwent a stress test that opened up his lungs. He jogged on the treadmill, and the doctor kept increasing the incline and turning up the velocity, faster and faster, and Radinsky sweat like never before.
Afterwards, he thought, "I guess I'm going to be able to do that now."
"I feel good," Radinsky said. "I've jumped through every hoop. I've since started exercising; I've gotten my weight back. I feel good. If I had a desk job, I'd be working. But I don't, so I have to be a little more cautious."
Worth noting
• Angels shortstop Andrelton Simmons, out since May 8 with a torn ulnar collateral ligament in his left thumb, is expected to be activated off the disabled list for Wednesday's series finale against the Twins. Simmons played in six Minor League rehab games and was getting evaluated in Southern California on Tuesday.
• Tyler Skaggs was recently scratched from a scheduled appearance in an extended spring game because of lingering discomfort in his left shoulder, but Skaggs said it's "nothing major; just trying to get my arm strength and stamina up." He'll throw a bullpen session on Wednesday, then pitch in a sim game and, if all goes well, venture out on a rehab assignment.
• Nick Tropeano, scratched from his June 4 start because of tightness in his right shoulder, is slated to throw a simulated game on Saturday. From there, the Angels could choose to either activate him off the disabled list or have him throw four or five innings in the Minors.
• The "Heart of 29" campaign, a year-long program in which the Angels and Hall of Famer Rod Carew have partnered to raise awareness for cardiovascular disease, officially began on Tuesday. Carew, in need of a heart transplant after suffering a massive heart attack last September, threw out the ceremonial first pitch.
• Hector Santiago and some of his Angels teammates hosted 50 kids from "The First Tee of Orange County," a youth-development organization that introduces golf to young people, on the field prior to Tuesday's game. The event was organized by the Major League Baseball Players Trust, a charitable foundation created by players.