3 keys to the Angels' victory over the Mariners
Canning rebounds with 5 solid innings; Fletcher, Trout lift the offense late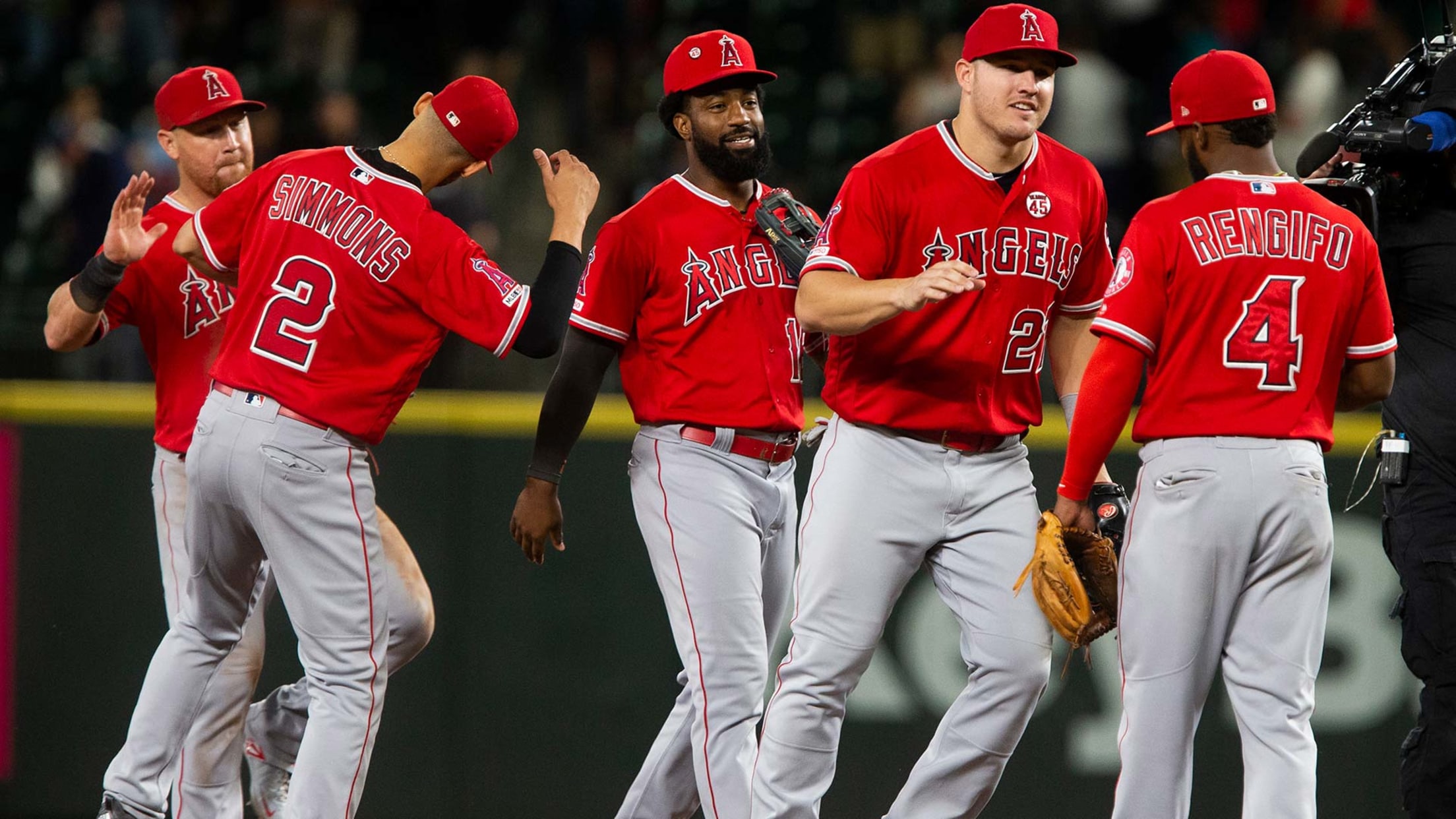 SEATTLE -- Coming off the worst start of his young career, rookie right-hander Griffin Canning rebounded with a better showing against the Mariners and the Angels came through with four runs in the ninth inning in a 6-2 win on Saturday night at T-Mobile Park. • Box score After a
SEATTLE -- Coming off the worst start of his young career, rookie right-hander Griffin Canning rebounded with a better showing against the Mariners and the Angels came through with four runs in the ninth inning in a 6-2 win on Saturday night at T-Mobile Park.
After a costly misplay on a popup by the Mariners with two outs, David Fletcher was the hero with a go-ahead RBI single with two strikes before Mike Trout unloaded for a three-run homer to help the Angels snap a three-game losing streak. But the late rally wouldn't have been possible without a bounce-back showing from Canning, who will be counted on heavily in the second half.
"I thought it was important for him to have a good outing," said Angels manager Brad Ausmus said. "Early on, he looked like he was feeling for it a little bit. A little trouble commanding the ball. The stuff was good. And the last couple innings he looked stronger in the sense he put the ball where he wanted."
Here's a look at the keys to the Angels' much-needed win over the Mariners to improve to 51-49 after 100 games.
1) Canning shakes off rough outing
Canning, who walked six, threw four wild pitches and gave up three runs over 1 1/3 innings against the Astros in his last start, only walked one this time, surrendering two runs on four hits over five innings.
"Tonight I just moved over on the rubber," Canning said. "I got more centered on the rubber. Honestly, I don't know if it did anything. But it put me in the right mindset to be in."
Canning's outing began with a hit by pitch of Mallex Smith on a 1-2 slider, but he showed better control from there. However, it was a walk that came back to hurt him in the third, when he issued a leadoff walk to J.P. Crawford, who stole second base and scored on a two-out RBI single by Omar Narvaez.
The other run allowed by Canning came in the second, when Narvaez led off with a single and scored on a sacrifice fly by Dee Gordon with the bases loaded. But Canning escaped that jam by getting Smith to ground out on a comebacker. He concluded his outing with 1-2-3 innings in the fourth and fifth.
"I thought his last two innings were his best two innings," Ausmus said. "He made a little adjustment on the mound. His command got significantly better in addition to the stuff he already has."
Canning threw 86 pitches, inducing nine swinging strikes with six strikeouts. He became the fastest Angels starting pitcher to reach 75 career strikeouts to start a career, as it took him 14 starts, surpassing Jered Weaver's club record of 15 starts to reach 75 strikeouts in 2006.
It was a step in the right direction for Canning, who the Angels will need to count on heavily in the second half, especially with Andrew Heaney on the 10-day injured list with left shoulder inflammation and Matt Harvey getting designated for assignment.
"I'm just trying to get back to being myself," Canning said. "Being aggressive. Throwing strikes. So it wasn't anything out of the ordinary."
2) Two strikes, no problem
With the game tied at 2-2 and two outs in the ninth, Luis Rengifo hit a popup near first base that Mariners reliever Roenis Elias failed to catch after first baseman Tim Beckham misjudged the ball. It put runners at the corners with two outs for Fletcher, who gave the Angels the lead with an RBI single to right on a 1-2 fastball.
Fletcher has been the toughest player to strike out in the Majors this year -- striking out in 8.3 percent of his plate appearances -- and amazingly, improved his average to .293 (53-for-181) while hitting with two strikes. The Major League average with two strikes is .174.
"With a go-ahead run at third, I'd take Fletch any time," Ausmus said. "He's just very good at getting the bat to the ball. It's one of his strongest assets."
3) Trout torments Mariners
Just two pitches after Fletcher's single, Trout smacked a three-run homer to give the Angels some breathing room. It was Trout's American League-leading 31st homer of the year and his seventh against Seattle. It was also his 40th career homer against the Mariners, which makes him the youngest player to hit 40 homers against one opponent since the expansion era began in 1961, according to Stats Inc.
It was Trout's first hit of the series and also one of the hardest-hit homers of his career. It left the bat at 114.4 mph, which was tied for his third-highest exit velocity on a homer since Statcast was introduced in 2015. It came after he struck out looking in consecutive at-bats.
"They got me with some good pitches," Trout said. "Then just in the ninth, just getting a pitch I can do damage with, put a good swing on it."