Skaggs struggles with command in debut
Left-hander records two outs, issues four walks in first outing of 2017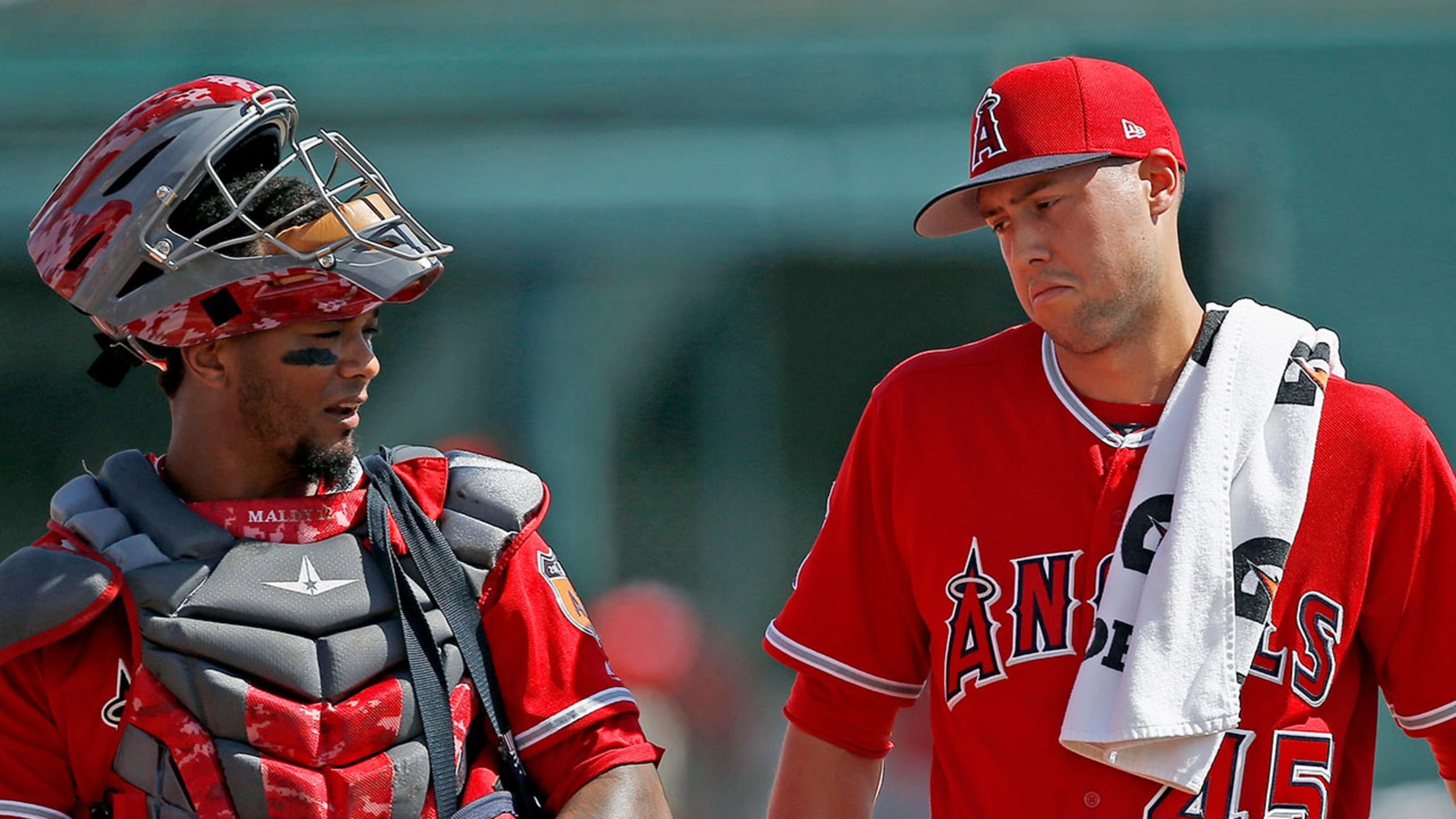 Tyler Skaggs allowed three unearned runs on four walks in his spring debut on Saturday. (AP)
GLENDALE, Ariz. -- Left-hander Tyler Skaggs was wild in his first Cactus League start of the year, issuing four walks and unable to make it out of the first inning of the Angels' 10-2 loss to the White Sox on Saturday at Camelback Ranch."There's no doubt mechanically he was a
GLENDALE, Ariz. -- Left-hander Tyler Skaggs was wild in his first Cactus League start of the year, issuing four walks and unable to make it out of the first inning of the Angels' 10-2 loss to the White Sox on Saturday at Camelback Ranch.
"There's no doubt mechanically he was a little bit off," manager Mike Scioscia said. "He just started overthrowing a little bit and got tired a little bit at the end."
Skaggs, 25, faced six batters, recorded two outs and was charged with three runs. He walked Everth Cabrera on four pitches to start the bottom of the first, but then rebounded by striking out Leury Garcia swinging and picking off Cabrera from first. Skaggs appeared to get out of it when he induced a ground ball from Melky Cabrera, but third baseman Yunel Escobar made an errant throw that pulled first baseman Jefry Marte off the bag, keeping the inning alive.
• Spring Training: Info | Tickets | Schedule | Gear
After that, Skaggs lost his fastball command and gave out three consecutive free passes to Jose Abreu, Cody Asche and Yolmer Sanchez, the last of which forced in a run. Skaggs departed with the bases loaded and two outs and was replaced on the mound by right-hander Eduardo Paredes, who gave up a two-run single to Kevan Smith.
"I was amped to get out there," Skaggs said. "I thought the first two batters went well. The first one I walked, but I still felt good. After that, the wheels kind of fell off. ... I was just guiding the ball. It's one of those things every pitcher knows. When you start walking people, you're like, 'Oh, I want to throw strikes.' You start thinking about it, velocity drops and everything starts just hitting the fan. Luckily it was only one inning today. Back at it tomorrow."
Skaggs did take solace in picking off Cabrera from first during the short outing. In 2016, runners went 11-for-11 in steal attempts when Skaggs was on the mound.
"I worked on it a lot this Spring Training," Skaggs said. "At least we'll take some positives from today. It's not all the pitching. There are other aspects of the game that I've definitely improved on. Looking forward to my next outing."
Skaggs, likely the Angels' No. 3 starter this year, is entering his first full season after coming back from Tommy John surgery and is attempting to find the consistency that has eluded him since he broke into the Majors in 2012 with the D-backs. After missing nearly two years while rehabbing his surgically-repaired elbow, Skaggs returned to the Angels' rotation in July and showed flashes of dominance, tossing 12 1/3 scoreless innings with 13 strikeouts over his first two starts. But he also struggled, logging a 9.68 ERA in his next four starts. Skaggs did finish strong, posting a 1.83 ERA over his final four outings, and the Angels are hoping he'll be able to carry over that success to the '17 season.
"His upside, with his stuff, is to be a No. 1 starter," Scioscia said earlier this week. "He's got great stuff. As he harnesses it and understands putting pitches together and stays healthy, he's going to pitch to that potential. I think he knows, at some point, all that potential and upside needs to show up. He's working hard to make that happen this year."