Skaggs' presence felt as Angels return to Texas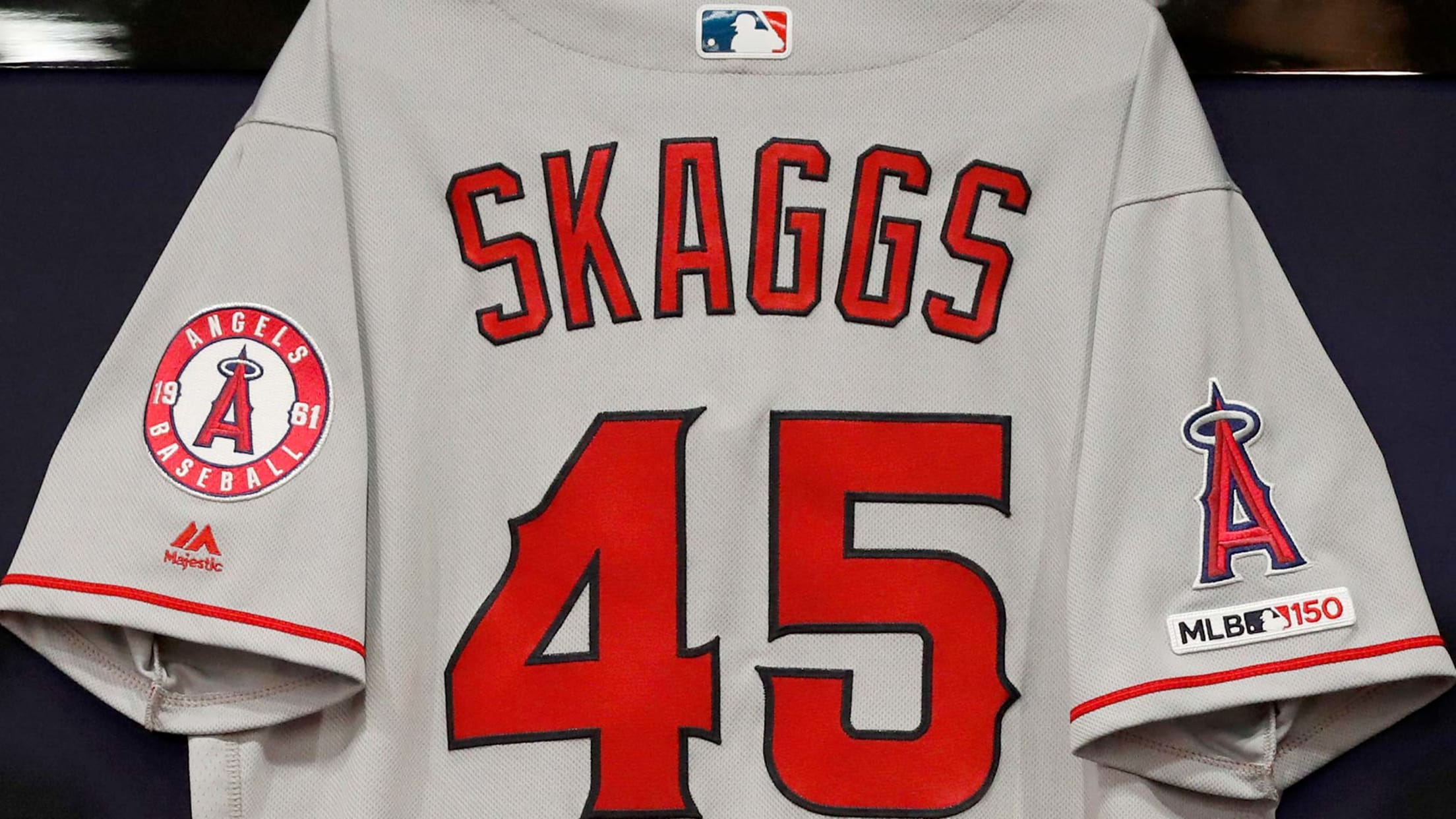 ARLINGTON -- Since Tyler Skaggs' death, the Angels have made sure to hang the pitcher's No. 45 in his usual locker everywhere they've gone. But Skaggs' memory was more immediate Monday, as the Angels returned for the first time to the place where they lost him. Skaggs was found dead
ARLINGTON -- Since Tyler Skaggs' death, the Angels have made sure to hang the pitcher's No. 45 in his usual locker everywhere they've gone. But Skaggs' memory was more immediate Monday, as the Angels returned for the first time to the place where they lost him.
Skaggs was found dead in his Dallas-area hotel room on the afternoon of July 1, exactly seven weeks ago Monday, as the Angels were preparing to play the Rangers that night. That game was postponed until this Tuesday, but the Angels played the next three nights. They haven't been back to Arlington since that series.
"It brings back a lot of memories," right fielder Kole Calhoun said Monday. "It definitely makes you think about Skaggs and his family, [mother] Debbie and [wife] Carli, and keep hoping that they're doing all right. As a team, it's definitely a little different, it takes you back to an empty feeling. He's definitely still on our mind."
The Angels have endured a mercurial stretch since Skaggs' passing, as they went 14-11 in July but had dropped 10 of 16 in August entering Monday night's game. They lost eight in a row before going 6-3 over their last nine contests.
"We've just got to be consistent," center fielder Mike Trout said. "When we play good and all things are clicking, we're a pretty good team. It just seems like as a team, we weren't hitting or weren't throwing -- we all went through a skid at the same time."
The four-game series marks the final time the Angels will come to Arlington this season, and the last time they'll play at Globe Life Park before a new stadium opens across the street next season.
Skaggs' close friend Andrew Heaney will start Tuesday night's game. Sitting next to Skaggs' locker, the Oklahoma native said coming to Texas is emotionally difficult now.
"It's funny, for a place I came when I was kid, this is where I came, this is the team that I kind of rooted for and the big league stadium that I visited," Heaney said. "You come here as a player, and that happened, and it just completely erased all the good memories I had here. … I'm glad there'll be a new place."
Spring Training schedule released
The Angels will play three exhibition games against the Dodgers to close out the 2020 Spring Training schedule, which was announced Monday by Major League Baseball. The Halos will host the Dodgers at Angel Stadium on March 22 before playing two games at Dodger Stadium on March 23-24.
Cactus League play for the Angels begins on Feb. 22, with a pair of split-squad games at Tempe Diablo Stadium against the Royals and at Camelback Ranch against the White Sox.
The Halos will visit the Rangers on March 31 for the inaugural Opening Day at Globe Life Field, opening a three-game series at the new retractable-roof ballpark currently under construction in Arlington. The Angels will begin the season in Houston with a four-game series against the Astros starting March 26.
Angels prep for long day
The heat index in Arlington is expected to be well over 100 degrees Tuesday as the Rangers and Angels will play a day-night doubleheader. Angels manager Brad Ausmus said the heat will be a challenge for both clubs.
"We've talked about doing some things to keep the guys from overheating, maybe not have the relievers go out to the bullpen right away, and kind of be on alert," Aumsus said. "It's going to [feel like] 104 for the Rangers, as well."
MLB rules now allow teams playing in doubleheaders to keep 26 men on their roster for each game, but Ausmus said the Angels haven't determined exactly how they will manage their roster for Tuesday's doubleheader. Heaney will start the first game at 11:05 a.m. PT, while right-hander Jaime Barria will be recalled from Triple-A Salt Lake to start the night game at 5:05 p.m.