MLB initiative benefits prostate cancer research
Teams wearing special uniforms for Father's Day weekend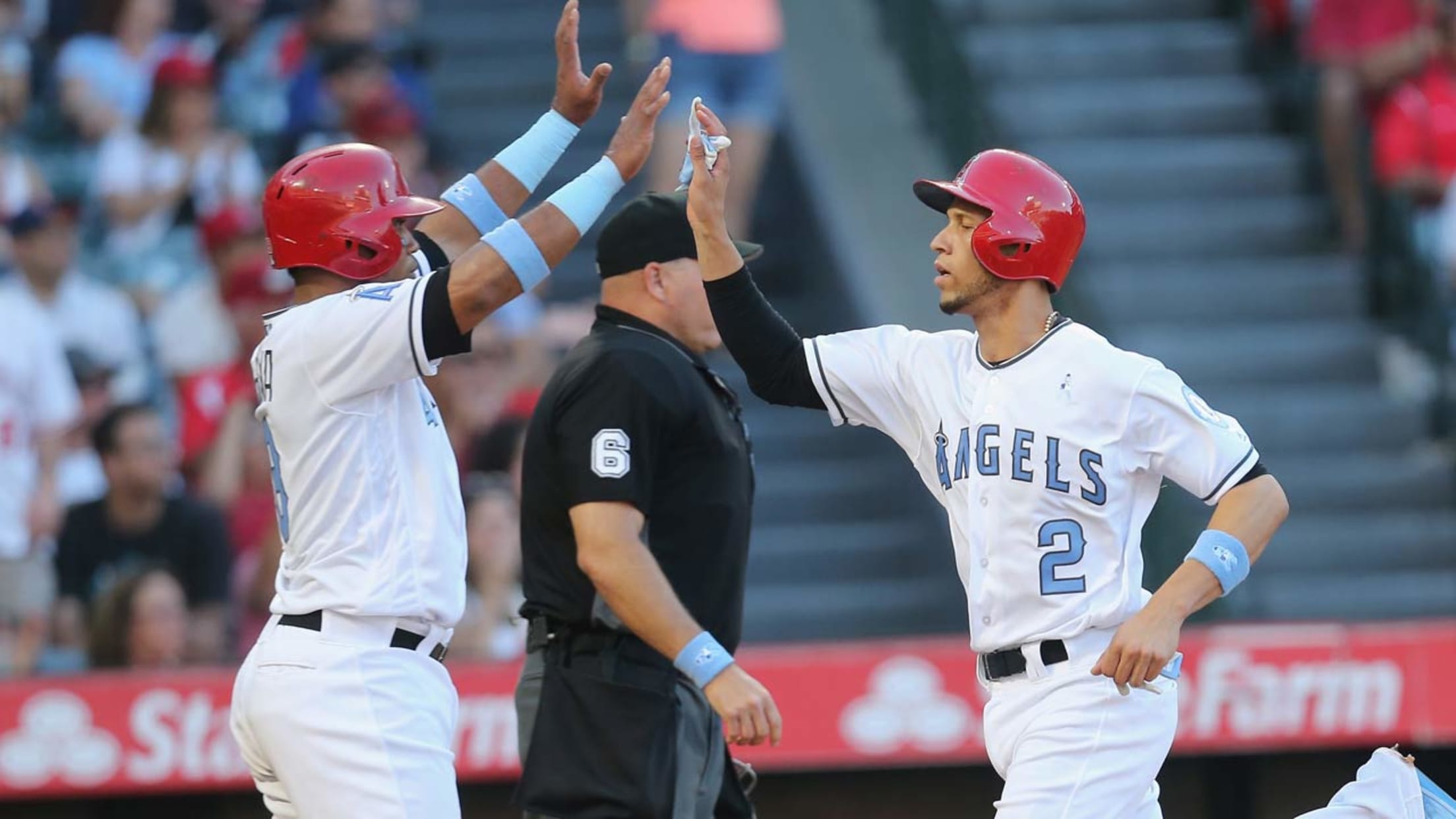 Players across MLB are wearing special uniforms for Father's Day weekend. (Getty)
ANAHEIM -- The Angels are sporting symbolic blue ribbons on their jerseys and blue wristbands, along with specially designed uniforms and caps during their series against Kansas City this Father's Day weekend. The uniforms are a part of an MLB initiative to raise awareness of prostate cancer and funds for
ANAHEIM -- The Angels are sporting symbolic blue ribbons on their jerseys and blue wristbands, along with specially designed uniforms and caps during their series against Kansas City this Father's Day weekend. The uniforms are a part of an MLB initiative to raise awareness of prostate cancer and funds for research.
Players and coaches are donning blue-infused attire and equipment for this weekend's contests and a blue-stitched Rawlings baseball will be used.
The movement, however, means more than the chance to wear special attire for Angels outfielder Cameron Maybin, whose charity, the Sister Network Triangle, increases local and national awareness of breast cancer within the African-American community.
"I think that it's important that we continue to support the movement against cancer," Maybin said. "I think in general, just heightening awareness, heightening how we should take care of our body, as far as dieting and nutrition -- all these things help to prevent getting such a bad disease."
Maybin said breast cancer, specifically, has affected several of his own family members, and he believes the fight against the disease and its variety of forms is paramount.
"Cancer, in general, is something I think we need to heighten the awareness about," he said. "And I think we do a good job in Major League Baseball and try to do what we can."
Angels manager Mike Scioscia, the longest-tenured skipper in the Major Leagues, noted the league's increased support of the movement.
"I think it's great that this is all really come to pass in the last 10 or 15 years, where there's a real social consciousness that we can make a difference as a group," Scioscia said. "I think it's great. I think it's an easy way for us to hopefully raise awareness to what is important to all of us."
Royalties made from the sales of specialty hats and jerseys will be donated to the Prostate Cancer Foundation and Stand Up to Cancer.
The league first partnered with the Prostate Cancer Foundation, which has raised more than $700 million for prostate cancer research, in 1996. Since then, players and coaches have worn blue ribbons and wristbands during Father's Day games in support.
Also, on Father's Day weekend, MLB.com, all 30 clubs and broadcast partners will express their gratitude by sharing their favorite baseball moments of dad on social media using #MLBDads, and fans are encouraged to do the same.
Kaelen Jones is a reporter for MLB.com based in Los Angeles.