Alford's childhood home destroyed in fire
Donation page helps Blue Jays prospect's family in recovery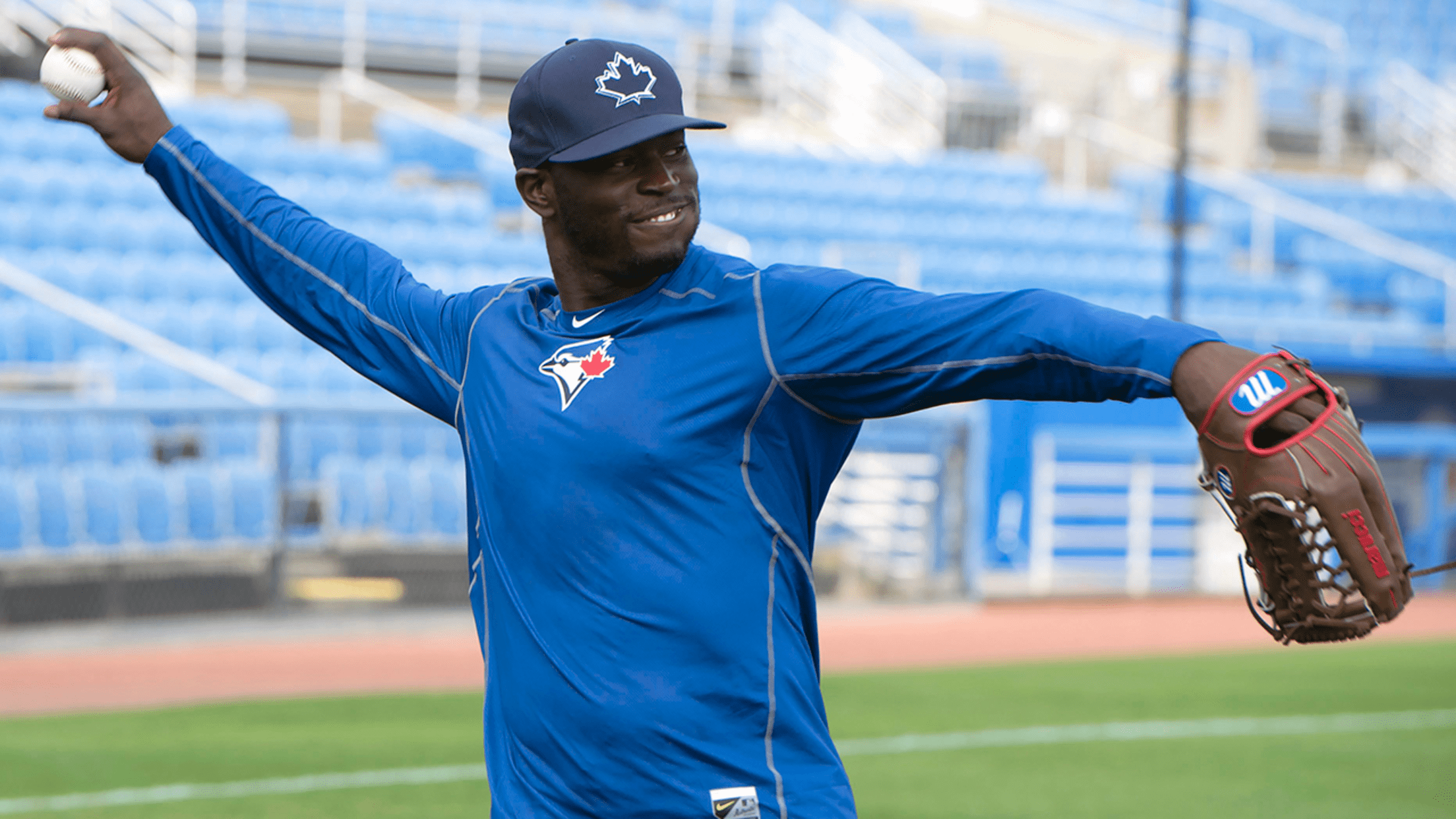 Before becoming the Blue Jays' No. 3 prospect, Anthony Alford was a standout college quarterback. (AP)
TORONTO -- The holidays are usually a time when some of the best memories are made, but when it comes to Anthony Alford and his family, they will be trying to do everything possible to forget about the end of 2016.During the wee hours of Dec. 28, the Alford family's
TORONTO -- The holidays are usually a time when some of the best memories are made, but when it comes to Anthony Alford and his family, they will be trying to do everything possible to forget about the end of 2016.
During the wee hours of Dec. 28, the Alford family's home in Columbia, Miss., burned to the ground for reasons that have yet to be determined. Everything the family owned, including clothes, furniture and irreplaceable personal items, were lost in the blaze, and now they have no choice but to pick up the pieces.
The most important thing is that everybody is OK. Alford's sister, Ayanna, was sleeping at the time, but she woke up to the popping sounds of the fire and had just enough time to grab a couple of belongings and exit the house.
Alford lives about 30 minutes from his childhood home in nearby Sumrall, Miss. When he received a call about the fire, he immediately jumped into his car, but by the time he arrived at the home there was hardly anything left.
"Within 10 to 15 minutes, the house was pretty much gone," Alford said during a phone interview. "It sparked up really fast. They lost everything, it burned all the way down to the ground. When I got there, everybody was sitting out on the side of the road. There were multiple fire trucks there, they had to use multiple fire trucks to put it out. But [the house] was pretty much gone by the time I got there."
In the wake of this devastating news, Alford's wife, Bailey, created a GoFundMe page to help out her loved ones. She set a goal of $20,000, which would be used toward housing, furniture and anything else the family might need to get back on its feet. As of Monday evening, the campaign had raised slightly more than $13,000, and the way it began trending on social media has been nothing short of overwhelming.
Rising from the Ashes https://t.co/iJJIMOBZcS

— Anthony Alford (@ajalford_) December 31, 2016
As of late Monday, the page had received donations from 174 people. On the list of donors, there are Blue Jays employees, coaches and Minor League teammates and fans. There are journalists, childhood friends, agents and members of the local community.
"I didn't think it would blow up this much, I was just trying to help them get some of their stuff back and get them back on their feet," Alford said. "I was just thinking maybe some people in the community would come together and just try to help out, because everybody knows I didn't come from a wealthy family.
"I'm blessed to be in the position that I am in and I try to help out as much as I can, but not everybody understands how it is to be in the Minor Leagues and be on a Minor League salary. There's only so much that I can do, so my wife and I were trying to see if the community would come together and help out."
Time will eventually heal these wounds, but that doesn't make this process any easier for the family to take. For Alford, the lost possessions include his state championship rings, his Gatorade Player of the Year trophies and the first jerseys he received from the Blue Jays and his alma mater, Ole Miss.
Alford has welcomed his family into his home and he hopes to have a more permanent resolution figured out before he leaves for Spring Training in early February.
"They understand that they're always welcome in my house," Alford said. "Not just because their house burned down, but no matter what, they're always welcome in my house. My wife has helped us out a lot, welcoming them in with open arms and she's really been a blessing. Not only to me but to them as well."