It took 10 years, but Bass earns college degree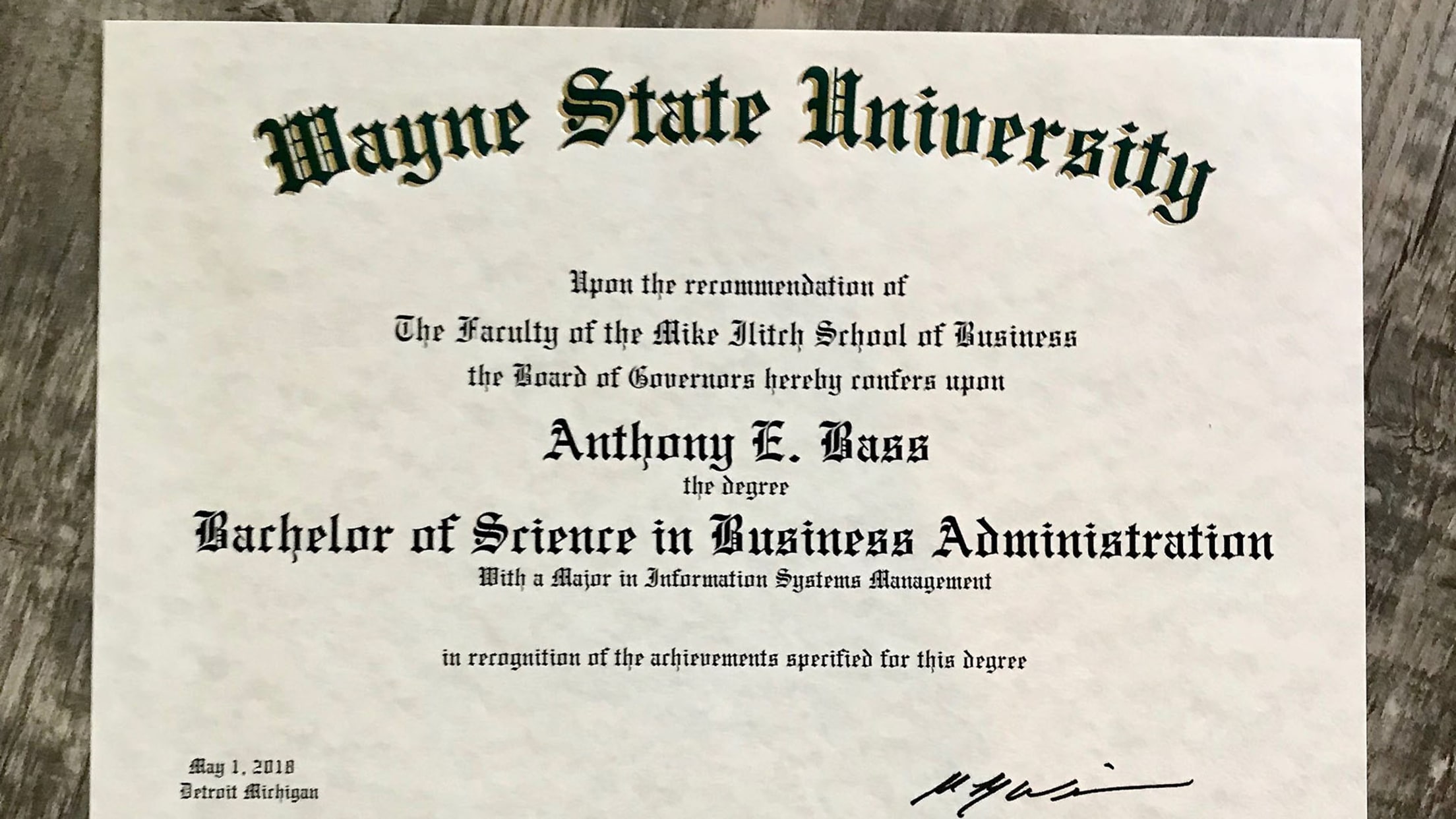 ST. LOUIS -- Both Kyle Hendricks and Luke Farrell have degrees in finance. Reliever Anthony Bass has joined them as a college graduate, having recently received his business degree with a focus on management information systems from Wayne State University.It just took him 10 years to do it.Bass, 30, was
ST. LOUIS -- Both Kyle Hendricks and Luke Farrell have degrees in finance. Reliever Anthony Bass has joined them as a college graduate, having recently received his business degree with a focus on management information systems from Wayne State University.
It just took him 10 years to do it.
Bass, 30, was attending Wayne State when he was drafted in 2008 by the Padres. Since then he's pitched in Tucson, Oklahoma City and Round Rock, as well as for the Padres, Astros and Rangers. He spent 2016 in Japan before returning to the Major Leagues.
"It's something I've always wanted to do -- finish my degree," Bass said on Saturday. "It's something I started, something I invested a lot of my time in -- and obviously, money, too. It was always in the back of my mind to want to finish. Going overseas in '16, I had more time when I was playing there than I do here, and I just picked it back up."
Bass was pitching for the Nippon-Ham Fighters, and even though there is a 13-hour time difference between Wayne State's campus in Detroit and Tokyo, he was able to finish his classes online.
Took a long time but finally completed my degree from @waynestate. Thank you to all those who have supported me along the way. Finally a college graduate!! pic.twitter.com/Y2IPqDOEEc

— Anthony Bass (@AnthonyBass52) June 6, 2018
"The time change was tough," Bass said. "They usually had deadlines, so I could work all week on an assignment. If I took a test, they'd give me a 24-hour window to finish it."
The professors would record their lectures and post them so Bass could watch in his free time.
Bass completed his final exam at the end of April and received an email the second week of May, when he was pitching for Triple-A Iowa, informing him that he'd earned his diploma. He missed the spring graduation ceremony, but could take part in another in December.
"Whenever my playing days are done, coaching has been in the back of my mind, and I know in order to coach at the college level, you have to have a minimum bachelor's degree," he said. "It was motivation to finish my degree if I wanted to go into coaching at the college level."
And his parents' reaction?
"They're definitely happy I finished," he said. "It took me a while, but I finished it."
• Entering Saturday, closer Brandon Morrow had not pitched since June 7; manager Joe Maddon planned to check with the right-hander to see if he needs some game action, and he gave him some in the ninth inning of the Cubs' 6-3 win over the Cardinals.
In his one scoreless frame, Morrow allowed two hits and struck out two.
"I'd like to keep him sharp, but guys like that can normally throw on the side and stay sharp," Maddon said.
Morrow is now 16-for-17 in save opportunities this season, with a 1.59 ERA.
• What was Maddon thinking in the ninth inning on Friday when he pulled Farrell rather than have him face Cardinals' pitcher John Brebbia? The Cubs had a 13-5 lead, and Brebbia had just one career at-bat.
"I did not want Farrell to throw more pitches," Maddon said. "There's no telling -- if [Brebbia] fouled a couple balls off, [Farrell] could end up with 40 pitches last night. I wanted him right around 30. It didn't matter who was going to hit for them, [Randy] Rosario was going to pitch. Quite frankly, if anyone didn't like it, that's too bad. It's all about saving my guys."
Farrell threw 28 pitches on Friday, and both he and Rosario were expected to be available on Saturday.
"Sometimes people don't get it," Maddon said. "When you're trying to conserve and preserve people, 10 pitches matter, they matter a lot. That was it."