Rizzo sits again with back tightness
Baez to stay at short; Caratini rehabbing with Triple-A Iowa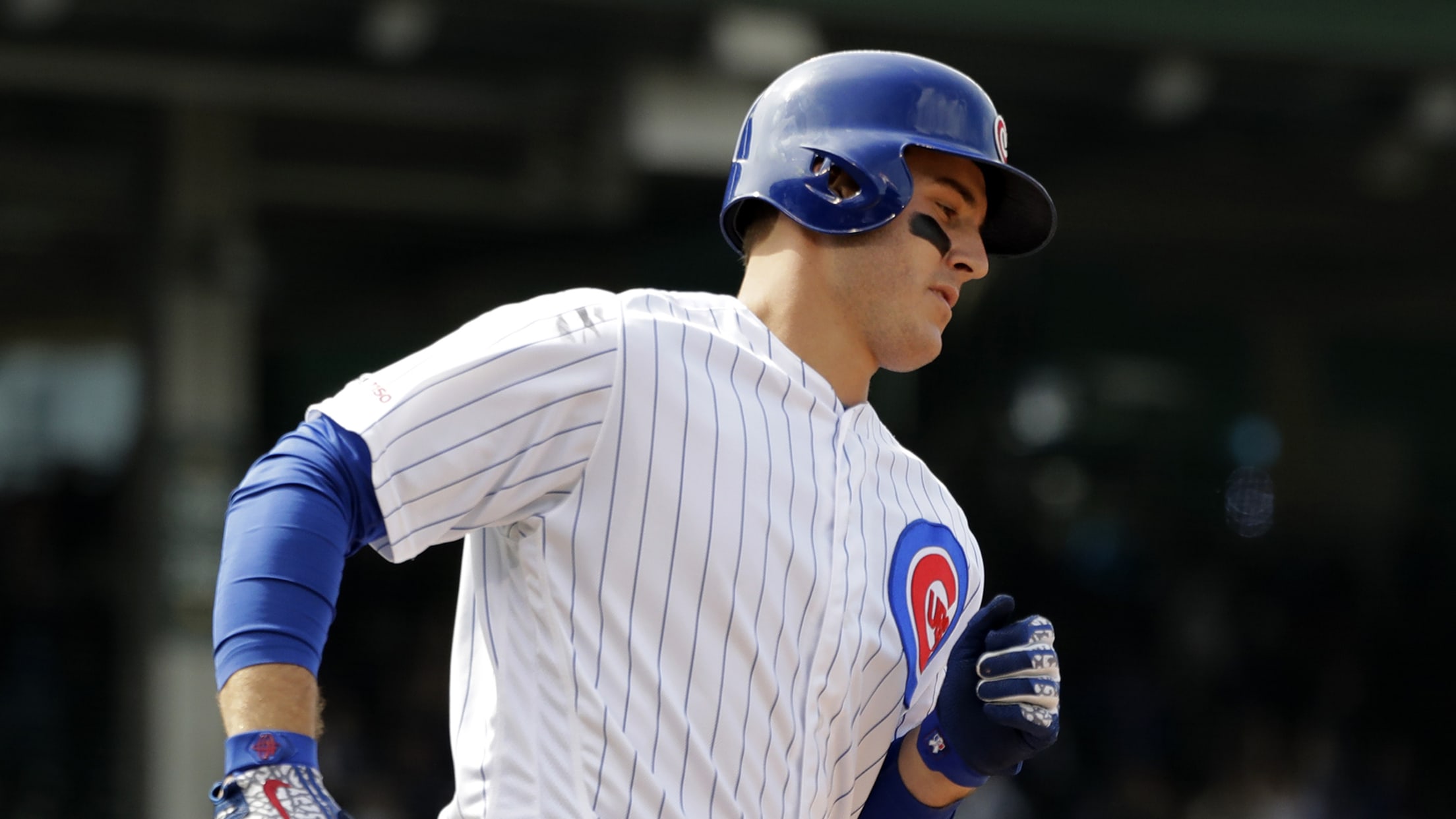 CINCINNATI -- When Anthony Rizzo missed Sunday's game due to back tightness, Cubs pitcher Jon Lester was not going to miss an opportunity to toss a friendly verbal jab at the first baseman. "I told him I'm going to have a personal lineup going forward," Lester joked after his start
CINCINNATI -- When Anthony Rizzo missed Sunday's game due to back tightness, Cubs pitcher Jon Lester was not going to miss an opportunity to toss a friendly verbal jab at the first baseman.
"I told him I'm going to have a personal lineup going forward," Lester joked after his start on Sunday. "Every five days, he'll have off. We're going to go with that."
All kidding aside, Chicago is hoping to have Rizzo back at full strength and in the lineup again within the next few days. The first baseman remained out of the lineup for Tuesday's game against the Reds, but he indicated that he was on the mend after receiving treatment over the past couple of days.
"You've just got to listen to him," Cubs manager Joe Maddon said. "We've been through this before. Just listen to him. They're working very hard with him in the training room. I don't want to keep asking him, 'How you doing?' I hate doing that to guys. I saw him go on the bus today. He's doing better, but it's still not quite yet in the right spot."
Rizzo, whose back tightened on him during Saturday's 15-inning win in rainy and cold conditions against the Brewers, will likely be out of the lineup until Thursday at the earliest.
"Hopefully, it's just a couple days," Rizzo said. "It just started getting tight in like the seventh or eighth [on Saturday]. And then, the field and the way that slush is, that's a recipe for disaster for me and I know that. I try to stay engaged and I'm stretching, but -- it's frustrating. But there's nothing really to do more than I've already been doing."
For the second game in a row, Kris Bryant started at first base for the Cubs on Tuesday. So far this season, Bryant has appeared in 25 games at third base, eight in left field, six in right and two at first.
"He can play everywhere," Rizzo said. "It's nice to have Kris Bryant to throw in there. It's a strength of our team for a lot of years now, is guys can play everywhere. Pretty much everyone except me."
Baez staying put at short
A recent report indicated that the Cubs have had internal discussions about eventually moving Addison Russell back to the full-time shortstop role, with Javier Baez playing second base and other positions. Prior to Tuesday's game, both Maddon and Cubs president of baseball operations Theo Epstein reiterated that Baez will remain entrenched as Chicago's everyday shortstop.
"Our intention is to do exactly what you're seeing right now. Leave it like this," Maddon said. "I think the one part that would change things would just be possibly an injury. That possibly could force you to think differently. But otherwise, I like what it looks like right now. I mean, the vibe cannot be topped. The feeling among the group is outstanding. I would not want to upset that apple cart in any way, shape or form. I don't think it's wise."
Maddon noted that there were internal discussions about the infield alignment, but those talks occurred several weeks ago prior to Russell's return. In light of Baez's play this season, the Cubs plan on using Russell at second base and sparingly at short (to give Baez rest on occasion).
"Javy's been one of the most dynamic players in the league and is playing a great shortstop," Epstein said. "He's been really consistent. As we talked about a week or two ago, I think it makes sense to give him some reliability, knowing he's going to be in the lineup every day, he's going to be playing shortstop. We have so many other players with versatility and moving parts. It makes sense to keep Javy where he is, where he's doing a great job."
Worth noting
• Backup catcher Victor Caratini (10-day injured list, left hand) caught back-to-back games for Triple-A Iowa on Sunday and Monday, going 3-for-5 in Monday's rehab appearances. Epstein said the Cubs will "watch closely over the next few days" to see how Caratini feels. Maddon made it clear that the catcher could be activated soon.
"He's right on the cusp right now," Maddon said. "So everything's going well. We just talked about it inside. He's on the verge. He could join us at any time. He really can -- literally. We just haven't pulled the trigger on that one. That's all. He's ready."
• Epstein noted that Cubs closer Brandon Morrow (60-day IL, right elbow) is two weeks removed from the lubricant injection he received in his throwing elbow. The right-hander will be evaluated again throughout this week, with the goal of having him resume a throwing program soon.
• Per Epstein, right-hander Tony Barnette (60-day IL, right shoulder) is scheduled to pitch in an extended spring camp game on Wednesday. Triple-A Iowa lefty Brian Duensing (seven-day Minor League IL) is working through left shoulder soreness.
• Shortstop Nick Hoerner (No. 1 on the Cubs' Top 30 Prospects list, per MLB Pipeline) will likely head to Arizona later this week to continue his rehab from a left wrist injury and to begin a hitting program to tolerance. Pitching prospect Adbert Alzolay (Chicago's No. 4 prospect) is slated to start Friday for Triple-A Iowa.
• Third-base coach Brian Butterfield is undergoing treatment for vertigo. While Butterfield is out, first-base coach Will Venable will continue filling in at third base. Quality assurance coach Chris Denorfia has been handling the first-base coaching duties.
• Relievers Pedro Strop (10-day IL, left hamstring) and Allen Webster (10-day IL, right arm) joined the Cubs on their road trip to Cincinnati. Strop has resumed light throwing.