D-backs unveil exciting changes at Chase Field
Additions include 20th Anniversary Experience, many new food options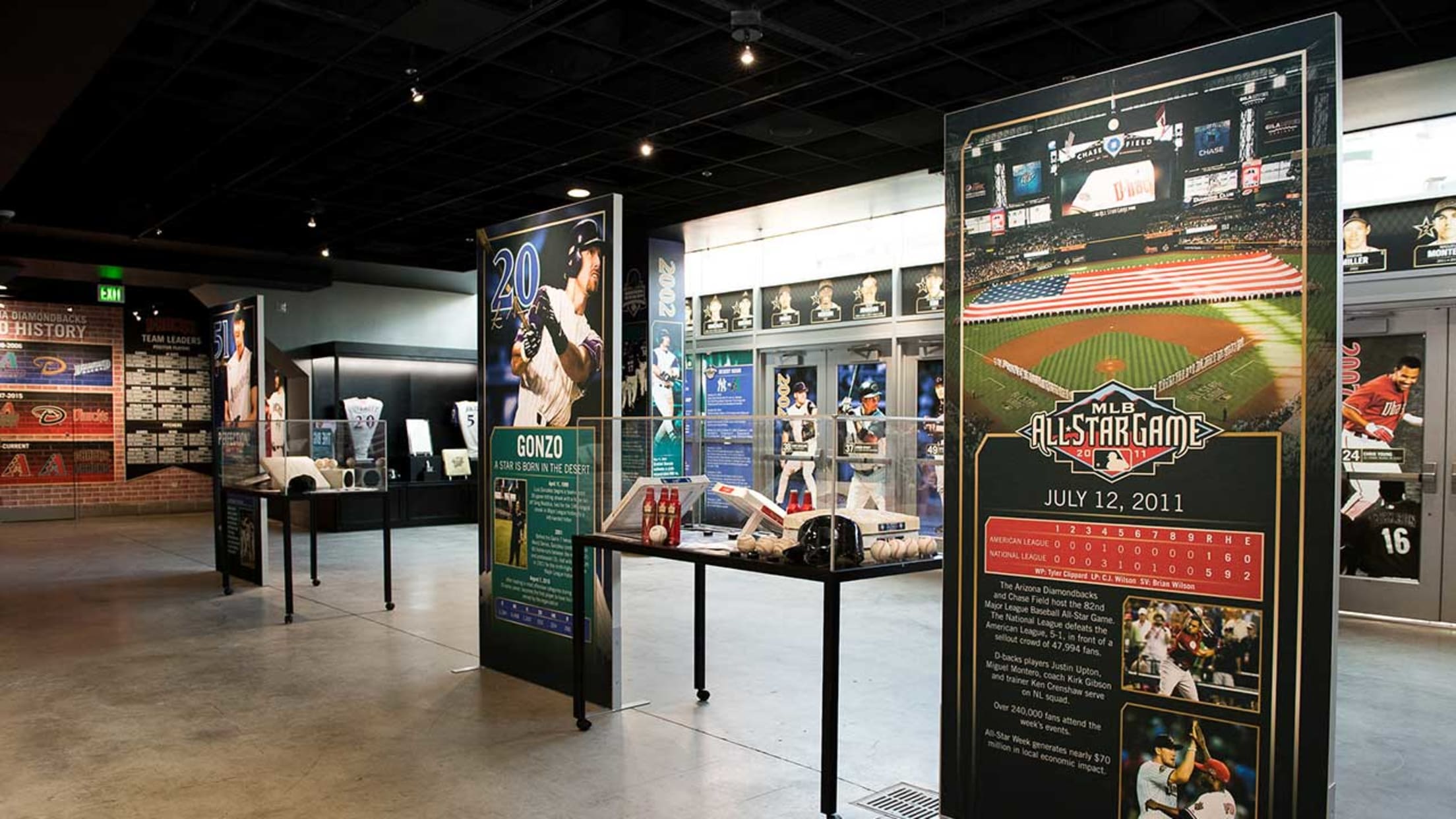 PHOENIX, Ariz. -- Paul Goldschmidt wows Arizona Diamondbacks fans with his bat. Zack Greinke wows them with his pitching. And there will be another new "wow" factor this season at Chase Field.It is the Asada dog, an 18-inch, 35-ounce Schreiner's hot dog topped with fries, queso blanco, carne asada, pico
PHOENIX, Ariz. -- Paul Goldschmidt wows Arizona Diamondbacks fans with his bat. Zack Greinke wows them with his pitching. And there will be another new "wow" factor this season at Chase Field.
It is the Asada dog, an 18-inch, 35-ounce Schreiner's hot dog topped with fries, queso blanco, carne asada, pico de gallo and guacamole on a Talera hot dog bun.
"Every year we're trying to come up with new concepts," D-backs president and CEO Derrick Hall said Wednesday at the team's "What's New at Chase Field" tour. "When it comes to food, we're looking for those 'wow' items. I think we accomplished that again.
"We've been really pioneering when it comes to food items. They've been big hits. I think it's been about four years now, that [we've added what] we like to call the 'wow' item. This year, it is the Asada dog as our new 'wow.'"
Beyond the new food items and vendors -- more on that later -- the club is opening a hall for its 20th Anniversary Experience.

"First and foremost, I think the fans are going to be blown away by this concept, The 20th Anniversary Experience," Hall said. "We've never had a museum at Chase Field. This really captures all of our history, all of our awards, all of our championships, division titles and Wild Cards. ... I think it's the perfect time to unveil that."
Hall said his favorite part of the museum is "probably the ball wall," a wall of baseballs autographed by D-backs players from throughout the team's existence.
"I think it's something fans are going to stop and say, 'Oh, I remember him. Oh, I don't remember him,'" Hall said.

There are exhibits from a Randy Johnson no-hitter and an Edwin Jackson no-hitter, plus Gold Gloves and Cy Young Awards won by D-backs and, of course, the 2001 World Series Trophy.
There are also interactive components in a virtual reality bullpen and home run experience. Luis Gonzalez, a senior advisor to Hall famous for delivering the game-winning hit in the 2001 World Series, took a few swings in the VR homer experience Wednesday. After hitting one out at a "measured" 513 feet, he said, "I'm going to quit on that."

A plethora of Gonzalez's memorabilia can be found in the museum. There is also a Gonzo Grill opening this season on the left-field concourse. Where else?
"He was the mainstay in left field, our greatest left fielder ever," Hall said. "For it to be in left field is perfect."
Gonzo's Grill will feature Tyson Food products.
"I'm a big fried food guy," Gonzalez said. "I know a lot of people are turning to health [foods] and Tyson does a good job with their chicken products. I've always loved chicken. I grew up a Wade Boggs fan and he was a big chicken eater. I grew up in Tampa and that's where he's from."
Gonzalez added that his favorite item on the menu is the chicken fries.
"I think the chicken fries are going to go over huge with the kids, especially big kids like me," Gonzalez said.
Two vendor additions will be Dutch Bros, with their specialty hot and cold coffees, and Portillo's. Mouth-watering selections include the Portillo Italian beef sandwich with hot and sweet peppers, cheese fries and a Chicago Dog.
The D-backs have also added the Coors Light Strike Zone Cabanas, a luxury cabana seat that includes food and drinks, plus other amenities.

"What I think is special about our organization is we're always looking to step outside the box a little bit to do something different, to have different things around the ballpark," Gonzalez said.
And Gonzalez said "it is a lot easier" to hit off the VR homer experience than it was Mariano Rivera.
Alan Eskew is a contributor to MLB.com.