D-backs' nicknames for Players' Weekend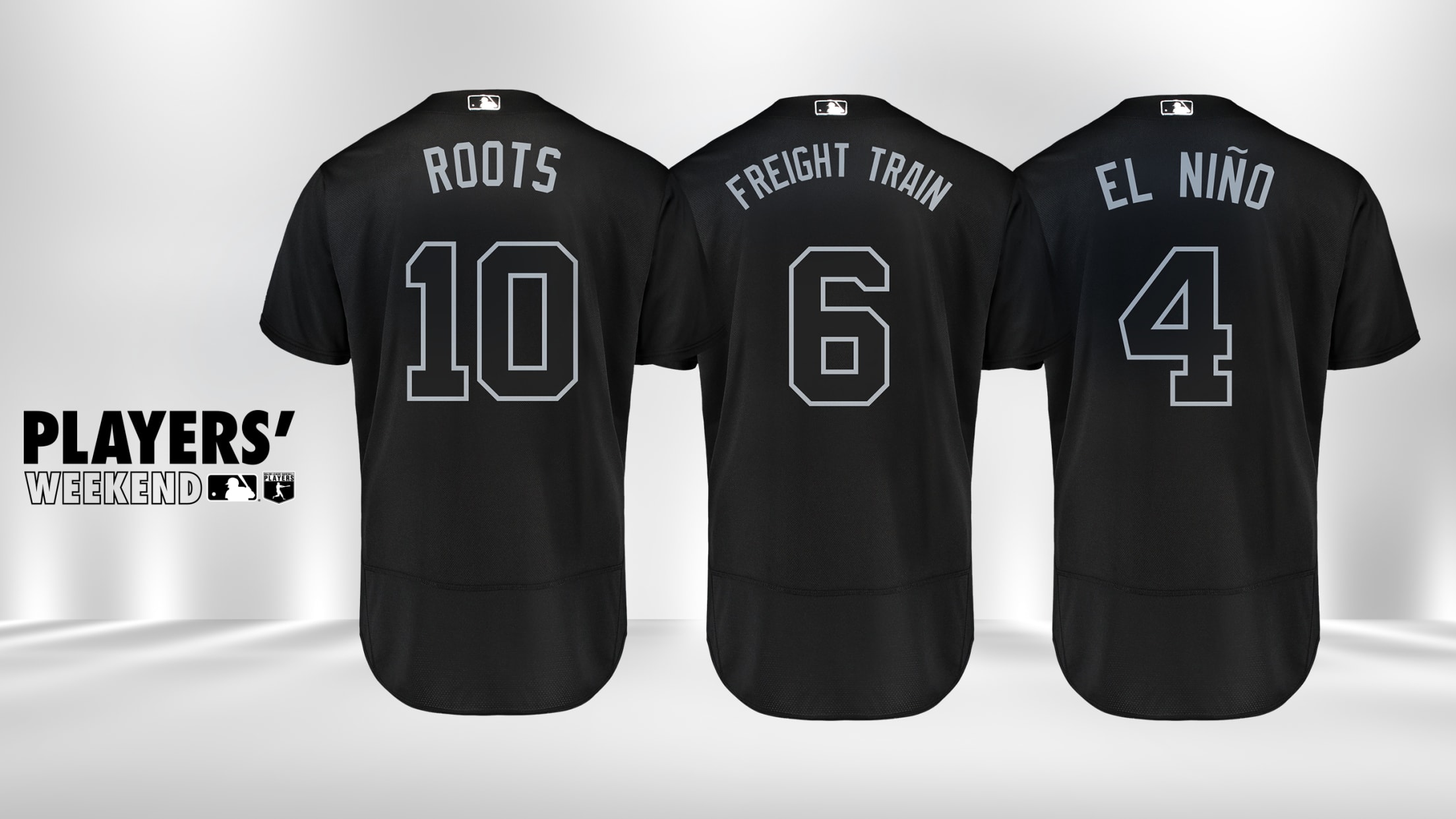 PHOENIX -- The D-backs will have a different look during this weekend's three-game series with the Brewers in Milwaukee, as the team will don special uniforms for the third annual Players' Weekend. Instead of the usual last names on the backs of their jerseys, players have selected their own nicknames
PHOENIX -- The D-backs will have a different look during this weekend's three-game series with the Brewers in Milwaukee, as the team will don special uniforms for the third annual Players' Weekend.
Instead of the usual last names on the backs of their jerseys, players have selected their own nicknames to wear. Some are self-explanatory. Others date back to when the player was a baby, or come with an interesting backstory.
• Shop for Players' Weekend gear
Here are the nicknames D-backs players will wear, with some additional explanations:
Nick Ahmed: "SLICK NICK"
This is a nod to the way 2018's Gold Glove Award-winning shortstop fields his position.
Matt Andriese: "DREEZY"
Alex Avila: "PARKMAN"
Around 2011, Avila's teammates began calling him "Parkman" because they believed he resembled David Keith's character, Jack Parkman, in "Major League II."
Archie Bradley: "CRASH LANDING"
In previous years, Bradley has gone with "Hollywood." "Crash Landing" is the name of the guide business that Bradley owns back home in Oklahoma.
Mike Butcher: "BUTCHIE"
Andrew Chafin: "THE SHERIFF"
Was given the nickname by the D-backs broadcast crew for his penchant for wearing cowboy hats and boots.
Darnell Coles: "DC"
Eduardo Escobar: "EL DE LA PICA"
De La Pica is the name of Escobar's hometown in Venezuela.
Jarrod Dyson: "ZOOMBIYA"
A nod to the speed of one of the National League leaders in stolen bases.
Wilmer Flores: "CATIRE"
"Catire" means "blondie" in Spanish -- when Flores was born, his hair was "almost yellow," he explained, so his family started calling him "Catire."
Zac Gallen: "GALLS"
Kevin Ginkel: "GINKS"
Yoshihisa Hirano: "YOSHII"
Adam Jones: "ROOTS"
The name of the historic 1977 TV miniseries; Jones has the name on his glove as well.
Carson Kelly: "CARS"
Jake Lamb: "LAMBO"
Lamb's teammates typically call him "Lamber," but "Lambo" is a nickname he had in high school and college.
Mike Leake: "DRIP"
An obvious play on the veteran's last name.
Yoan Lopez: "EL ASERE"
The meaning of "asere" in Cuba is "good friend" or "buddy."
Ketel Marte: "EL NINO"
The previous two seasons, Marte had gone with "Pike," but this year he switched. Marte said he is called "The Kid from El Nino" in the Dominican Republic.
T.J. McFarland: "MAC ATTACK"
David Peralta: "FREIGHT TRAIN"
Pertalta was given the "Freight Train" moniker by Arizona television play-by-play man Steve Berthiaume, who said the all-out way Peralta runs the bases was like a freight train rolling down the tracks.
Robbie Ray: "BOB"
Josh Rojas: "RO"
Christian Walker: "C. WALK"
Alex Young: "AY"