These 20 prospects broke out in the Fall League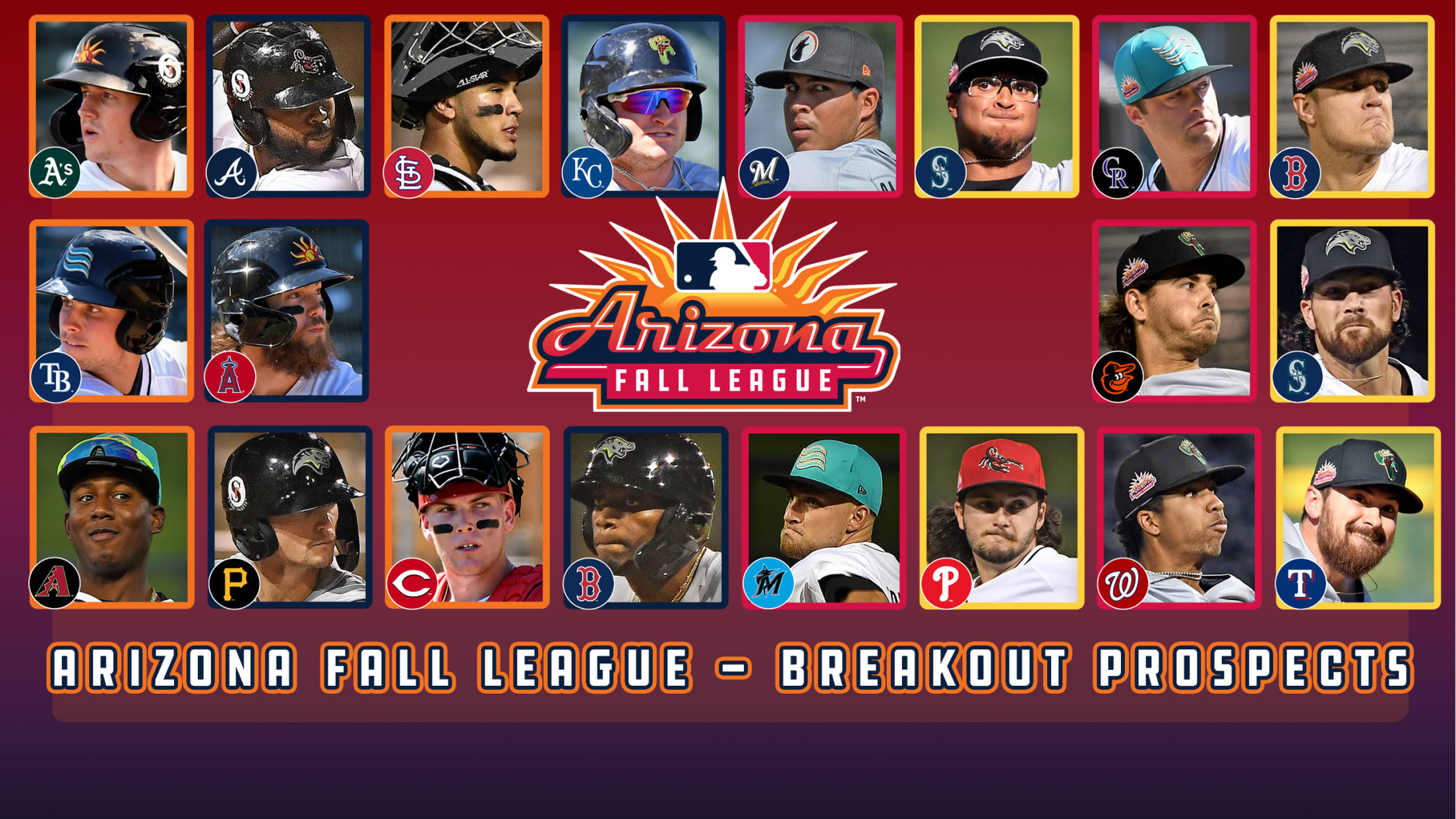 The Arizona Fall League's 28th season is in the books. There's a new champion, the Salt River Rafters, and a new MVP, Royce Lewis of the Twins.
The Arizona Fall League's 28th season is in the books. There's a new champion, the Salt River Rafters, and a new MVP, Royce Lewis of the Twins.
AL East
BAL, BOS, NYY, TB, TOR
AL Central
CLE, CWS, DET, KC, MIN
AL West
HOU, LAA, OAK, SEA, TEX
NL East
ATL, MIA, NYM, PHI, WSH
NL Central
CHC, CIN, MIL, PIT, STL
NL West
ARI, COL, LAD, SD, SF
Team-by-team AFL results
Lewis was one of many top-ranked prospects who performed very well in the Fall League this year, many of whom will be highlighted in Jim Callis' look at the Top 25 AFL prospects in 2019, coming later this week.
Some of those Top 100 types certainly could be seen as having taken big steps forward, like AFL batting title winner Andres Gimenez. But the true breakout prospects are the guys who might have been more under-the-radar before the Fall League began, but who really jumped on the map with how they performed.
Keeping in mind that this was a very small sample size and these players will have to show that what they did in the AFL can carry over to 2020 and beyond, here are 10 hitters and 10 pitchers who had breakout Fall League seasons:
Hitters
Greg Deichmann, OF, A's No. 17 prospect: .256/.347/.634
Deichmann showed what he can do when healthy, leading the AFL in homers (9) and total bases (52) while finishing second with 20 RBIs and his .982 OPS. His nine homers were the most in the Fall League in nearly a decade, since Mike Olt hit 13 in 2011.
Trey Harris, OF, Braves No. 18: .281/.354/.456
Harris continued to do what he did during his entire first full year of pro ball in 2019: prove people wrong by hitting. He finished with six extra-base hits among his 16 total hits and added a pair of stolen bases.
Ivan Herrera, C, Cardinals No. 6: .324/.439/.382
Herrera impressed both behind the plate and at it. Just 19, he walked more times than he struck out in his 10 games and showed no problems receiving and working with the advanced pitchers on Glendale's staff.
Kyle Isbel, OF, Royals No. 8: .315/.429/.438
Healthy once again, Isbel looked the guy who had a huge first summer of pro ball in 2018, leading the AFL with his .429 OBP while driving in 16 runs and swiping six bases in 21 games.
Josh Lowe, OF, Rays No. 11: .327/.379/.558
Nate's brother had seven extra-base hits in 52 at-bats, homering twice and driving in 11. He also went 4-for-4 in stolen-base attempts while playing an excellent outfield.
Brandon Marsh, OF, Angels No. 2: .328/.387/.522
It seemed like every time Marsh was up, he was hitting the ball hard somewhere, finishing with eight extra-base hits and showing off his athleticism with four steals and stellar defense in center field.
Geraldo Perdomo, SS, D-backs No. 7: .316/.417/.418
One of the youngest players in the league -- he turned 20 on Oct. 22 -- Perdomo more than held his own against older competition, finishing the year by hitting in eight of his last nine games, all while showing off exciting skills at shortstop.
Jared Oliva, OF, Pirates No. 11: .312/.413/.473
Oliva was a consistent performer in all aspects of the game, playing great outfield defense, leading the AFL with 11 steals and finishing fifth with a .413 OBP and seventh with an .886 OPS.
Tyler Stephenson, C, Reds No. 7: .347/.418/.490
The former first-round Draft pick built off a solid 2019 season by continuing to show what he can do at and behind the plate when healthy. His .347 average would have placed him fourth had he accumulated enough at-bats to qualify and his .908 OPS would have put him sixth.
Marcus Wilson, OF, Red Sox No. 17: .333/.412/.467
Though Wilson played in just eight games and collected 30 at-bats, he showed off all the raw tools in the box, ones that had started to show up in 2019, but he struggled to use consistently when he had reached Double-A after joining the Red Sox via trade in April.
Pitchers
Victor Castaneda, RHP, Brewers: 22 IP, 13 H, 6 BB, 29 K, 1.99 ERA, .165 BAA, 0.84 WHIP
Almost exclusively a reliever during his first taste of full-season ball in 2019, Castaneda certainly made a strong claim to get stretched out as a starter in 2020 after using his fastball, splitter and changeup effectively to finish third in the league in strikeouts and sixth in WHIP.
#Brewers prospect Victor Castaneda is off to a solid start in his @MLBazFallLeague matchup against Scottsdale.

4 IP
0 H 👀
0 R
1 BB
6 K

Follow the action live here: https://t.co/gNRNH9GaGqpic.twitter.com/6xLT7bl3eV

— MLB Pipeline (@MLBPipeline) September 22, 2019
Aaron Fletcher, LHP, Mariners No. 26: 9 1/3 IP, 6 H, 1 BB, 15 K, 0.00 ERA, .194 BAA, 0.75 WHIP
The lefty acquired by the M's in the Hunter Strickland deal was one of the most effective relievers in the AFL. He gave up hits in only half of his appearances and struck out 14.5 per nine innings.
Ashton Goudeau, RHP, Rockies: 13 IP, 4 H, 0 BB, 18 K, 0.00 ERA, .095 BAA, 0.31 WHIP
Not bad for a Minor League free-agent signing from a year ago who was hurt for a bunch of 2019, right? Goudeau was downright unhittable from start to finish and accrued enough innings to win the ERA title.
Tanner Houck, RHP, Red Sox No. 5: 23 1/3 IP, 20 H, 12 BB, 26 K, 3.47 ERA, .238 BAA, 1.37 WHIP
Command was an issue at times as Houck returned to a starting role, but he missed a ton of bats with his nasty slider and got groundball outs with an excellent two-seamer.
Dean Kremer, RHP, Orioles No. 8: 19 IP, 13 H, 4 BB, 23 K, 2.37 ERA, .206 BAA, 0.89 WHIP
While making up for lost innings from an oblique injury earlier in the year and continuing to work on his slider, Kremer showed his trademark fastball command while mixing his pitches well enough to miss a lot of bats.
Penn Murfee, RHP, Mariners: 22 IP, 16 H, 5 BB, 30 K, 1.23 ERA, .195 BAA
The reliever-turned-starter finished second in the AFL in K's and fifth in ERA while continuing to learn how to set up hitters in longer stints. There's no question he'll get the chance to start in 2020 after this performance.
Nick Neidert, RHP, Marlins No. 11: 21 2/3 IP, 16 H, 2 BB, 19 K, 1.25 ERA, . 205 BAA, 0.83 WHIP
Neidert helped put a somewhat lost season (due to knee surgery) in his rearview mirror. He's showing once again he's the guy who was the Marlins' Minor League Pitcher of the Year in 2018, using a mid-90s fastball with late life, a plus changeup and a curve that flashes above average.
Connor Seabold, RHP, Phillies No. 30: 17 IP, 7 H, 3 BB, 22 K, 1.06 ERA, .125 BAA, 0.59 WHIP
While he made just four AFL starts, Seabold showed his stuff and advanced feel for pitching will facing advanced hitters. He mixed his solid fastball with life, a slider with good depth and a very good changeup successfully across all of his outings.
Sterling Sharp, RHP, Nationals No. 13: 24 IP, 11 H, 11 BB, 24 K, 1.50 ERA, .143 BAA, 0.92 WHIP
Sharp had missed a big chunk of the 2019 season with an oblique injury, but his stuff sure played well this fall. He gave up just one earned run over his final three starts (15 IP), missing bats and getting a ton of groundball outs (1.80 GO/AO) thanks to his outstanding sinker.
Cole Uvila, RHP, Rangers: 10 IP, 10 H, 7 BB, 16 K, 2.53 ERA, .244 BAA, 1.59 WHIP
Uvila was one of many unheralded relievers to stand out in the AFL. The right-hander's curve was one of the nastiest in the league, registering some of the best spin rates all fall, including one that was 3,300+ rpm to record a strikeout in the Fall Stars Game.