Team-by-team guide to the Fall Stars rosters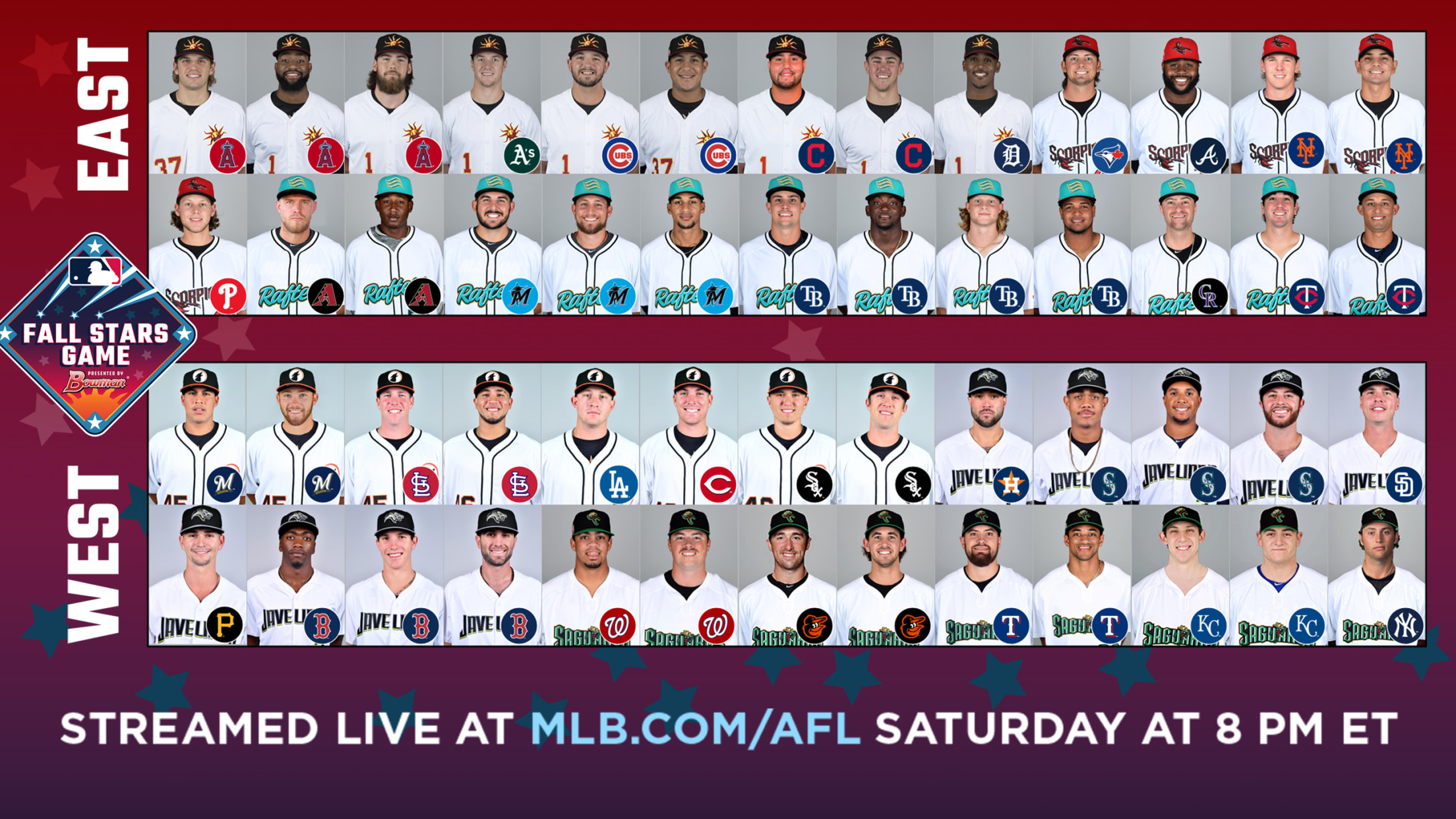 Here's a team-by-team guide to the prospects who were on the rosters for Saturday's Arizona Fall League Fall Stars Game.
Here's a team-by-team guide to the prospects who were on the rosters for Saturday's Arizona Fall League Fall Stars Game.
AL East
BLUE JAYS
Jackson Rees, RHP (unranked on the Blue Jays Top 30): Sporadic success and a history of injuries in college left Rees undrafted when he graduated from Hawaii in 2018, though the Jays signed him for $1,000 as a free agent. He was spectacular in his first full pro season, using a lively sinker and slider to rank third among Minor League relievers in ERA (0.73) while recording a .183 opponent average and an 88/15 K/BB ratio in 61 2/3 innings between two Class A stops.
ORIOLES
Dean Kremer, RHP (No. 8): Acquired from the Dodgers in the Manny Machado trade, Kremer led the Minors in strikeouts (178) in 2018 but opened this season on the shelf with an oblique issue. The 23-year-old righty spent much of the year at Double-A Bowie, posting a 2.98 ERA with 87 whiffs in 84 2/3 frames, and made four Triple-A starts to finish the season. In terms of stuff, Kremer's best pitch is a plus breaking ball that he sets up by effectively pitching to both sides of the plate with his low-90s fastball.
Mason McCoy, SS/2B (No. 24): A sixth-round pick from the 2017 Draft, McCoy impressed in his first experience at the Double-A level. The 24-year-old began the year with Class A Advanced Frederick, but it didn't take long before he was promoted to Double-A Bowie, where he hit .266/.326/.343 over 105 games. McCoy doesn't have huge standout tools, but he can do a little bit of everything to help a team win. He's an advanced hitter, one who has a solid approach and uses the opposite field well, but offers little in the way of power. Defensively, he's a plus defender and can play both second base and shortstop.
RAYS
Vidal Brujan, SS/2B (No. 3/MLB No. 39): Perhaps the fastest player in this year's Fall League, the 21-year-old Brujan swiped 48 bags across two levels this past season after finishing second in the Minors with 55 steals in 2018. He projects as a plus hitter -- one who makes a lot of line-drive contact from both sides of the plate and has some sneaky pop from the left side. Defensively, Brujan is a clean fit at second base but also has proved plenty capable at shortstop early in his career.
Shane Baz, RHP (No. 6/MLB No. 94): Acquired from the Pirates as the PTBNL in the lopsided Chris Archer deal, Baz spent all of 2019 at Class A Bowling Green in the Midwest League, pitching to a 2.99 ERA with 87 strikeouts and 37 walks in 81 1/3 innings (17 starts). He was especially good down the stretch, too, posting a 2.22 ERA over his final six regular-season starts for the Hot Rods. With a fastball that can touch triple digits and a devastating slider, the 20-year-old right-hander has some of the best pure stuff in this year's Fall League.
Ronaldo Hernandez, C (No. 7): Hernandez was a late addition to last year's Fall League and appeared in four games for Peoria. This year the 21-year-old backstop is back in the desert for a full AFL campaign and opening eyes with his ability to impact the baseball following a regular-season campaign in which he batted .265/.299/.397 with nine home runs in 103 games for Class A Advanced Charlotte.
Josh Lowe, OF (No. 11): The Rays' first-round pick from the 2016 Draft and the younger brother of current Ray Nate Lowe, Josh flirted nearly had a 20-20 season in his first Double-A campaign before finishing with a .252/.341/.442 batting line, 18 home runs and 30 steals in 121 games at Montgomery. The 6-foot-4, 205-pound outfielder is still coming into his own as a hitter but has all the makings of becoming a five-tool talent at the highest level.
RED SOX
Jarren Duran, OF (No. 4): A seventh-round pick out of Long Beach State in 2018, Duran already has exceeded expectations by playing in the SiriusXM All-Star Futures Game and reaching Double-A in his first full pro season. He hit .303/.367/.408 with 46 steals in 132 games between two levels while showing plus-plus speed and a line-drive bat.
C.J. Chatham, SS/2B (No. 9): Chatham possesses solid hitting and defensive skills and has been spending the bulk of his AFL time at second base because Boston has Xander Bogaerts at shortstop. The highest pick in Florida Atlantic history (supplemental first round, 2016), he batted .298/.333/.408 between Double-A and Triple-A this year.
Marcus Wilson, OF (No. 17): The Red Sox acquired Wilson, a Diamondbacks supplemental second-rounder out of a California high school in 2014, in the Blake Swihart trade this July. He has solid raw power and speed and used them to hit .269/.357/.492 with 18 homers and 13 steals in 119 games between high Class A and Double-A in 2019.
YANKEES
Brandon Wagner, 3B/1B (unranked on Yankees Top 30): After slamming 20 homers in high Class A last year, Wagner slumped to .179/.290/.280 with eight homers in 117 Double-A games in 2019. The 2015 sixth-round pick from Howard (Texas) JC's best attributes are his power and patience, and he has done a better job of translating them into production while in the Fall League.
AL Central
INDIANS
Nolan Jones, 3B (No. 1/MLB No. 37): Jones has blossomed into one of baseball's best third-base prospects since signing for an above-slot $2.25 million as a second-rounder out of a Pennsylvania high school in 2016. He's a patient hitter with well-above-average raw power, and he hit .272/.409/.442 with 15 homers in 126 games between high Class A and Double-A this season.
Argenis Angulo, RHP (unranked on Indians Top 30): The Indians spotted the Venezuelan-born Angula at Ranger (Texas) JC and drafted him in the 19th round in 2014. Using a low-90s fastball and a quality changeup, he posted a 3.45 ERA with 88 strikeouts in 62 2/3 innings between Double-A and Triple-A in 2019.
ROYALS
Daniel Lynch, LHP (No. 3/MLB No. 69): The No. 8 left-handed pitching prospect in baseball, Lynch missed over a month of his first full season of pro ball with some minor arm issues. That limited his innings, and perhaps kept him from joining some of his fellow 2018 draftees (Brady Singer, Jackson Kowar) in Double-A. He's been pitching extremely well in the AFL (1 ER, 17 K's in 11 IP) as he makes up for some of that lost time.
Kyle Isbel, OF (No. 8): Isbel raised his prospect profile with a huge summer debut after the Royals made him the first position player they took in the 2018 Draft (third round). A broken hamate derailed his first full season, limiting him to just 59 total games, but he's gotten back to raking as he gets more reps in Arizona.
TIGERS
Anthony Castro, RHP (No. 20): Castro's fastball has natural life and reaches the upper 90s, which led to a career-high 116 strikeouts this season. The 24-year-old, whom the Tigers signed in 2011 out of Venezuela, threw 102 1/3 innings with Erie and held opponents to a .207 batting average, down from .251 a season ago. Castro finished with a 4.40 ERA, but after he posted an ERA over 5.00 in the first half, he made the necessary adjustments and pitched to a 3.92 mark in the second half of his first season at the Double-A level.
TWINS
Royce Lewis, SS (No. 1/MLB No. 9): The 2017 No. 1 pick in the Draft had an uneven 2019 season, reaching Double-A at age 20, playing in the Futures Game and finishing with double-digit totals in homers and steals. At the same time, his approach at the plate regressed some, leading to a 123/38 K/BB ratio, something he's been successfully working on in the AFL.
Zach Neff, LHP: There aren't typically high expectations for college seniors taken in the 31st round of a Draft, but Neff raised the bar by pitching well out of the bullpen across two levels of A ball during his first full season (2.97 ERA, .227 BAA, 11.0 K/9 rate). He's only helped himself by being a solid member of the Salt River bullpen this fall.
WHITE SOX
Blake Rutherford, OF (No. 9): The Yankees selected Rutherford with the 18th overall pick in the 2016 Draft and traded the California high school prospect to the White Sox a year later in a deal for Todd Frazier, David Robertson and Tommy Kahnle. Compared to Andre Ethier and David Justice as an amateur, he hasn't hit with much authority as a pro and batted .265/.319/.365 with seven homers in 118 Double-A games this year.
Tyler Johnson, RHP (No. 19): A fifth-rounder from South Carolina in 2017, Johnson dominated two Class A levels in his first year as a pro but missed half of this season with a lat strain. He returned to log a 2.59 ERA with a 43/10 K/BB ratio between three levels (mostly in Double-A) and continued to show a 92-96 mph fastball that peaks at 98.
AL West
ANGELS
Jo Adell, OF (No. 1/MLB No. 5): Adell recovered from ankle and hamstring injuries suffered in Spring Training to play in his second straight Futures Game and make it to Triple-A, all at age 20. He only played in 76 games total, so he's getting more work in this fall and the highest-ranked prospect in the AFL was just named the league's Hitter of the Week.
Brandon Marsh, OF (No. 2): Like his outfieldmate in the organization, Marsh is a very toolsy athlete who had a good 2019 season, but one shortened by injury, as he missed a month of the season and played in just 101 games total. The 2016 second-round pick has been one of the better hitters in the AFL to date and the Fall Stars Game will give Angels fans the opportunity to watch two-thirds of their future big league outfield in action.
Isaac Mattson, RHP (unranked): Mattson came out of Pitt as a 19th-round pick in 2017 and after beginning his pro career as a starter, has taken off as a reliever. The right-hander pitched his way to Triple-A in 2019 and finished with ridiculous numbers (2.33 ERA, .184 BAA, 13.5 K/9 rate). He's been just as effective this fall and could be ready to leap into the Major League bullpen in 2020.
ASTROS
J.J. Matijevic, 1B/OF (No. 17): Matijevic batted .251/.319/.441 with 11 homers in 78 games (mostly in Double-A) this season after serving a 50-game suspension for a second positive test for a drug of abuse. The 2017 second-rounder from Arizona has shown the ability to hit for power or average at various points in his career and is trying to find a happy medium as well as a defensive home.
A's
Greg Deichmann, OF (No. 17): Deichmann was taken in the second round of the 2017 Draft out of LSU for his power bat, but has had trouble staying healthy enough to show his bat will play at this level. In 2019, it was a shoulder injury that limited him to just 80 games. But he's healthy now and if his AFL stint is any indication (He's leading the league with six homers as of Thursday), he could be ready to live up to expectations in 2020.
MARINERS
Julio Rodriguez, OF (No. 2/MLB No. 25): Being ahead of the curve is nothing new for Rodriguez, who managed to hit his way across two levels of A ball in 2019 as an 18-year-old phenom despite suffering a hand fracture in April. The youngest player in the AFL has been showing off an advanced approach that belies his years, a sign that he should be able to continue on a very fast track to Seattle.
Aaron Fletcher, LHP (No. 26): The Mariners acquired Fletcher in the Hunter Strickland trade with the Nationals at the Trade Deadline this past July in a season that saw the 14th-round pick in the 2018 Draft pitch across three levels and reach Double-A, finishing with a combined 2.09 ERA, 2.09 ERA, .192 BAA and 10.3 K/9 rate. He's been just as dominant this fall, not allowing a run in his first six outings.
Sam Delaplane, RHP (No. 30): MLB Pipeline put Delaplane on the Prospect Team of the Year, as the reliever on the second team after a season that saw him strike out 15.7 per nine innings and hold hitters to a .152 batting average. His command of his fastball-slider combination stands out and he's continued to baffle hitters this fall, with 15 K's over his first eight innings.
RANGERS
Bubba Thompson, OF (No. 8): Recruited by Southeastern Conference football programs as a quarterback, Thompson is an outstanding athlete with well above-average speed to go with solid raw power and arm strength. A first-round pick as an Alabama high schooler in 2017, he has had injury issues as a pro, missing time in 2019 with hamate and ankle woes and batting .178/.261/.312 with five homers and 12 steals in 57 games in high Class A.
Cole Uvila, RHP (unranked): Few 24-year-old fifth-year college seniors are true prospects, but Uvila has become one since signing for $1,000 out of Georgia Gwinnett in the 40th and final round of the 2018 Draft. Armed with a mid-90s fastball with late finish and a power curveball, he recorded a 2.23 ERA, .160 opponent average and 95 strikeouts in 64 2/3 innings between two Class A levels in his first full year as a pro.
NL East
BRAVES
Trey Harris, OF (No. 18): The epitome of an over-achiever, Harris was a 32nd-round senior sign in the 2018 Draft. He raised some eyebrows with a pro debut that summer when he reached full-season ball, then really put himself on the map by hitting across three levels, reaching Double-A and finishing with a .323/.389/.498 line.
MARLINS
Nick Neidert, RHP (No. 11): The Mariners' first pick (second round) in the 2015 Draft as a Georgia high schooler, Neidert went to the Marlins in the Dee Gordon trade two years later. Known for his lively low-90s fastball, plus changeup and polish, he missed three months in 2019 after meniscus surgery on his right knee and posted a 4.67 ERA with 46 strikeouts in 54 innings between three levels (mostly in Triple-A).
Victor Victor Mesa, OF (No. 13): Signed for $5.25 million as a Cuban defector last October, Mesa has well above-average speed and arm strength and looks like a potential Gold Glover in center field, though how much impact he'll make with his bat remains in question. The son of former Cuban star Victor Mesa and brother of fellow Marlins outfielder prospect Victor Mesa Jr. is faring better in the AFL after hitting .235/.274/.263 with no homers and 18 steals in 116 games between high Class A and Double-A during his pro debut.
Alex Vesia, LHP (unranked): A 17th-round pick from Cal State East Bay in 2018, Vesia advanced from low Class A to Double-A in his first full pro season while compiling a 1.76 ERA, .187 opponent average and 100/19 K/BB ratio in 66 2/3 innings. His deceptive delivery makes it difficult for hitters to catch up to his 92-95 mph fastball up in the strike zone, and he also has an effective changeup.
METS
Andres Gimenez, SS/2B (No. 3/MLB No. 92): Gimenez was overmatched in last year's Fall League (.125 average in 19 games), but has fared much better this fall in his return to the desert after a full regular season in Double-A. The 21-year-old struggled at Binghamton during the first half but finished the season on a high note, slashing .266/.312/.434 with 17 XBH (5 HR) and 12 steals over his final 50 contests.
Jordan Humphreys, RHP (No. 22): Humphreys, 23, had his entire 2018 campaign wiped out by Tommy John surgery and logged just two innings this past season as he continued to experience complications from the injury and required a second minor surgery. Fully healthy in the Fall League, the former 18th-round pick (2015) has regained his pre-injury stuff while proving capable of working multiple frames.
NATIONALS
Luis Garcia, INF (No. 2/MLB No. 91): Signed out of the Dominican Republic $1.3 million in July 2016, Garcia opened 2019 as the youngest player at the Double-A level and struggled out of the gate, batting .241 with only eight extra-base hits -- none of which left the park -- over his first 64 games at Harrisburg. But he put his slow start behind him in the second half to post a .272 average with 22 extra-base hits, including four home runs, over his final 65 contests in the Eastern League, and is continuing to make strides at the plate in the AFL.
Andrew Lee, RHP (unranked): A 6-foot-5 right-hander whom the Nats signed in the 11th round in 2015, Lee has long flashed potential despite struggling to throw strikes at every stage in his career. The 25-year-old did put together his best pro campaign in 2019, posting a 3.14 ERA with 106 strikeouts (and 50 walks) in 109 innings (27 games/15 starts) between Potomac and Harrisburg.
PHILLIES
Alec Bohm, 3B/1B (No. 1/MLB No. 34): Bohm has lived up to the expectations of being the No. 3 overall pick in the 2018 Draft, reaching Double-A in his first full season, playing in the Futures Game and hitting a combined .305/.378/.518 with 21 homers. His ability to hit for average has continued to be on display this fall as he's played both infield corners, and there's much more power to come.
NL Central
BREWERS
Victor Castaneda, RHP (unranked on Brewers Top 30): The 21-year-old right-hander who signed with Milwaukee in July 2017, Castaneda tossed 44 innings of 4.50-ERA ball with 53 strikeouts for Wisconsin this past season. He garnered this year's first AFL Pitcher of the Week Award after he posted four hitless frames with six strikeouts in his first Fall League debut.
David Fry, C/INF (unranked): The seventh-round pick from Northwestern State impressed with his bat speed and power potential in his first full season, slashing .258/.329/.444 with 17 homers and 41 doubles in 134 games at Class A Wisconsin. The 23-year-old also showed that he could play anywhere on the field, appearing in at least one game at all eight defensive positions. He spent the bulk of his time behind the plate and saw equal time at the infield corners.
CARDINALS
Ivan Herrera, C (No. 6): Herrera has done nothing but hit since he signed with the Cardinals for $200,000 out of Panama in July 2016. After batting .335 during his pro debut in the Dominican Summer League and .348 the following year in the Gulf Coast League, the 19-year-old backstop advanced to full season ball in 2019 and produced a .284/.374/.405 line with nine homers while climbing from Class A Peoria to Class A Advanced Palm Beach. He opened the Fall League as the circuit's second-youngest player and has been anything but overmatched against the advanced competition.
Seth Elledge, RHP (No. 25): Elledge joined St. Louis via a trade in July 2018, a little more than one year after the Mariners had made him their fourth-round pick out of Dallas Baptist. He split this past season between Double- and Triple-A, compiling a 4.26 ERA with 75 strikeouts and 32 walks in 67 2/3 innings (47 games). The 6-foot-3 right-hander is a two-pitch reliever, as he'll pair a 92-94 mph fastball with low-80s breaking ball that nets him both called strikes and whiffs.
CUBS
Miguel Amaya, C (No. 2/MLB No. 90): Signed for $1.25 million out of Panama in 2015, Amaya spent this year in high Class A at age 20 and batted .235/.351/.402 with 11 homers in 99 games. An advanced receiver for his age, he also has solid arm strength with a fast release and the potential to become at least an average hitter with power to match.
Jordan Minch, LHP (unranked): After signing for an over-slot $110,000 as a 35th-rounder from Purdue in 2014, Minch finally reached the upper levels of the Cubs system this year, logging a 4.58 ERA with 53 strikeouts in 57 innings between Double-A and Triple-A. He generates 92-97 mph fastballs with ease and is refining his slider.
PIRATES
Jared Oliva, OF (No. 11): Since being a seventh-round pick in the 2017 Draft out of the University of Arizona, Oliva has hit, gotten on base and stolen bases, including in his move to Double-A in 2019 (.277 with a .352 OBP and 36 steals). He can definitely play center field and has gotten time in left field this fall, with an eye on breaking into Pittsburgh's outfield at some point in 2020.
REDS
Tyler Stephenson, C (No. 7): Injuries have slowed the progress of Stephenson since the Reds took him No. 11 overall in the 2015 Draft, but he did move up to Double-A in 2019 and has shown overall improvement both at the plate and behind it. High school catchers can often take longer to develop given all that they have to learn, but Stephenson is headed in the right direction and has been swinging a hot bat this fall.
NL West
D-BACKS
Seth Beer, 1B (No. 4/MLB No. 96): Arizona's key return in the four-prospect package they acquired for Zack Greinke, Beer posted a .904 OPS with 26 homers and 103 RBIs and spent much of his first full season in Double-A. Including his pro debut, the 22-year-old masher has compiled a .294/.388/.508 line with 38 homers, 38 doubles and 145 RBIs in his first 189 pro games after hitting .321/.489/.648 with 56 homers and nearly twice as many walks (180) as strikeouts (98) during three years at Clemson.
Geraldo Perdomo, SS (No. 7): Signed for $70,000 in July 2016, Perdomo advanced from Class A Kane County to Class A Advanced Visalia in his age-19 season and batted .275/.397/.364 with 27 extra-base hits and 26 steals between the two stops. He's a switch-hitter who makes a lot of line-drive contact and has impressive plate discipline for his age -- as evidenced by his 70 walks and 67 strikeouts in his first full-season campaign -- to go along with plus defensive chops at shortstop. He's been a standout for Salt River in early going, batting .393 with 11 hits in his first seven AFL games.
DODGERS
Brett de Geus, RHP (unranked on Dodgers Top 30): De Geus has blossomed into a prospect since signing for $75,000 as a 33rd-rounder from Cabrillo (Calif.) JC in 2017, developing a 93-98 mph fastball with running action, a hard slider and a power curveball. He excelled in his full-season debut in 2019, posting a 1.75 ERA, .205 opponent average and 72/13 K/BB ratio in 61 2/3 innings between two Class A levels.
GIANTS
Catcher Joey Bart (No. 1/MLB No. 19) was named to the initial roster, then replaced after he was hit by a pitch and fractured his right thumb on Tuesday.
PADRES
Elliot Ashbeck, RHP (unranked on Padres Top 30): A former 16th-round pick (2015) out of Bradley University, Ashbeck, 25, garnered All-Star honors in the California League for a second straight season this year. Appearing in 33 games (eight starts) as a long-reliever/swingman, the right-hander compiled a 2.95 ERA with 102 strikeouts and 24 walks in 103 2/3 innings before moving up to Amarillo for the Texas League playoffs.
ROCKIES
Ashton Goudeau, RHP (unranked on Rockies Top 30): Not every developmental path is straight, and Goudeau is proof of that. The right-hander was signed by the Rockies as a Minor League free agent in November 2018 and he pitched so well as a starter in Double-A in 2019, despite missing two months with a hand injury, the Rockies have already signed him to come back in 2020. He's working out of the bullpen this fall and has been virtually unhittable.