30 AFL sleeper prospects -- 1 for each team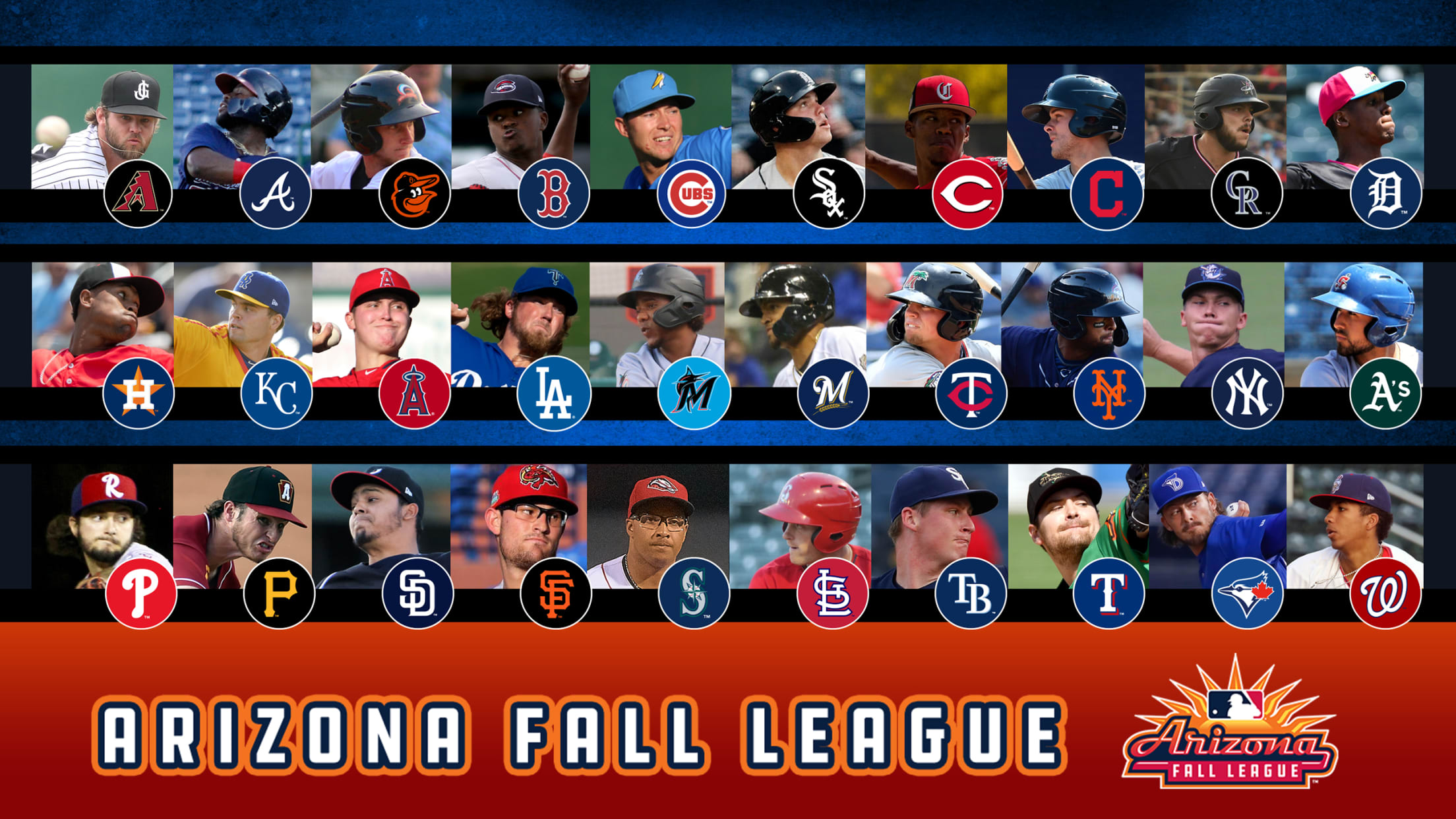 The Arizona Fall League annually showcases many of baseball's top prospects. Gleyber Torres, Ronald Acuña and Keston Hiura have won the last three MVP awards as a prelude to big league success, and other recent participants include Cody Bellinger, Vladimir Guerrero Jr. and Victor Robles. • Arizona Fall League rosters
The Arizona Fall League annually showcases many of baseball's top prospects. Gleyber Torres, Ronald Acuña and Keston Hiura have won the last three MVP awards as a prelude to big league success, and other recent participants include Cody Bellinger, Vladimir Guerrero Jr. and Victor Robles.
Yet it's not just the blue-chip prospects who make names for themselves in the Fall League. Ramón Laureano used the AFL to emerge from obscurity in 2016, and Darwinzon Hernandez, Austin Riley and Will Smith have used the developmental circuit as a springboard to contributing in the Majors earlier than expected.
Which sleepers will emerge in Arizona this fall? We present a candidate for every organization below:
AL East
Blue Jays: Jackson Rees, RHP (unranked) - Sporadic success and a history of injuries in college left Rees undrafted when he graduated from Hawaii in 2018, though the Jays signed him for $1,000 as a free agent. He was spectacular in his first full pro season, using a lively sinker and slider to rank third among Minor League relievers in ERA (0.73) while recording a .183 opponent average and an 88/15 K/BB ratio in 61 2/3 innings between two Class A stops.
Orioles: Rylan Bannon, 3B/2B (No. 23) - An eighth-round pick out of Xavier by the Dodgers in 2017, Bannon joined the Orioles a year later as part of the Manny Machado trade. A solid defender at third base with raw power to match, he batted .266/.345/.421 with 11 homers this year between Double-A and Triple-A.
Rays: Drew Strotman, RHP (No. 24) - Strotman blew out his elbow in May 2018, 11 months after signing as a fourth-rounder from St. Mary's, and returned to the mound this July following Tommy John surgery. He worked just 24 innings in nine abbreviated starts this summer but can hit 98 mph with his fastball and back it up with a solid slider when at his best.
Red Sox: Yoan Aybar, LHP (No. 29) - The Red Sox spent $450,000 to sign Aybar as an outfielder out of the Dominican Republic in 2013 but wound up moving him to the mound five years later when he didn't hit. He's still learning as a pitcher but has a fastball that reaches 99 mph and shows flashes of a sharp slider, a combination that helped him strike out 70 in 56 2/3 innings (mostly in low Class A) while posting a 4.61 ERA this year.
Yankees: Glenn Otto, RHP (unranked) - The Yankees have tried to convert Otto from a reliever at Rice to a starter in pro ball since drafting him in the fifth round in 2017, but he has had trouble staying healthy. He had surgery to remove a blood clot from his pitching shoulder in 2018 and lost two months to a ribcage injury this year. He can make hitters look bad with his 92-97 mph fastball and his spike curveball, which helped log a 3.20 ERA with 68 strikeouts in 56 1/3 high Class A innings this summer.
AL Central
Indians: Ernie Clement, SS (No. 25) - Clement won the College World Series with Virginia in 2015 and Cape Cod League MVP honors the following summer before the Indians drafted him in the fourth round in 2017. A contact hitter who offers plus speed and steady defense, he batted .269/.323/.331 with 17 steals this year (mostly in Double-A).
Royals: Daniel Tillo, LHP (No. 30) - The big, strong and athletic left-hander (He was a basketball standout in high school) is still struggling to find consistency in terms of command, but the 2017 third-rounder's stuff played plenty well enough as he reached Double-A in 2019. He finished the year coming out of the bullpen, a role he'll continue in the AFL, where his stuff all ticked upwards.
Tigers; Anthony Castro, RHP (No. 20) - Signed out of Venezuela in 2011, Castro had Tommy John surgery in 2015 and didn't reach full-season ball until 2017. He missed more bats than ever this year, logging a 4.40 ERA with a .207 opponent average and 116 strikeouts in 102 1/3 Double-A innings this season thanks to the natural life on a fastball that can hit 98 mph.
Twins: Ben Rortvedt, C (No. 30) - Gavin Lux and Jarred Kelenic might get most of the press regarding prospects from Wisconsin, but it'd be a mistake to forget about Rortvedt, the 2016 second-round pick who made it to Double-A this year. He's looking to find more offensive consistency, but his defense alone should get him to the big leagues. He threw out 51.7 percent of potential basestealers in 2019 to bring his career mark up to 38.7 percent. He showed off that arm early, throwing out a runner on opening day of the AFL on Wednesday.
White Sox: Gavin Sheets, 1B (No. 13) - The son of former big league outfielder Larry Sheets, Gavin had difficulty hitting for power after the White Sox selected him in 2017's second round from Wake Forest. He did a better job of tapping into his best tool in the second half of this season and overall hit .267/.345/.414 with 16 homers in Double-A.
AL West
Angels: Aaron Hernandez, RHP (No. 14) - Before Hernandez was taken in the third round of the 2018 Draft, Texas A&M-Corpus Christi's highest Draft pick had been in the ninth round. He was used carefully during his first full year and only threw five innings twice all season. With a fastball that touches 98 mph, a pair of breaking balls that flash plus and a funky delivery, he might be best suited for the bullpen, something the Angels will be evaluating this fall.
Astros: Jojanse Torres, RHP (unranked) - Eligible to sign when he turned 16 in August 2011, Torres didn't land a pro contract until the Astros paid him $150,000 in April 2018. The Dominican has one of the best arms in Houston's system, regularly working at 95-98 mph with his fastball and hitting 90 with his slider, and he went 12-0 with a 1.71 ERA, .175 opponent average and 107 strikeouts in 94 2/3 innings between two Class A stops this year.
A's: Alfonso Rivas, 1B/OF (No. 25) - Known as a pure hitter with good on-base skills at the University of Arizona, Rivas had a solid first full season after being a third-round pick in 2018. He hit .283 with a .383 on-base percentage in the California League, then got a late double-jump up to Triple-A to help Las Vegas in the Pacific Coast League playoffs. A very solid defender at first, he can also handle an outfield corner.
Mariners: Aaron Fletcher, LHP (No. 27) - A 14th-round pick in the 2018 Draft, Fletcher had reached Double-A in his first full season with the Nationals when he was dealt to the Mariners in July in the Hunter Strickland deal. The left-handed reliever struck out 10.3 per nine innings with a .192 batting average against in 2019. A strong AFL could get him ready to help out the big league bullpen in 2020.
Rangers: Cole Uvila, RHP (unranked) - Draft pedigrees don't get more modest than that of Uvila, who was 24 years old and a fifth-year senior at Georgia Gwinnett when the Rangers signed him for $1,000 in the 40th and last round of the 2018 Draft. The 1,199th overall pick has a mid-90s fastball that has played well in pro ball, helping him record a 2.23 ERA, .160 opponent average and 95 strikeouts in 64 2/3 innings between two Class A clubs in his first full season.
NL East
Braves: Trey Harris, OF (No. 18) - Harris went undrafted as a junior at Missouri, then signed for $10,000 as a 32nd-round pick as a senior in 2018. Then all he did was hit his way to Double-A in his first full season to finish with a .323/.389/.498 combined line. Not wasting any time, he homered in his first AFL game on Wednesday.
Marlins: Jerar Encarnacion, OF (No. 17) - Encarnacion battled injuries and an overly aggressive approach in his first three pro seasons before breaking out in 2019 by hitting .276/.331/.425 with 16 homers between two Class A levels. Signed for $78,000 out of the Dominican Republic in 2015, he fits the right-field profile with plus raw power and arm strength.
Mets: Luis Carpio, 2B/SS (No. 28) - Carpio broke out and hit a career-high 12 homers in 2018 and although that number dipped to just four in 2019, his overall slash live improved a lot better and Carpio made strides in his feel to hit and his discipline at the plate. The infielder, who hit .219/.290/.364 last year, put up a slash line of .282/.361/.380 this season. What's more, Carpio reduced his strikeout rate and increased his walk rate. On the other side of the ball, the 22-year-old is a solid defender who certainly has the skill to play shortstop, but has primarily played second after having shoulder surgery in 2016.
Nationals: Sterling Sharp, RHP (No. 13) - Despite his 5.90 ERA at NCAA Division II Drury (Mo.) in 2016, the Nationals still signed Sharp for $40,000 in the 22nd round because they liked the action on his low-90s sinker. An oblique injury limited him to 12 starts this season (mostly in Double-A), during which he recorded a 3.19 groundout/airout ratio along with a 3.53 ERA and a 52/15 K/BB ratio in 58 2/3 innings.
Phillies: Connor Seabold, RHP (No. 30) - An oblique strain kept him out of action for three months in 2019, but the Cal State Fullerton control artist got back to doing what he does best once he was healthy. He only threw 56 1/3 innings, a big reason why he's in the AFL, walking just 1.8 per nine for a 1.01 WHIP and went six or more innings in his final five starts in Double-A.
NL Central
Brewers: Pablo Abreu, OF (No. 18) - Injuries wiped out the bulk of Abreu's 2019 campaign and he played in just 41 games across two levels. The 19-year-old hit .200 in that small sample size, but was hardly healthy long enough to get into a rhythm. The Brewers signed Abreu for $800,000 in 2016 and are intrigued with his combination of power and speed. Abreu is an aggressive hitter, but has a strong feel for the strike zone and is willing to grind out long at-bats. It's also important to note that Abreu has played just 27 games above the Rookie-level, so he may scuffle a bit in the Fall League, but should still be able to showcase his tools and get valuable game reps against advanced competition.
Cardinals: Conner Capel, OF (No. 24) - Capel, whom the Cardinals acquired at last year's Trade Deadline, had a solid first full season in the Cardinals organization, batting .248/.296/.388 over 106 games. The 2016 fifth-round pick hit 22 homers in 2017, but in an effort to reduce his swing-and-miss, focused more on making contact in 2018 and saw his power numbers decline. Capel, 22, started driving the ball a bit more this year as he hit 11 homers -- against advanced competition. Capel has above-average speed and solid instincts so if he can get back on track offensively, limiting his strikeouts and driving the ball all over the field, he's likely to see his stock start to climb. Hitting in the hitter-friendly Arizona Fall League could provide the results and confidence needed.
Cubs: Erich Uelmen, RHP (No. 24) - The Cubs focused on college pitchers at the top of the 2016 and 2017 Drafts and used a fourth-round pick in the latter year on Uelmen, a Cal Poly product with a heavy sinker that garners comparisons to former All-Star Derek Lowe's. He split 2019 between high Class A and Double-A, posting a 4.55 ERA with 76 strikeouts in 91 innings.
Pirates: Blake Cederlind, RHP (No. 28) - The 2016 fifth-round pick began the year in the Florida State League, but got in a groove early to earn not one, but two promotions to end the 2019 season in Triple-A. He tops 100 mph with his fastball and he misses bats as well as getting ground-ball outs, thanks to the excellent sink he gets on the pitch. He'll be working on finding consistent secondary offerings this fall.
Reds: Dauri Moreta, RHP (unranked) - The reliever had trouble finding the strike zone consistently for most of his pro career since he started back in 2015, but he took a huge step forward this season (1.4 BB/9), allowing him to have a big year in the Florida State League. Using a fastball that averages just under 94 mph along with a slider that gets a ton of swings and misses, Moreta struck out 10 per nine and held FSL hitters to a .223 BAA.
NL West
D-backs: Matt Peacock, RHP (unranked) - Peacock, a 23rd-round pick from the 2017 Draft, enters the Fall League riding a wave of momentum as he was dominant in the Southern League playoffs. The right-hander carried a no-hit bid into the fifth inning of his last start and gave up just one run over 12 2/3 postseason innings. During the regular season, his first at the Double-A level, he pitched to a 2.97 ERA over a career-high 115 1/3 innings. The 25-year-old gave up just five homers all year and also struck out 81.
Dodgers: Marshall Kasowski, RHP (No. 27) - Few Minor League relievers rely on their fastball as much or miss as many bats as Kasowski, a 13th-round pick from West Texas A&M in 2017. His 91-97 mph fastball seems to rise at the plate and hitters don't see it well coming out of his over-the-top delivery, and he had a 2.47 ERA, .162 opponent average and 46 strikeouts in 29 1/3 Double-A innings while dealing with minor injuries this season.
Giants: Tristan Beck, RHP (No. 18) - The Braves paid Beck an over-slot $900,000 in the fourth round a year ago, then traded the Stanford product in a deal for Mark Melancon this July. Hampered by an oblique injury early in 2019, he logged a 3.98 ERA with 90 strikeouts in 81 1/3 innings (mostly in high Class A) while working with a low-90s fastball, a decent curveball and a quality changeup.
Padres: Osvaldo Hernandez, LHP (unranked) - Hernandez, a 21-year-old whom the Padres signed in 2017, missed roughly three months of the year while on the injured list, so he'll be making up for lost time in Arizona. However, when he was healthy, Hernandez showed an intriguing four-pitch mix. The 21-year-old, who signed for $2.5 million a couple years ago, has above-average offspeed pitches and reached the mid-90s with his fastball. Pitching at the Class A Advanced Level for the first time, Hernandez posted a 3.90 ERA over 32 1/3 innings.
Rockies: Roberto Ramos, 1B (No. 28) - Ramos looked like a legitimate power-hitting prospect when he hit 32 homers in 2018, especially since 15 came after a promotion to the much less hitter friendly Double-A Eastern League. He hit for both average and power in Triple-A in 2019 (.309/.400/.580 with 30 homers and 105 RBIs), though doubters will want him to prove that wasn't just part of the inflated offensive numbers across the Triple-A level.