Thursday's top 10 Arizona Fall League performers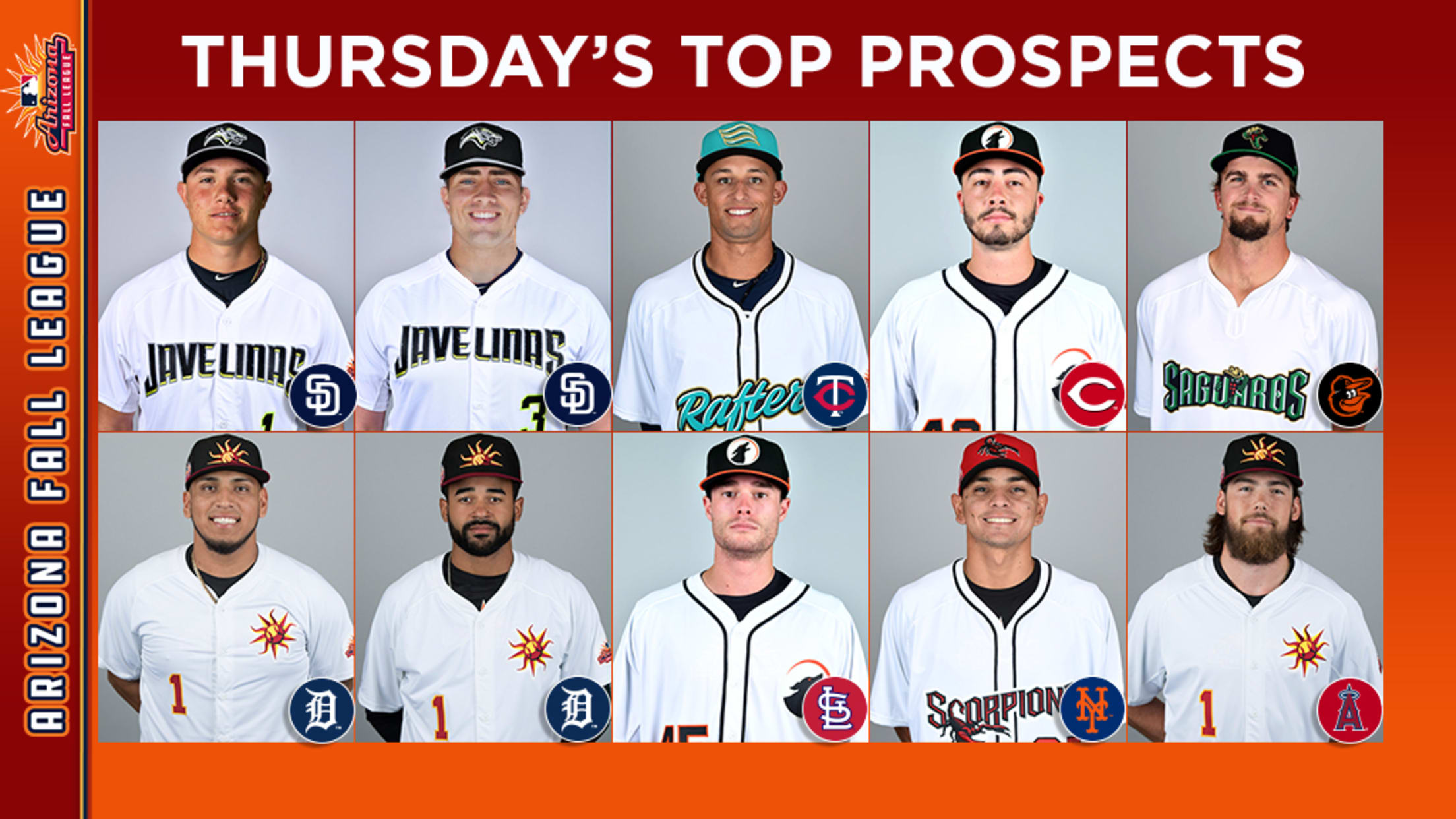 Here are the 10 best performers from Thursday, Oct. 10 in the Arizona Fall League. • AFL scoreboard | Rosters | Video
Here are the 10 best performers from Thursday, Oct. 10 in the Arizona Fall League.
• AFL scoreboard | Rosters | Video
AL East
BAL, BOS, NYY, TB, TOR
AL Central
CLE, CWS, DET, KC, MIN
AL West
HOU, LAA, OAK, SEA, TEX
NL East
ATL, MIA, NYM, PHI, WSH
NL Central
CHC, CIN, MIL, PIT, STL
NL West
ARI, COL, LAD, SD, SF
Team-by-team AFL results
Logan Driscoll, C, and Adrian Morejon, LHP, Padres No. 7
Driscoll's first AFL at-bat ended with a thunderous thump as the catcher slugged a solo shot deep into the right-field bullpen. Driscoll, who was selected in the second round of the 2019 Draft out of George Mason, also showed off his arm behind the plate as he caught a runner straying too far from first to conclude the top of the seventh. He homered again in the bottom of the eighth, finishing 2-for-3 and accounting for all of the Javelinas' offense. More »
Morejon got the start for Peoria on Thursday, making his AFL debut. He tossed two frames and struck out three, displaying three strong pitches in his arsenal. Aside from a lined single to left, he was generally sharp against Glendale, retiring six of the eight batters that he faced. After having made his MLB debut with the Padres earlier this year, Morejon looks to continue refining his stuff with only 164 1/3 career Minor League innings under his belt.
Make that 2 homers in his first @MLBazFallLeague game! The #Padres' 2019 #MLBDraft pick out of @MasonBaseball breaks a 1-1 tie with his 2nd dinger of the day.

— MLB Pipeline (@MLBPipeline) October 10, 2019
Royce Lewis, SS, Twins No. 1
Lewis (MLB No. 9) collected half of Salt River's hits against Mesa on Thursday. Batting fifth and making his first AFL start at second base, Lewis pushed across the Rafters' first run via a fourth-inning double and finished 3-for-4 with one run scored from the five-spot in the lineup. The former No. 1 overall pick in 2017 extended his AFL hitting streak to 10 games with his second three-hit performance in five games, and overall, he's batting .404 through 13 games in the Fall League.
Royce Lewis' RBI 2B puts Salt River on the board. He's 2-for-2 tonight. #MNTwins @MLBPipeline pic.twitter.com/Waz9E351Ke

— Mike Rosenbaum (@GoldenSombrero) October 11, 2019
Jonathan India, 3B, Reds No. 3
India launched his second home run of the fall season, sparking a comeback effort for Glendale in the sixth inning. The third base prospect has struggled overall in the Fall League (6-for-33 with three XBH), but his two homers have come in a four-game span, over which he's notched four hits.
#Reds No. 3 prospect Jonathan India with a booming solo shot in the 6th to knot the game up for Glendale against Peoria pic.twitter.com/Vbvi0ERqvE

— Jesse Borek (@JesseABorek) October 10, 2019
Alex Wells, LHP, Orioles No. 20
Wells got his first start for the Saguaros, and the 22-year-old left-hander threw three scoreless innings, allowing four hits and striking out four. He was consistently around the zone in the outing, throwing 32 of 45 pitches for strikes, and he kept Scottsdale's hitters off balance by effectively spotting his 87-90 mph fastball to set up his low-70s curveball and low-80s changeup, both of which he consistently commanded at the bottom (or below) the zone. With the performance, the Australian-born southpaw improved his ERA to 0.84 through 10 2/3 innings in the Fall League.
Isaac Paredes, INF and Derek Hill, OF, Tigers Nos. 5 and 28
Paredes and Hill both went deep on Thursday in Mesa's 9-3 win over Salt River. Hill smashed a solo shot over the wall in right-center field in the second inning to extend the Solar Sox's early lead, and Paredes followed his lead with a long solo homer down the left field line in the subsequent frame. Paredes ultimately reached base three times in the contest, finishing 1-for-3 with two walks and two runs scored. Hill added a double in his second at-bat but struck out in his final trips to the plate to finish 2-for-4 with two runs scored.
Isaac Paredes just went deep here at Mesa. No doubt about this one. 4-0 Solar Sox through 3 innings. #Tigers @MLBPipeline pic.twitter.com/oqbOKMnuUy

— Mike Rosenbaum (@GoldenSombrero) October 11, 2019
Griffin Roberts, RHP, Cardinals No. 19
Roberts got the start for the Desert Dogs on Thursday, and the right-hander delivered a strong performance, with his only blemish coming from a solo home run in the third. He finished with four strikeouts across his four frames, escaping a first and third jam with no outs in the fourth without yielding a run. Through four AFL starts, Roberts has totaled 18 strikeouts in 14 2/3 innings, a stark divergence from his 2019 regular-season numbers, where he struck out just 36 batters in 65 2/3 frames at Class A Advanced Palm Beach.
Andres Gimenez, SS, Mets No. 3
Gimenez recorded his fifth multhit game in the AFL (2-for-4) and picked up his second stolen base, but his most impressive play on Thursday came on defense. In the fourth inning, the 21-year-old ranged to his right and corralled a tricky grounder, then showed off his 60-grade arm with a dart to first base to take a hit away from Mason McCoy and end the frame.
Brandon Marsh, OF, Angels No. 2
Marsh extended his hitting streak to five games with his second straight multihit performance. The 21-year-old outfielder started the scoring for Mesa with a two-run single in the first inning and later added another knock before finishing 2-for-4 with a walk and a pair of stolen bases. Overall, Marsh has posted a .385 average with four extra-base hits, eight RBIs and four steals in 10 games.
Brandon Marsh puts Mesa on the board in the first with a two-run single. #Angels @MLBPipeline pic.twitter.com/NowJdl6rtc

— Mike Rosenbaum (@GoldenSombrero) October 11, 2019