Chapman expects to pitch before season ends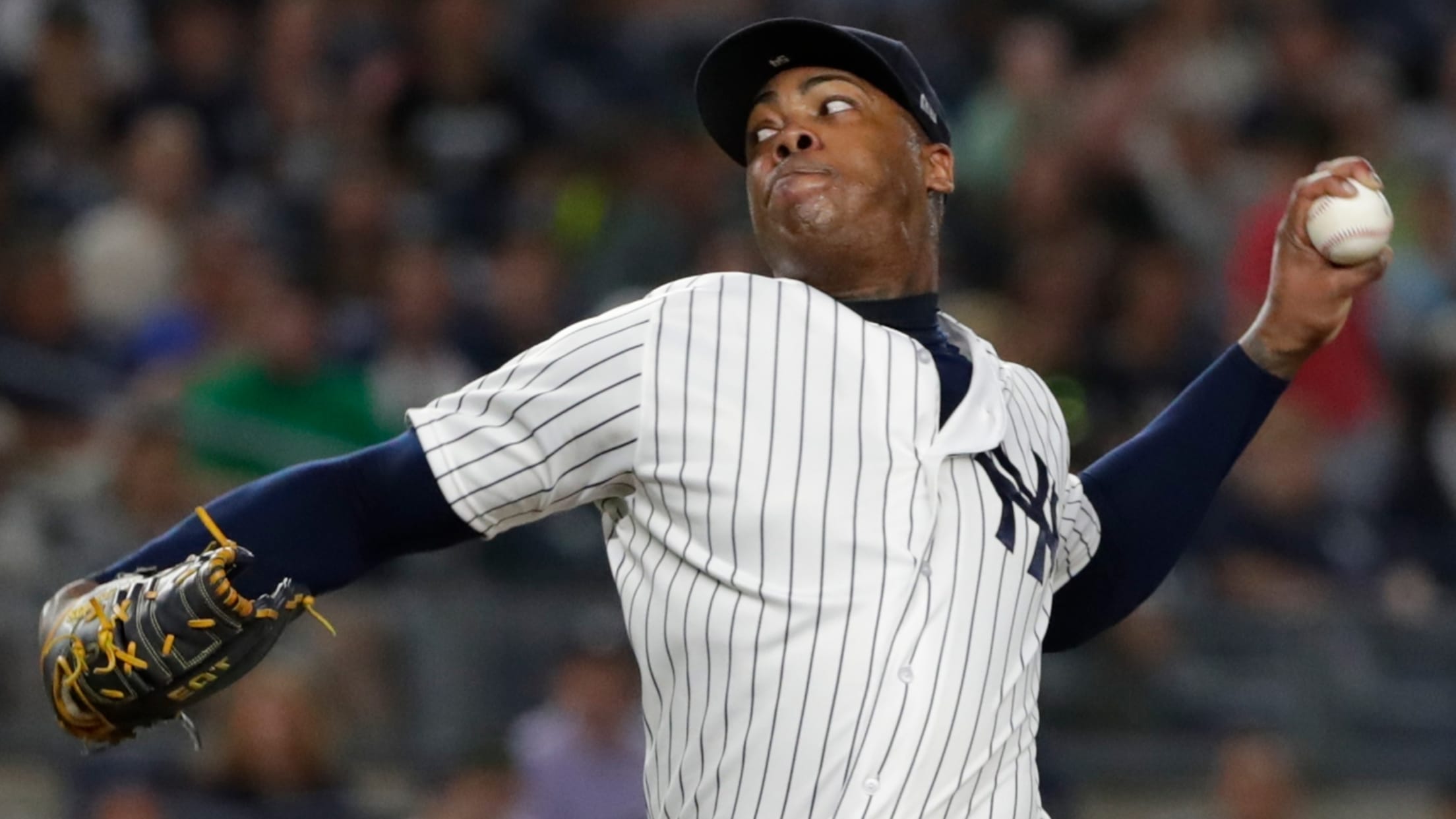 NEW YORK -- Albertin Chapman said that he is feeling no pain in his left knee and that he is "very optimistic" about his chances of appearing in big league games before the end of the regular season.The left-hander is expected to throw in the bullpen prior to Saturday's game
NEW YORK -- Albertin Chapman said that he is feeling no pain in his left knee and that he is "very optimistic" about his chances of appearing in big league games before the end of the regular season.
The left-hander is expected to throw in the bullpen prior to Saturday's game against the Blue Jays, which would be his second time doing so since going on the disabled list with left knee tendinitis on Aug. 22. A simulated game could follow early next week.
"I definitely feel much better," Chapman said through an interpreter. "The knee is much better. The arm is great. Overall, just in general, I feel fresh. Now it's a matter of building some strength again. I think it has been around 20 days since I was playing catch, so overall I feel very good."
Chapman had two platelet-rich plasma injections in his knee, intended to speed healing in an injury that he had been managing since at least May. Yankees manager Aaron Boone has said that he hopes to reinstate Chapman to the bullpen next week.
"I'm really confident. He's doing really well," Boone said. "He got out there today. He threw his first bullpen [session] on Wednesday. … He played catch today. He did some fielding work out in the outfield. He's fielding really well. Aroldis is in a really good place in getting to the point where he'll be able to join us."
The 30-year-old Chapman was 3-0 with a 2.11 ERA in 50 appearances, recording 31 saves with 84 strikeouts in 47 innings.
"I'm preparing myself for what we have coming up -- the rest of the season and hopefully the playoffs," Chapman said.
Home game
Returning to the lineup after missing two games with a bruised right knee, Brett Gardner's focus will be on patrolling the outfield on Friday, but he also has been keeping in touch with people in Holly Hill, S.C.
Gardner's hometown was anticipating severe weather as Hurricane Florence -- now downgraded to a tropical storm -- made landfall early Friday morning. His wife, Jessica, and their two sons flew to New York, while Gardner said that his parents will ride the storm out at home.
"It seems like every year about this time we have a scare, you know?" Gardner said. "Then it's just a matter of just sit and wait and see where it's going to make landfall. This one's a little different in that it's going to hit and go west. We'll get affected by it, but a whole lot of other people are in a whole lot worse shape than us. They'll be in our thoughts and prayers, for sure."
Holly Hill (also the birthplace of former Yankee Willie Randolph) sits about 40 miles inland between Charleston, S.C., and Columbia, S.C.
This date in Yankees history
Sept. 14, 1999: Bernie Williams crushes an eighth-inning grand slam off Billy Koch and Paul O'Neill hits another grand slam in the ninth inning off Paul Spoljaric as the Yankees rally for nine unanswered runs in a 10-6 victory over the Blue Jays in Toronto.