Howe recalls '02 A's streak, what could've been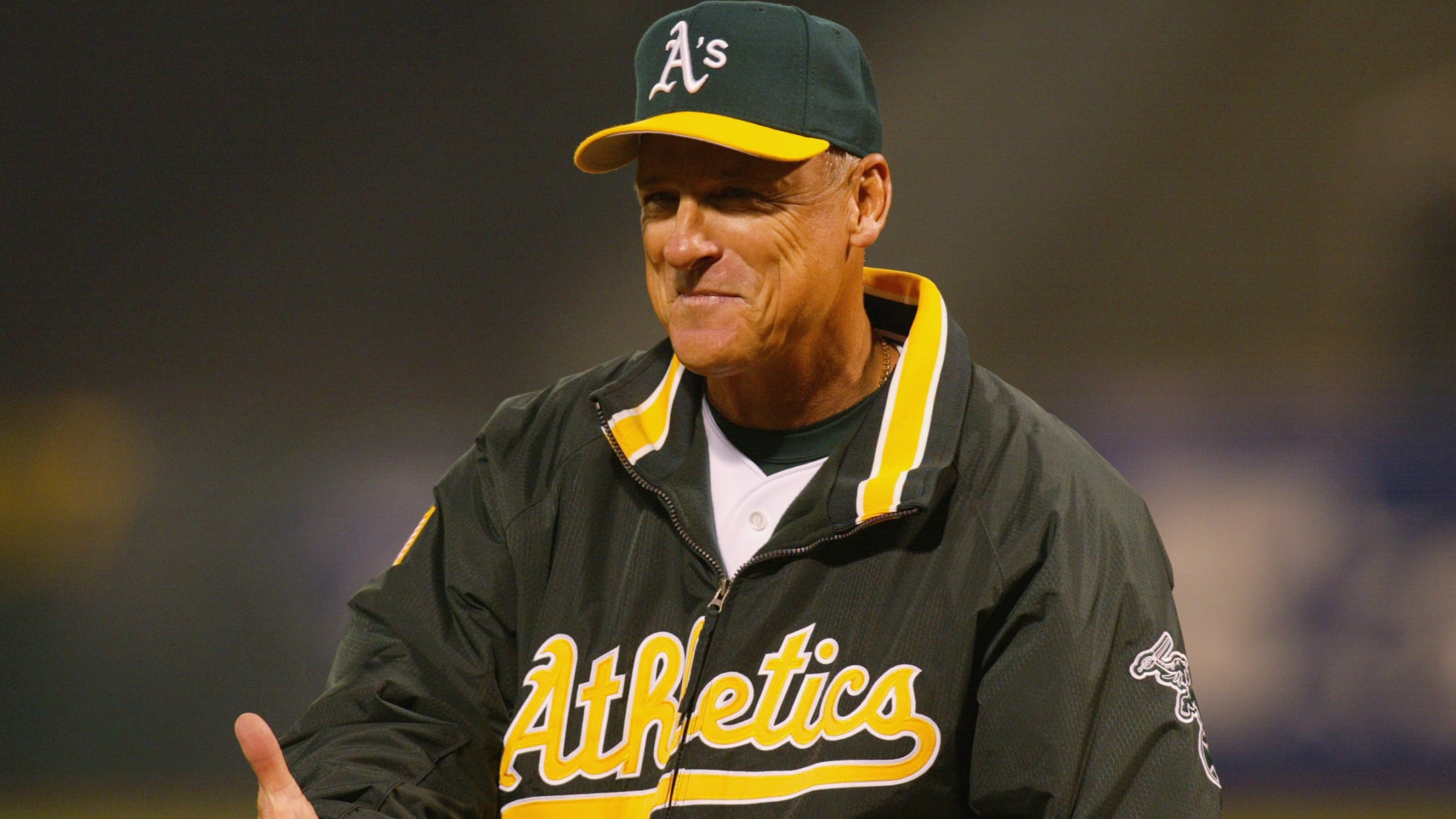 Art Howe led the A's to a 103-win season and an American League West championship in 2002, his last year with the club. (Getty)
For Art Howe, the memories are bittersweet. It was 15 years ago that Howe managed the A's to a then-American League-record 20 consecutive wins. That record was surpassed when the Indians won their 21st consecutive game on Wednesday afternoon, 5-3, over the Tigers."It's history now," Howe said of the Athletics'
For Art Howe, the memories are bittersweet. It was 15 years ago that Howe managed the A's to a then-American League-record 20 consecutive wins. That record was surpassed when the Indians won their 21st consecutive game on Wednesday afternoon, 5-3, over the Tigers.
"It's history now," Howe said of the Athletics' place in history. "I guess it's true. Records are made to be broken."
Memories, however, last forever, and there was a mixed bag of memories in that 2002 season for Howe and Oakland.
With the 20-game winning streak as a foundation, the A's won 103 games, equaling the fourth-highest victory total in the history of a franchise that dates back to 1901.
It allowed the A's to advance to the postseason for a third consecutive season, but also saw them eliminated by the Twins in five games in the best-of-five AL Division Series for a third year in a row. And it ended with Howe, after seven years as the Athletics' manager, leaving to become the Mets' skipper after winning 102 and 103 games in his last two seasons in Oakland.
"There were heartbreaking losses," Howe said. "That first year [in 2000], we had to win the final game to get in, so we had to pitch [Tim Hudson] to clinch the pennant, so we end up with him available for only one game.
"The next year was that Derek Jeter play [in Game 3]. I wish we had instant replay then. I would have definitely challenged that play. And then against Minnesota [in 2002], Hudson had the hip problem, but when your ace says he can go, you give him the ball after what he's done for you all year, but he wasn't 100 percent."
It showed. Oakland lost both of Hudson's starts. He gave up a combined 11 runs (six earned) over 8 2/3 innings against Minnesota.
None of that, however, could erase the excitement Howe still has when he reflects on that 20-win run that went from Aug. 13-Sept. 4, 2002. The A's started the streak in third place in the AL West, 4 1/2 games back of the first-place Mariners and 2 1/2 behind the Angels. They finished the streak atop the division, 3 1/2 games in front of the Halos and seven ahead of fading Seattle.
"The thing I really enjoyed about the streak was that everybody contributed," Howe said. "It seemed like every day, someone, a hitter or a pitcher, would step up. A hitter might get that big home run late in a game, and the next day, someone would come out of the bullpen and get us out of a jam. It takes a true team effort to put a streak like that together."
Even with a team effort, though, there are individuals who stand out. There was Eric Chavez, who hit .338 in the 20 games and led the team with six home runs and 28 RBIs. John Mabry only had 24 at-bats, but he hit four home runs and had 12 RBIs.
Hudson and Barry Zito were both 4-0. Cory Lidle was 3-0 in four starts, allowing just two runs, only one of which was earned, in 30 1/3 innings. And then there was closer Billy Koch, who appeared in 13 of the 20 games and registered nine saves and three wins (the final three games of the streak) during the club's incredible run.
"I would tell him he was going to have a day off, and he kept coming in my office," Howe said. "He would tell me, 'Art, if there's a save situation, I want to be in there.' He obviously was a key to the winning streak, but all season long, Billy did the job for us. Everybody was feeding off that. We just felt if it was close, we'd win."
Oh, and there were some that were close -- real close -- in that 20-game stretch. Wins 18, 19 and 20 were walk-offs. Miguel Tejada, the 2002 AL Most Valuable Player Award winner, delivered a three-run home run in the bottom of the ninth to lift the A's to a 7-5 victory against the Twins for No. 18, and then he delivered a one-out single to drive in the deciding run in another walk-off victory over the Royals for No. 19. And Scott Hatteberg unloaded a pinch-hit home run to finish off a 12-11 victory against Kansas City in No. 20.
"We were up 11-0 after three innings in that final game with Hudson, our ace, on the mound," Howe said of the Athletics' 20th straight win.
Hudson wound up allowing five runs (two earned) over 6 2/3 innings, and then Howe went through five relievers to get the final seven outs, including Koch, who gave up Luis Alicea's game-tying single in the top of the ninth. But the closer wound up with the win thanks to Hatteberg's blast in the bottom of the frame.
"We're up 11-0 and the crowd was having a blast," Howe said. "Then the snowball started rolling downhill and it was awfully quiet in the stadium until 'Hattie' hit that ball. Hey, in the top of the ninth, they tie the game up and have the bases loaded with one out. We had to get a double play to get out of that without them scoring a go-ahead run."
Oakland did lose its next game, 6-0, at Minnesota, but the club did win 15 of its final 23 games to claim the AL West crown, only to have its postseason cut short.
"We had a nice run there, then got to the postseason and things changed," Howe said. "I really felt that two of those years we had the better team, maybe all three.
"It's crushing. You work so hard to get there, have such a great group of guys. And you feel empty."
Even a 20-game winning streak doesn't ease the frustration.
Tracy Ringolsby is a columnist for MLB.com.