Astin in the mix to win a spot in Reds' bullpen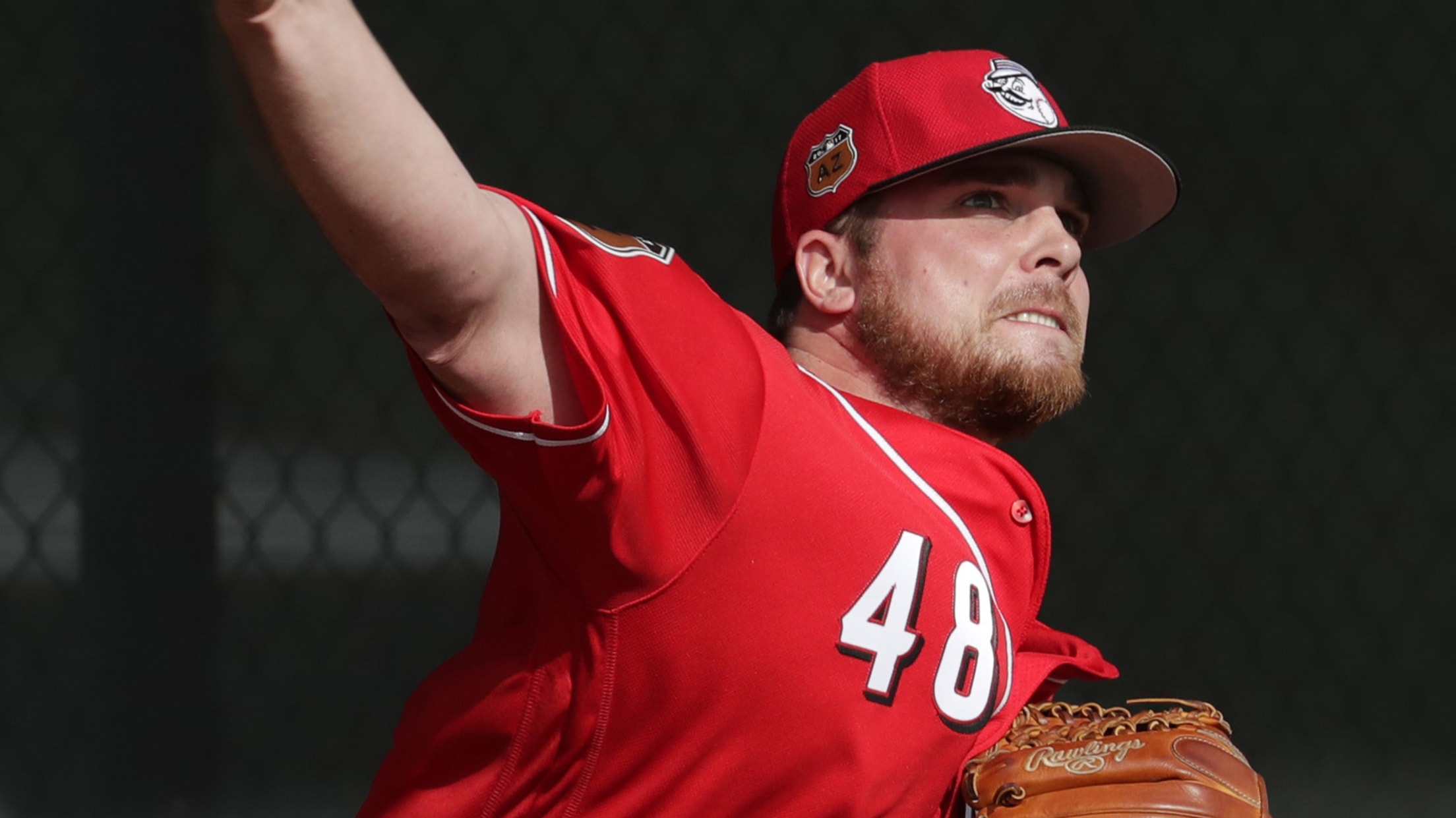 Barrett Astin hasn't pitched above Double-A, but he has a 1.35 ERA this spring with 12 strikeouts in 6 2/3 innings for the Reds. (AP) (Matt York/AP)
GOODYEAR, Ariz. -- The question of who might win the final two spots in the Reds' bullpen remains quite murky with just over two weeks until Opening Day. At least seven pitchers are in the hunt to claim the jobs.Barrett Astin might have seemed an unlikely candidate entering camp since
GOODYEAR, Ariz. -- The question of who might win the final two spots in the Reds' bullpen remains quite murky with just over two weeks until Opening Day. At least seven pitchers are in the hunt to claim the jobs.
Barrett Astin might have seemed an unlikely candidate entering camp since he doesn't have Triple-A experience. But the right-hander has a 1.35 ERA over six appearances with one earned run over 6 2/3 innings. Astin has yet to walk a batter and has struck out 12.
"[Astin] comes in and he's had to wait some time between outings because of the number of guys who are out here, but every time he takes the ball, he comes in there and throws strikes," Reds manager Bryan Price said on Saturday. "He works ahead and he gets the ball on the ground and gets some swings and misses. That's been very impressive."
During Friday's 7-3 win over the Indians, Astin pitched two scoreless innings with one hit and four strikeouts.
"I feel like I'm ready," Astin said. "Usually people don't skip any levels once you're at the higher levels. If you can show you can pitch and get outs and be consistent, that's all they're looking for -- consistency, how you handle yourself when you fail and when you don't fail."
Besides Astin, right-hander Evan Mitchell is another young pitcher that has put himself on the radar with a good spring, allowing one run in 4 2/3 innings over six appearances. Also competing for the bullpen are Louis Coleman, Wandy Peralta, Lucas Luetge and starting pitchers Tim Adleman, Bronson Arroyo, Cody Reed and Robert Stephenson could be in there if they don't make the rotation.
Astin, 25, was one of two pitchers acquired in the Sept. 10, 2014, trade that sent reliever Jonathan Broxton to the Brewers. He was mostly a starter until last season at Double-A Pensacola when 11 of his 37 appearances were starts. Overall, he was 9-3 with a 2.26 ERA, 25 walks and 96 strikeouts over 103 1/3 innings.
Following the season, Astin pitched in the Arizona Fall League. He still has the four-pitch mix of a starter -- fastball, slider, changeup and curveball -- that would enable him to work multiple innings.
"I'm fully capable of going two, three or four innings out of the bullpen," Astin said.