Inbox: What will Astros' rotation look like in '20?
Beat reporter Brian McTaggart answers questions from fans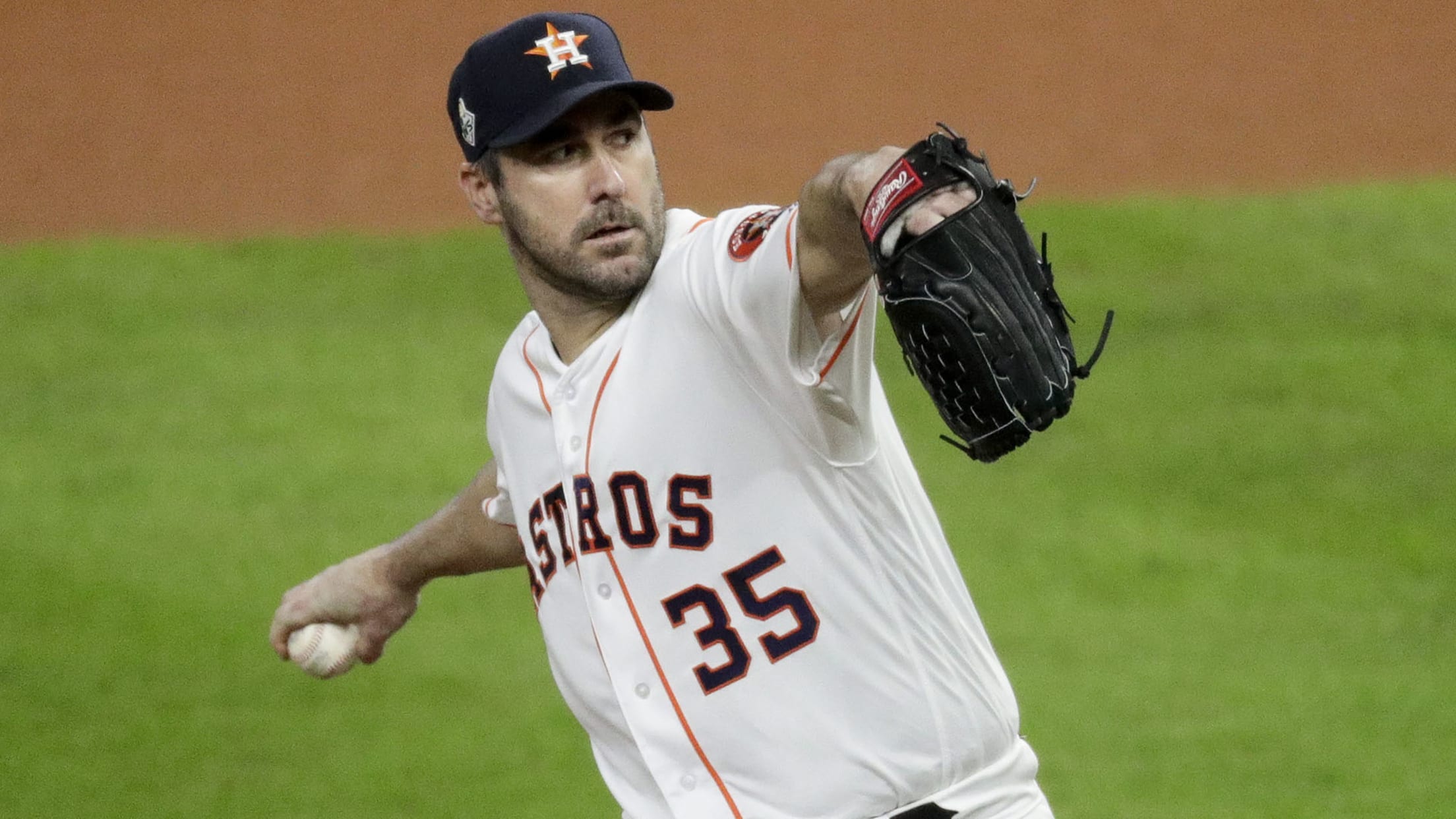 HOUSTON -- Slowly but surely, things are heating up around baseball. A few free agents have started to come off the board, and the Astros reworked first baseman Yuli Gurriel's contract for 2020. That's only the start of what figures to be an interesting offseason for Houston. With two weeks
HOUSTON -- Slowly but surely, things are heating up around baseball. A few free agents have started to come off the board, and the Astros reworked first baseman Yuli Gurriel's contract for 2020. That's only the start of what figures to be an interesting offseason for Houston.
With two weeks remaining before the Winter Meetings, the Astros are wanting to add one or two starting pitchers, bring in a starting catcher and perhaps add some bullpen depth. And they'll be doing it with a projected payroll that's already at the luxury tax threshold for 2020 ($208 million).
So let's open the Inbox and see what's on your mind this week:
If you had to guess what will be the Astros starting rotation in 2020?

— Double Clutch (@DoubleClutch95) November 21, 2019
I'd say the trio of Justin Verlander, Zack Greinke and Lance McCullers Jr. is where it starts. I'm willing to give Jose Urquidy a spot based on what he did last year. The Astros have said they're in the market for a starting pitcher or two, so I think there's a good chance they'll add somebody to the mix. Beyond that, will this finally be the year Forrest Whitley gets it all together? Also, Framber Valdez, Rogelio Armenteros and a healthy Francis Martes will be pushing for innings.
Do you think the Astros go after a young gun like wheeler or try and bring in another veteran like Bumgarner?

— Elite Offszn fan ©️ (@marisnickstan47) November 21, 2019
Astros president of baseball operations and general manager Jeff Luhnow said at the General Managers Meetings that the club could add two starting pitchers this winter. That could mean a variety of things.
The first question is, which end of the free-agent market will they explore -- high or low? It appears they will be over the luxury tax threshold for 2020, but how high do they want to go? Gerrit Cole would be the top end of the market, Zack Wheeler a step below that and maybe Madison Bumgarner a step below that. I think they'll make a run at at least one of the pitchers on the upper half of the free-agent market who are available, but it's going to be challenging financially to re-sign Cole or get Wheeler.
How short of a leash do you see Reddick having before Tucker fills his role in RF and do you see him even possibly being moved before season's end?

— Astroholic (@AstroholicAnon) November 21, 2019
It wouldn't surprise me to see the Astros open the 2020 season with Kyle Tucker in right field. Tucker played hard and performed well when he got his second shot at the big leagues in 2019, and truth is, it's probably time to see what he can do. Josh Reddick is entering the final year of his four-year, $52 million deal and remains a top-level defensive player, though he faded offensively in the second half.
How's this for a trade idea? Send Reddick to the up-and-coming White Sox, who need a right fielder, and some money in exchange for catcher James McCann, who probably became expendable when Chicago signed catcher Yasmani Grandal on Thursday.
Are the Astros expecting to use Alvarez at 1st base at any point in the future, or is the addition of Taylor Jones to the 40-man an indicator that they intend to use him in the future assuming they can't/don't re-sign Gurriel?

— Kristin (@chocoemo) November 21, 2019
Yordan Alvarez, the 2019 American League Rookie of the Year Award winner who got most of his at-bats at designated hitter, said last week during a conference call that he plans on working on his agility during the winter in Florida. Luhnow said at the GM Meetings that Alvarez improves his value to the Astros by playing defense.
Luhnow also said when Alvarez was in the Minor Leagues, he was one of their most athletic players, and that the coaches at the Minor League and big league levels believe Alvarez can be an average or above-average corner outfielder.
First, the Astros need to make sure Alvarez's knees are 100-percent healthy and don't affect his overall profile. If he can stay healthy and play average-to-above-average defense in left field, he has more value to the Astros, especially beginning in 2021, when they could be facing life without George Springer, Michael Brantley and certainly Reddick. And yes, I see Taylor Jones rising on the first-base depth chart behind Gurriel.
Springer is in the last year of his deal and, while he is a fan favorite an all-time great Astro, it's unlikely he will get an extension for budget reasons and for being on the wrong side of 30. Haven't heard much about trade possibilities but that must be an option. Thoughts?

— Brian Dewan (@briandewan73) November 21, 2019
You're right in that extending Springer is going to be hard financially for some of the reasons stated above. The Astros have extended two of their four homegrown core position players in each of the last two years with José Altuve in 2018 and Alex Bregman in '19, so Springer -- a free agent after 2020 -- would be next in line. That remains to be seen, but they're certainly not trading him.
Why would a club in contention and built to win trade perhaps its best offensive player? If they can't get a deal done with Springer before the season or during it, he'll hit free agency and the Astros will give him a qualifying offer to get a Draft pick in return. But they're not trading him, as long as they're in contention.
Outside of Javier. Who has the best chance of sticking on the 40 man from the guys who were added yesterday?

— Wes Andrews (@LivingInAJar) November 21, 2019
Right-handed pitchers Cristian Javier, Enoli Paredes and Nivaldo Rodriguez and infielder Taylor Jones were added to the 40-man roster earlier this week in advance of the Rule 5 Draft. They're all going to stick on the 40-man and come to Major League camp, though none of them are likely to push for a spot on the Opening Day roster. I could see Javier making his debut at some point in 2020, though.
Outside of catcher what do you think is the most pressing issue will be with the Astros in 2020?

— Be Someone (@TXOFTKP) November 21, 2019
Pitching. They're likely going to lose Cole, so they could add another starter, though he likely won't be as good as what Cole was in 2019. They could use more arms in the bullpen, too, with Will Harris, Joe Smith and Collin McHugh set to be free agents. It's not a deep free-agent market for relief pitching, so I think bringing back Harris is a priority.
Abraham Toro is set to be on the opening day roster ?

— Charles Lafortune (@CharlesLaf38) November 21, 2019
Well, don't forget there will be an extra roster spot next year. Teams will carry 26 players instead of 25, and if manager AJ Hinch decides not to use that spot for a pitcher, Abraham Toro has a good shot to make the Opening Day roster because he's a switch-hitter who hits the ball hard and can play first and third.