Astros, 4th-round pick agree on deal
Michigan lefty Adcock is 7th of club's top 10 draftees in fold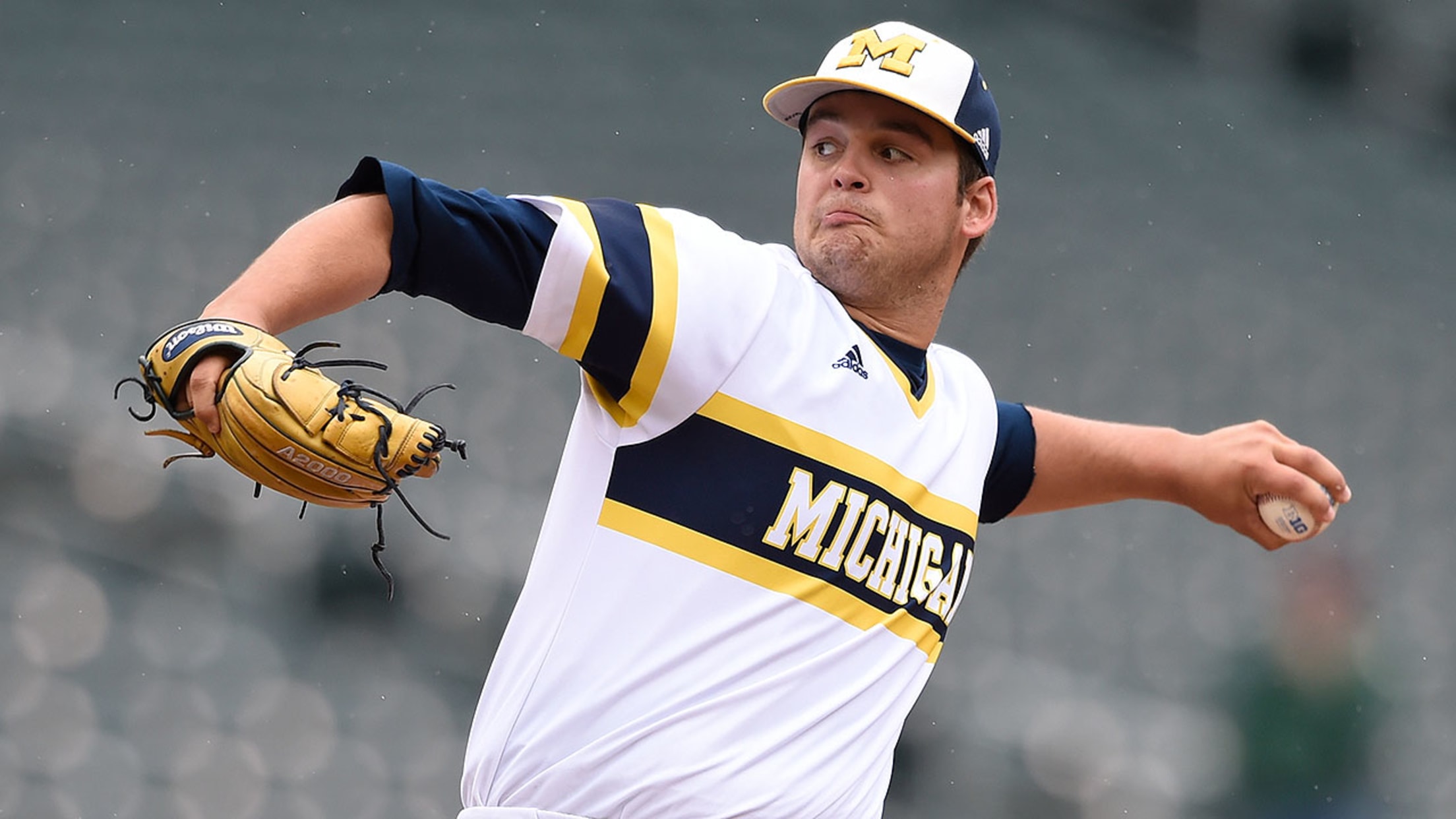 Brett Adcock held opponents to a .190 batting average in 15 games (14 starts) this year for Michigan. (AP)
HOUSTON -- Left-handed pitcher Brett Adcock, the Astros' fourth-round pick in the 2016 Draft out of the University of Michigan, told MLB.com on Monday he had reached a contract agreement to sign with Houston.The Astros don't announce deals with Draft picks until they pass a physical and sign a contract.The
HOUSTON -- Left-handed pitcher Brett Adcock, the Astros' fourth-round pick in the 2016 Draft out of the University of Michigan, told MLB.com on Monday he had reached a contract agreement to sign with Houston.
The Astros don't announce deals with Draft picks until they pass a physical and sign a contract.
The southpaw appeared in 15 games, making 14 starts, as a junior last season and was 7-5 with a 3.22 ERA and a .190 opponents' batting average. He struck out 100 batters in 78 1/3 innings. Adcock said he was heading to Orlando on Tuesday for a physical before reporting to short-season Class A Tri-City.
"It's pretty cool," he said. "I figured I was going to be in short-season ball, and I know where I'm going and it's going to be a good summer."
• Astros' 2016 Draft Tracker
Adcock is the seventh of the Astros' top 10 Draft picks to tell MLB.com they had reached agreements, including second-round pick Ronnie Dawson (outfielder from Ohio State) and third-round pick Jake Rogers (catcher from Tulane).
Others who have reached deals are fifth-round picks Abraham Toro-Hernandez (third baseman from Seminole State), eighth-round pick Nick Hernandez (right-handed pitcher), ninth-round pick Ryan Hartman (left-handed pitcher) and 10th-round pick Dustin Hunt (right-handed pitcher).
Right-hander Forrest Whitley, the San Antonio high schooler the Astros took with the No. 17 pick, remains unsigned. Scouting director Mike Elias had yet to engage with Whitley's representatives as of the end of the Draft on Saturday.