Fireworks, but no game, in Astros' Kissimmee farewell
Matchup with Marlins at Osceola County Stadium canceled due to rain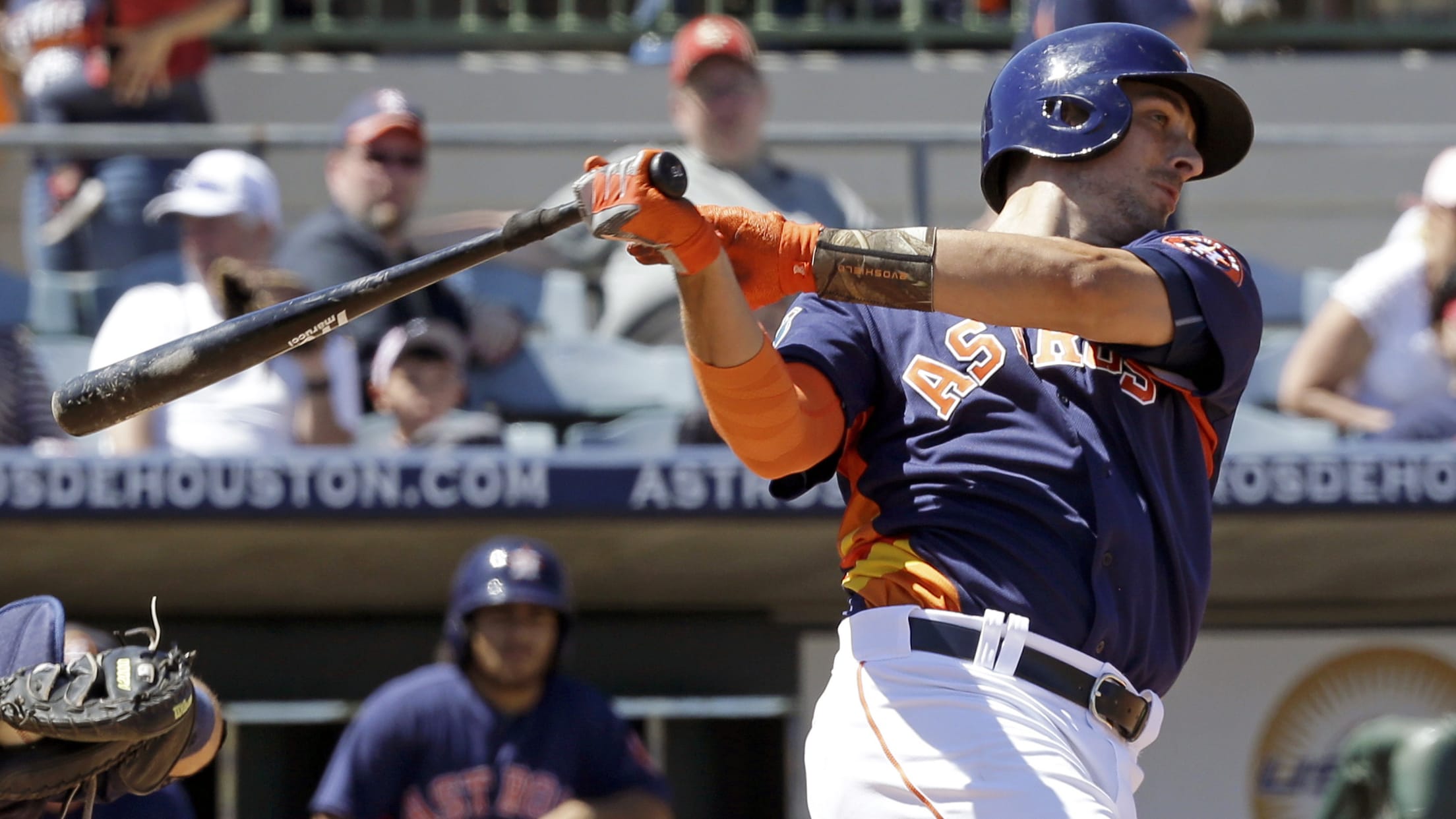 Jason Castro fondly recalled his first spring at the Astros' spring complex in Kissimmee, Fla., in 2009. (AP) (John Raoux/AP)
KISSIMMEE, Fla. -- The Astros' final game at Osceola County Stadium on Saturday was expected to be somewhat nostalgic, a little reflective and, for some, maybe a bit sad.What it ended up being was bizarre -- and canceled.Rain, as it is known to do in these parts, moved into the
KISSIMMEE, Fla. -- The Astros' final game at Osceola County Stadium on Saturday was expected to be somewhat nostalgic, a little reflective and, for some, maybe a bit sad.
What it ended up being was bizarre -- and canceled.
Rain, as it is known to do in these parts, moved into the central Florida area late afternoon and made an on-time start of 6:05 p.m. ET between the Astros and Marlins an impossibility. The game was delayed approximately 30 minutes. Then 30 more. Then 30 more.
Finally, around 7:45 p.m. ET, it was officially called, mostly because the field was largely unplayable. There was also more rain in the evening forecast.
The postgame fireworks, however, went on as scheduled. In between the game being called and the fireworks starting, gameday employees entertained the crowd with a fierce display of tarp sliding.
Inside the Astros' clubhouse, the list of players who have a long history at Osceola County Stadium was brief. Between the massive turnover the roster has undergone in the past five years and the fact that half the team, including many marquee players, are in Mexico City playing the Padres, the clubhouse wasn't exactly teeming with players who cut their teeth at the Kissimmee complex.
Catcher Jason Castro is one of the few players who is in Kissimmee this weekend and has multiple years of memories training at the Astros' complex .
Houston's first-round Draft pick in 2008, Castro's first big league Spring Training camp was the following spring.
"It was a completely different time in the organization, different atmosphere," he said. "I'll always remember that for sure, walking in and sharing the clubhouse with Lance [Berkman], Roy [Oswalt], Carlos Lee, Blummer [Geoff Blum]... even Hunter [Pence] and Michael [Bourn] -- those guys were just coming on to the scene. I'll definitely remember that."
The Astros and Nationals are building a new complex in West Palm Beach, which they will open in 2017. That will end the Astros' 32-season run at Osceola County Stadium. They moved there in 1985 from Cocoa Beach, Fla.
Another longtime Houston pitcher, one who came up through the Minor League system, pitched eight seasons for the Astros and is back for what he hopes is one more go-round, has fond memories of Kissimmee and expressed a little sadness that this is the last year there.
Wandy Rodriguez, a non-roster invitee attempting to make the team as a reliever, first came to Kissimmee as a Minor Leaguer in 2002. He debuted in the big leagues in 2005, the same year the Astros went to the World Series.
"My first year -- I came in 2002, and I was here for eight years," he said. "I love the fans over here. Every time, they had good energy. I've had some good memories over here."
News and notes
• Scott Feldman, Saturday's scheduled starter, will start Sunday in Lakeland, against the Tigers. Mike Fiers, the scheduled starter for Sunday, and Luke Gregerson, who was slated to make his first Major League spring appearance Saturday, will also pitch in Sunday's game.
Rodriguez said he is scheduled to pitch Monday in relief.
• Lance McCullers, who will open the season on the disabled list, threw a bullpen session Saturday without incident.
"We're checking off boxes," he said. "I still have a ways to go. But I'm feeling better."
McCullers is working through the effects of a sore right shoulder and was informed earlier in Spring Training that he would not start the season on time.
His next step is either another bullpen session or throwing live batting practice.
"It's day to day, just however I feel and [what] the trainers think," McCullers said. "We're going day to day."