Thursday's best: Whitley dominates in Hooks debut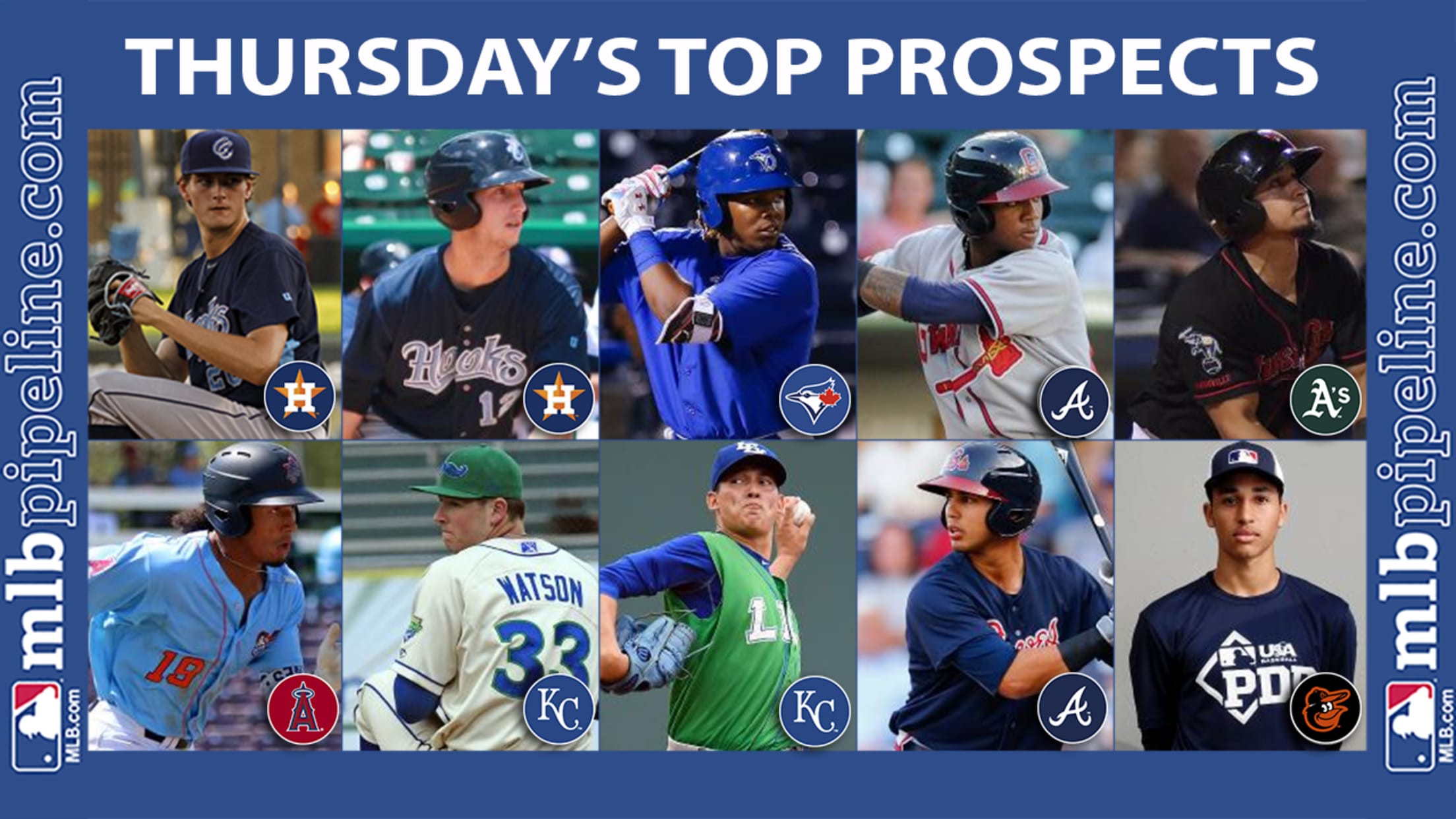 If there was any doubt about whether Forrest Whitley was ready for the Double-A level, the teenage right-hander laid it to rest on Thursday by tossing six scoreless innings with a career-high 11 strikeouts in his debut for Corpus Christi.Whitley, MLBPipeline.com's No. 40 overall prospect (Astros' No. 2), retired nine
If there was any doubt about whether Forrest Whitley was ready for the Double-A level, the teenage right-hander laid it to rest on Thursday by tossing six scoreless innings with a career-high 11 strikeouts in his debut for Corpus Christi.
Whitley, MLBPipeline.com's No. 40 overall prospect (Astros' No. 2), retired nine of the first 10 batters he faced in the outing. Seven of those outs came on strikeouts, as he struck out the side in the second and third innings and then once more in the fifth.
"I had a very relaxed mentality throughout the whole game," Whitley told MiLB.com. "I felt like I didn't really have my best stuff, but I was making pitches when I needed to make pitches, hitting the right spots and I got away with a couple mistakes. So things just kind of went my way tonight.
"I was able to get in and out with [the fastball] on both sides of the plate," Whitley said. "I'd say everything was working relatively well, but I was able to put the pitches in the right spot at the right time and get guys out."
MILB Video - Title: Whitley records 11th strikeout - Url: http://www.milb.com/r/video?content_id=1739954983
Though he allowed just three batters to reach base -- two via singles and one on a hit by pitch -- and found the zone with 61 of his 92 pitches, Whitley ultimately received a no-decision, as Tulsa rallied for two runs in the eighth inning to defeat the Hooks, 2-1.
The Astros have put Whitley on the fast track to the Major Leagues in his first full professional season -- a track once followed by pitchers like Clayton Kershaw and Zack Greinke, as recently pointed out by MLBPipeline.com's Jonathan Mayo.
The Astros' first-round Draft pick in 2016, Whitley was bumped up to the Texas League after he went 3-1 with a 3.16 ERA and a 50-to-9 strikeout-to-walk ratio over 31 1/3 innings with Class A Advanced Buies Creek. Prior to that, the 19-year-old right-hander had pitched to a 3.01 ERA with 117 strikeouts and 30 walks over 77 2/3 frames with Class A Quad Cities to begin his full-season debut.
Pacing the Hooks offensively on Thursday was No. 10 overall prospect Kyle Tucker (Astros' No. 1), who went 2-for-4 with a home run and a double. Tucker's homer, a third-inning solo shot, gives him 20 on the season across two levels. More important, it earned him the distinction as one of five Minor Leaguers to hit at least 20 home runs and steal 20 bases in 2017.
Another fast-tracked Astros prospect, Tucker, a 20-year-old outfielder, has slashed .269/.337/.507 with 51 extra-base hits and 73 RBIs in 104 games this season between Corpus Christi and Buies Creek.
The rest of the best performances from top prospects Thursday
• No. 6 overall prospect Vladimir Guerrero Jr. (Blue Jays' No. 1) was responsible for much of Class A Advanced Dunedin's offense as he went 2-for-4 with a home run and three RBIs in a 19-4 loss against Palm Beach. The 18-year-old third baseman has swung the bat well of late, going 6-for-11 with seven RBIs over his last three games. He hasn't skipped a beat moving up from Class A Lansing to Florida State League, where he's slashed .316/.442/.427 with nine extra-base hits while tallying more walks (26) than strikeouts (21) in 33 games.
• No. 8 overall prospect Ronald Acuna (Braves' No. 1) continued his assault on International League pitching as he homered in his third straight game for Triple-A Gwinnett. The homer, a leadoff shot in the top of the first, gives the 19-year-old outfielder four home runs in his last five games and 20 home runs this season, making him one of five Minor Leaguers this season to accrue at least 20 homers and 20 stolen bases. Rio Ruiz (Braves' No. 21) also went deep for Gwinnett, as he connected on a pair of solo homers -- Nos. 12 and 13 this season for the switch-hitting third baseman -- before finishing 2-for-4.
MILB Video - Title: Acuna blasts leadoff home run - Url: http://www.milb.com/r/video?content_id=1739706983
• No. 37 overall prospect Franklin Barreto (A's No. 1) fell a double short of hitting for the cycle, going 4-for-5 with four RBIs and three runs scored in Triple-A Nashville's win over Memphis. Barreto's home run, a two-run shot, was his 14th in the Minors this season, and he boosted his average to .280 with the four-hit performance.
MILB Video - Title: Barreto belts two-run homer - Url: http://www.milb.com/r/video?content_id=1740654883
• Make it 20 straight games with a hit for Angels No. 2 prospect Jahmai Jones. The 20-year-old outfielder recorded his third straight multi-hit game on Thursday, going 2-for-4 with two runs scored and a stolen base out of the leadoff spot for Class A Advanced Lake Elsinore. He's posted a .342 average with 12 extra-base hits over 27 games in the California League after slashing .272/.338/.425 in 86 Midwest League contests.
• A's No. 7 prospectJesus Luzardo allowed one hit over four scoreless innings in his home debut for Class A Short Season Vermont. He struck out five and did not issue a walk in the outing, throwing 39 of his 56 pitches for strikes. Acquired from the Nationals nearly one month ago in the deal for Sean Doolittle and Ryan Madson, Luzardo, 19, has pitched to a 1.83 ERA in 19 2/3 innings since entering the A's system. Overall, the left-hander owns a 1.67 ERA and a 0.96 WHIP, with 36 strikeouts and two walks in 32 1/3 innings.
• Mets No. 13 prospect Mark Vientos collected a career-high four hits, including his third home run, in a 4-for-5 showing in Rookie Gulf Coast League action. A second-round Draft pick in June, the 17-year-old infielder has produced a .254/.323/.380 batting line with 12 extra-base hits and 19 RBIs through 39 games.
• With his home run and two stolen bases for Class A Advanced Carolina, Brewers No. 14 prospect Monte Harrison became the fifth Minor League player this season to enter the 20-homer/20-steal club. In his first fully healthy campaign, the 22-year-old Harrison has broken out to hit .259/.344/.479 with 20 homers, 21 doubles and 21 steals in 106 games across two levels.
• Speaking of big Rookie-ball performances, Orioles No. 28 prospect Lamar Sparks also had a game to remember in the GCL as he established career highs in hits (five), RBIs (four), total bases (eight) and steals (two). The 2017 fifth-rounder went 5-for-6 with a double and triple in the contest, giving him five and one in each department this season, respectively. Overall, Sparks, 18, is slashing .260/.373/.330 with 25 runs scored and eight stolen bases over 28 games in his pro debut.
• Royals Nos. 27 and 28 prospects Nolan Watson and Garrett Davila combined to allow two hits over nine innings as Class A Lexington shut out West Virginia, 9-0. Working the first six frames, Davila, 20, allowed one hit and two walks with four strikeouts in what was his third scoreless performance in his last four outings. Watson took over in the seventh and delivered three innings of one-hit ball with two strikeouts to record his first save as a professional.