Astros get do-over with rainout vs. Twins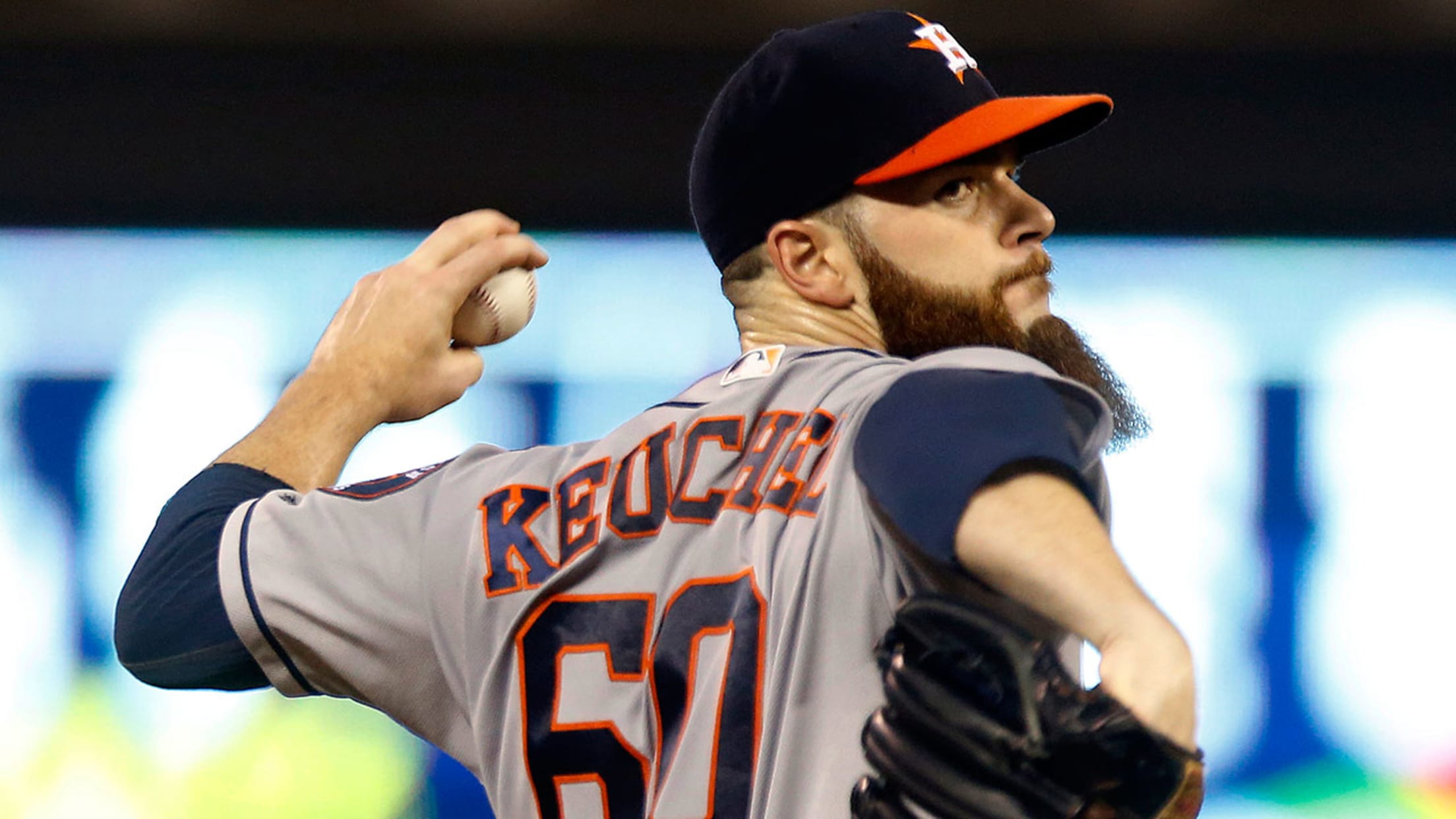 Dallas Keuchel pitched two innings before his start in Minnesota was wiped out by rain. (AP)
MINNEAPOLIS -- The Astros found water and took a mulligan.After Houston fell behind the Twins, 5-0, in the third inning Wednesday night with Dallas Keuchel on the mound, the skies opened and the game was postponed following a 2 1/2-hour rain delay. The Astros and Twins will play a day-night
MINNEAPOLIS -- The Astros found water and took a mulligan.
After Houston fell behind the Twins, 5-0, in the third inning Wednesday night with Dallas Keuchel on the mound, the skies opened and the game was postponed following a 2 1/2-hour rain delay. The Astros and Twins will play a day-night split doubleheader Thursday at Target Field at 12:10 p.m. and 6:10 p.m. CT.
"I'll take this mulligan and hopefully come back this next start hot," Keuchel said.
Right-hander Doug Fister (10-7, 3.47 ERA) who was originally scheduled to start the series finale, will still get the ball in Thursday's first game. Rookie right-hander Chris Devenski (0-4, 2.51 ERA) will start the nightcap, and the Astros will call up lefty Kevin Chapman from Triple-A Fresno to be the 26th player for the second game of the doubleheader.
None of the stats from Wednesday's game will count, so the teams will start from scratch Thursday. Offensively, the Astros had managed just a single by Carlos Correa.
"We obviously are fortunate because of the way the game started," Astros manager A.J. Hinch said. "You never know how it's going to end, but we'll take the restart. Now we've got to mix and match our pitching; both teams do. We'll have a long day at the ballpark tomorrow, but given where we were, it's a decent enough outcome to start the game over."
José Berríos (2-2, 8.31 ERA) will start for the Twins in Game 1, and Tommy Milone (3-3, 5.23 ERA) in Game 2.
Devenski made four starts for the Astros in late April-early May and was 0-2 with a 5.03 ERA. His other 27 appearances have come in relief, where he's 0-2 with a 1.62 ERA and 0.92 WHIP. He threw 4 1/3 innings Aug. 1 at Toronto and could pitch at least five innings if he's efficient enough.
Both games of doubleheader will still be televised locally by ROOT SPORTS Southwest. The games will also be broadcast on English radio in Houston on KBME (790 AM) and in Spanish on La Nueva (94.1 FM).