The origins of Astros' Players' Weekend names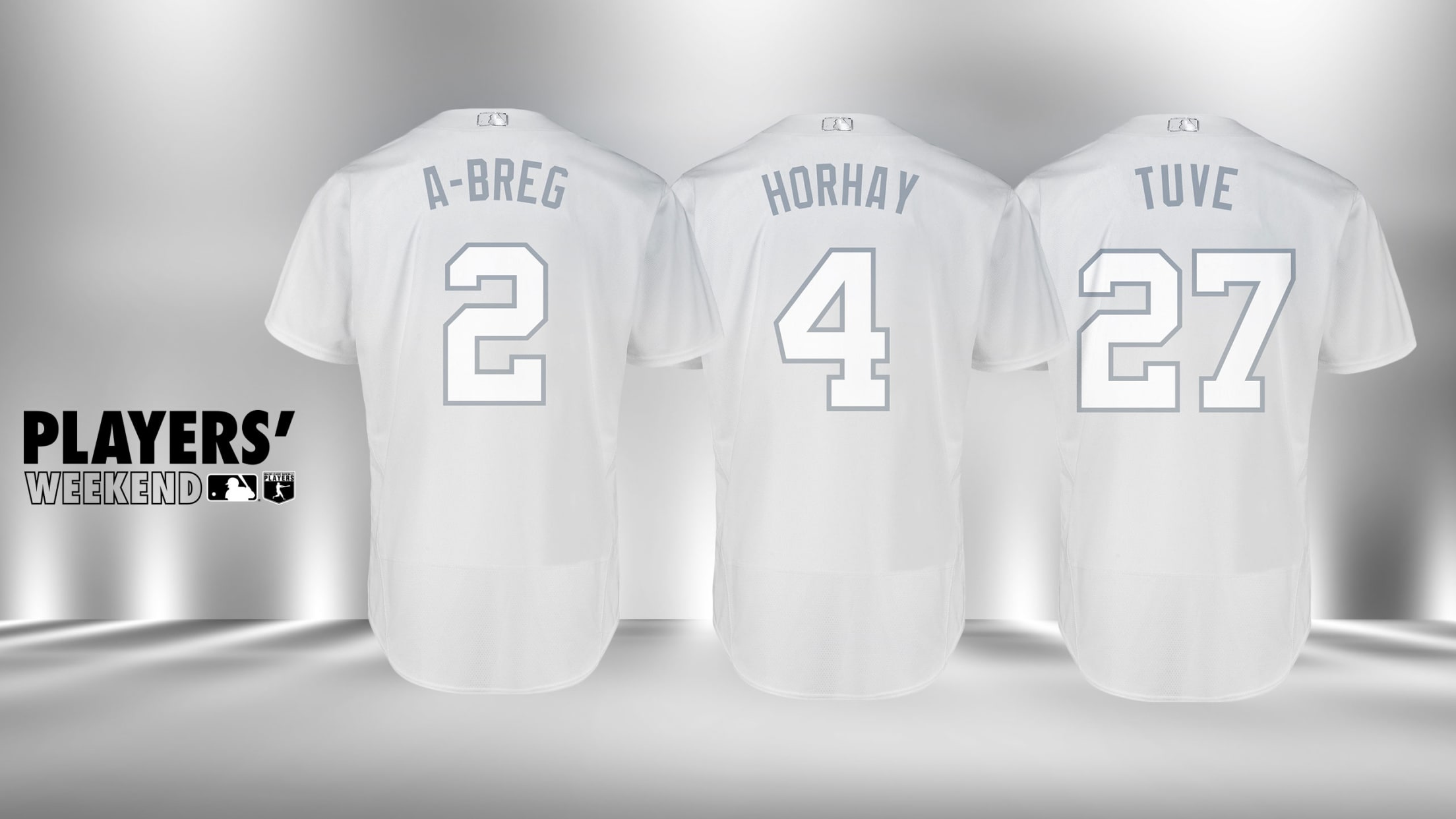 For the third consecutive year, players around the league will be able to showcase their personalities by selecting nicknames for themselves to be on the backs of their jerseys during the annual Players' Weekend, which is Aug. 23-25. The Astros will be playing host to the Angels at Minute Maid
For the third consecutive year, players around the league will be able to showcase their personalities by selecting nicknames for themselves to be on the backs of their jerseys during the annual Players' Weekend, which is Aug. 23-25. The Astros will be playing host to the Angels at Minute Maid Park.
• Every team's Players' Weekend nicknames
Here's a look at the nicknames for Astros players, with explanations if needed:
José Altuve: "TUVE"
Yordan Alvarez: "YORDAN"
Michael Brantley: "CHAMP"
Brantley's father, former big leaguer Mickey Brantley, used to call Michael "Champ" when he was little. Said Brantley: "I'm going to switch it up every year. I've had a few nicknames in my lifetime."
Alex Bregman: "A-BREG"
Robinson Chirinos: "PELO BUCHE"
"That's how they used to call me when I was a kid growing up in Venezuela. We have those little cactus, the ones that don't grow as much. We call those cactus 'Buche' in Punto Fijo, where I grew up," said Chirinos. "And my hair, they say I used to look like that. That's how I got that nickname when I was maybe 5, 6 years old."
Gerrit Cole: "CHEF G"
"I figured I had done [Cole Train] for a while, and it's probably on my MLB page or whatever," said Cole, an avid chef. "A lot of my friends at home call me 'Chef G.' They wanted me to do it, so I went with it."
Chris Devenski: "DEVO"
Aledmys Díaz: "PAPITO"
"Papito" is a shout-out to Diaz's 3-year-old son. "Last year was the first year I used it, and that weekend I hit a lot," Diaz said. "It's more to remind me how important it is to play this game, and I do it for him. Everything I do is for him, and I'm glad to have that on my back."
Zack Greinke: "GREINKE"
Yuli Gurriel: "LA PIÑA"
"La Pina" is Gurriel's nickname because of his spiked hair.
Will Harris: "CLUTCH CAM"
The jersey name is a tribute to Cameron Gooch, an Astros fan who died of cancer last year at 10 years old. Harris and manager AJ Hinch attended Gooch's funeral. "I don't have a nickname, and every year I put 'Bill' on there because it's the universal nickname for William. ... Not really knowing what to put on there, I've got two kids and I couldn't decide between the kids every year. This year, after Cameron passed away, he had a nickname, so why not put that on there? It's something that just came to me when they came around asking."
• Shop for Players' Weekend gear
Martín Maldonado: "MARTINCITO"
It means "Little Martin."
Jake Marisnick: "BIG FUDGE"
"I guess the guys were making fun of me because I was eating lot of junk food and stuff," Marisnick said. "One of the guys on 'How I Met Your Mother' is 'Big Fudge,' and it just kind of stuck. All the guys still call me 'Big Fudge,' so 'Big Fudge' it is."
Lance McCullers Jr.: "PERDOMO"
"Perdomo" is a tribute to his grandfather, Robert Perdomo, who's from Cuba. McCullers wrote on Instagram last year: "If you really know me, then you know what kind of impact this man has made in my life. Thank you for always helping me along the way and never expecting anything in return."
Collin McHugh: "12-6"
McHugh's moniker is not only the nickname of a sharp-bending curveball, but also the name of his podcast, which he started in the offseason. "But I throw more sliders now more than anything," McHugh joked.
Wade Miley: "MILES"
Roberto Osuna: "OSUNA"
Brad Peacock: "P"
Ryan Pressly: "PRESS"
Josh Reddick: "MR. IRRELEVANT"
"What it went back to and started from was me just me just making a small reference to being irrelevant on this squad, which is completely OK because look around the [clubhouse]. These two yahoos [Springer and Brantley] kept it going and everything came into play. If I make a little comment about not being involved in a conversation or something, they'd say, 'Mr. Irrelevant, you should know better.' It's become a really fun joke, starting with the three of us and the whole team getting involved in it."
Hector Rondon: "RONDY"
Aaron Sanchez: "SANCHIZE"
Joe Smith: "SMITTY"
George Springer: "HORHAY"
Springer wanted to keep his last name on his jersey like he has in years past, but at the encouraging of Brantley he went with Spanish phonetic spelling of George. "Mike made me do it," Springer said.
Justin Verlander: "J V"