Here are the Athletics' 2019 Top 30 Prospects
A lot of things went right for the A's in 2018. After three straight last-place finishes in the AL West, the A's won 97 games and returned to the postseason for the first time since 2014. Most of the playoff roster came via trades (though Matt Chapman and Matt Olson
A lot of things went right for the A's in 2018.
After three straight last-place finishes in the AL West, the A's won 97 games and returned to the postseason for the first time since 2014. Most of the playoff roster came via trades (though Matt Chapman and Matt Olson remain homegrown cornerstones). While those deals largely weren't of the blockbuster variety, they did thin out the depth down on the farm.
Top 30 Prospects lists
| | |
| --- | --- |
| AL East | BAL, BOS, NYY, TB, TOR |
| NL East | ATL, MIA, NYM, PHI, WSH |
| AL Central | CLE, CWS, DET, KC, MIN |
| NL Central | CHC, CIN, MIL, PIT, STL |
| AL West | HOU, LAA, OAK, SEA, TEX |
| NL West | ARI, COL, LAD, SD, SF |
| Division | Team |
The good news is there's a lot of impact talent just about ready to hit Oakland. It starts with Jesus Luzardo, who has developed into the best left-handed pitching prospect in the game and is the best symbol of good trades the A's made when they were sellers, as he came to the organization in the July 2017 trade of Sean Doolittle to the Nationals (No. 9 prospect Sheldon Neuse also came in that deal).
Those last-place finishes afforded the A's some high Draft picks (17 of the Top 30 are A's draftees) and they've shown a willingness to roll the dice in the first round. Kyler Murray was the No. 9 pick in the Draft last June and he'd be one of the best athletes in the sport had he chosen to stay. Instead, it looks certain that he's headed to the NFL. In 2017, the A's went with an athletic high school outfielder in Austin Beck, who has tools, but a long way to go. A.J. Puk was a sound choice in 2016 and he was ready to make a quick leap to the big leagues until Tommy John surgery intervened.
While there's confidence Puk will come back strong, he is part of a theme in this organization. There are a number of injury question marks that, if answered, would give the organization some serious pitching depth. If Puk and fellow 2016 draftee Daulton Jefferies return from elbow surgery, if Grant Holmes returns from his rotator cuff injury and if James Kaprielian can stay on the mound, the upper levels of the system should give the big league team some options.
Here's a look at the A's top prospects:
1) Jesus Luzardo, LHP
2) A.J. Puk, LHP
3) Sean Murphy, C
4) Lazaro Armenteros, OF
5) Austin Beck, OF
Biggest jump/fall
Here are the players whose ranks changed the most from the 2018 preseason list to the 2019 preseason list.
Jump: Luis Barrera, OF (2018: NR | 2019: 13) -- Maybe the most improved prospect in the system, as his improved approach led to big gains with the bat.
Fall: James Naile, RHP (2018: 25| 2019: NR) -- Spent most of the year in Triple-A, but got hit hard and didn't miss many bats.
Best tools
Players are graded on a 20-80 scouting scale for future tools -- 20-30 is well below average, 40 is below average, 50 is average, 60 is above average and 70-80 is well above average. Players in parentheses have the same grade.
Hit: 55 -- Jameson Hannah
Power: 55 -- Lazaro Armenteros (Greg Deichmann, Jeremy Eierman)
Run: 80 -- Jorge Mateo (Dairon Blanco)
Arm: 70 -- Sean Murphy
Defense: 65 -- Nick Allen (Sean Murphy)
Fastball: 70 -- A.J. Puk
Curveball: 60 -- Grant Holmes
Slider: 65 -- A.J. Puk
Changeup: 60 -- Jesus Luzardo
Control: 60 -- Jesus Luzardo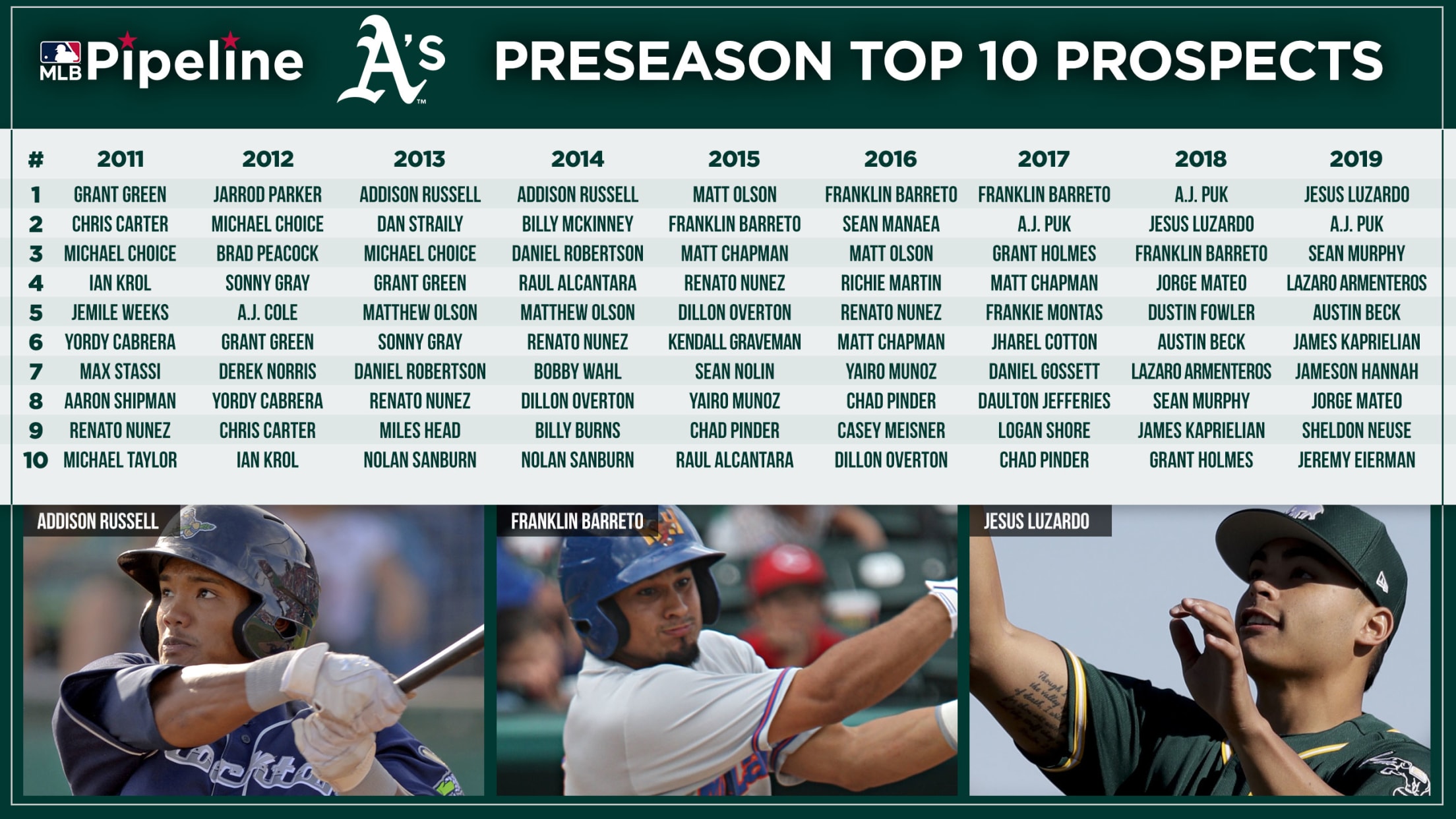 .
How they were built
Draft: 17 | International: 7 | Trade: 6
Breakdown by ETA
2019: 11 | 2020: 5 | 2021: 11 | 2022: 3
Breakdown by position
C: 2 | 1B: 1 | 2B: 1 | 3B: 2 | SS: 6 | OF: 8 | RHP: 7 | LHP: 3