A's to open 2017 Spring Training vs. Cubs
Oakland's preseason schedule begins Feb. 25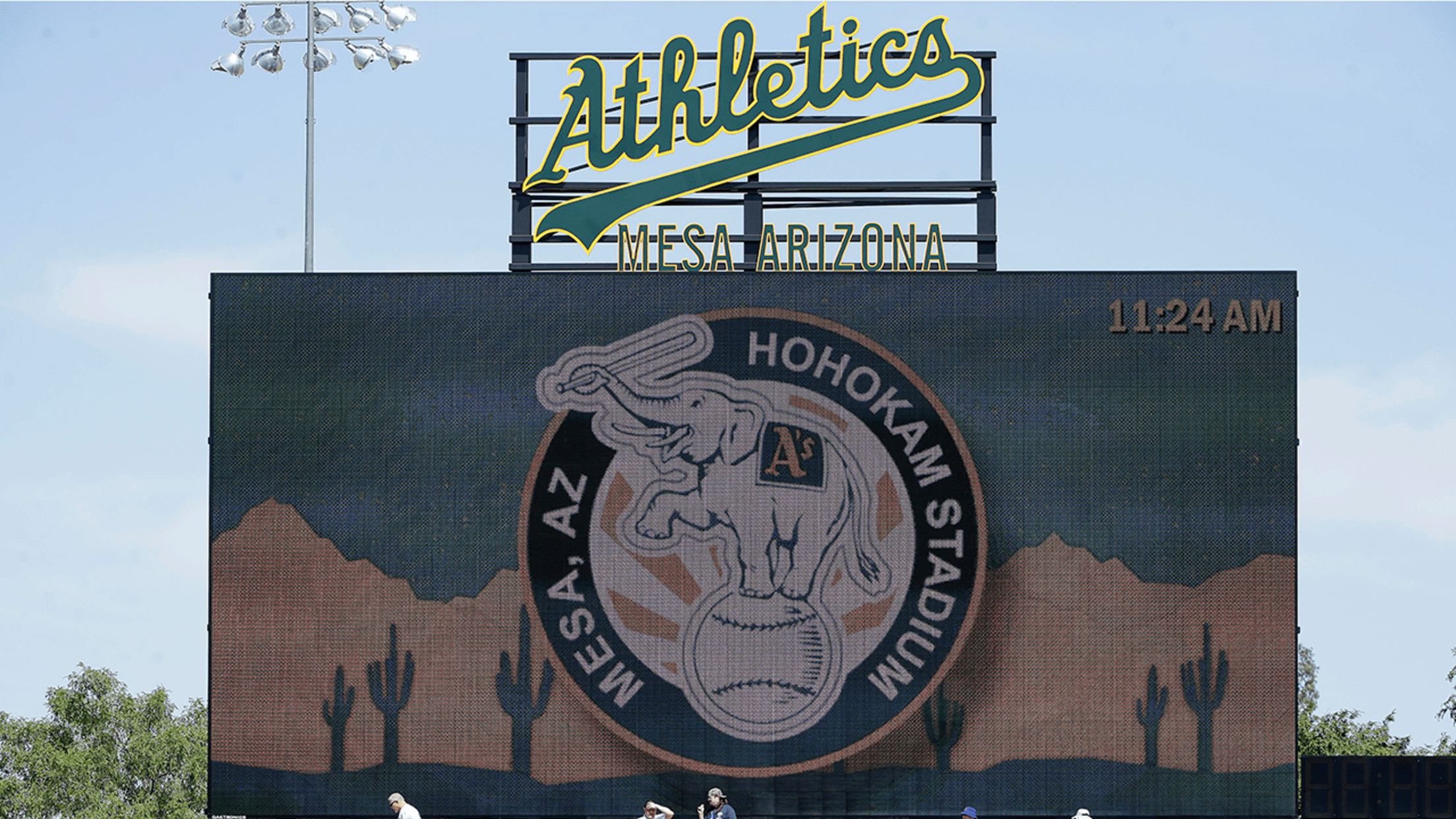 Fans sit in the outfield lawn at Hohokam Stadium before a Spring Training game. (AP)
SEATTLE -- The A's, though still engaging in regular-season play, have already announced their Spring Training schedule for the 2017 season.Released Friday, the schedule has the A's opening Cactus League play Feb. 25 against the host Cubs at Sloan Park in Mesa, Ariz. Their first home game of the spring
SEATTLE -- The A's, though still engaging in regular-season play, have already announced their Spring Training schedule for the 2017 season.
Released Friday, the schedule has the A's opening Cactus League play Feb. 25 against the host Cubs at Sloan Park in Mesa, Ariz. Their first home game of the spring campaign falls on the next day, with the Angels visiting Hohokam Stadium.
The A's spring schedule, which begins earlier than usual because of the World Baseball Classic, features a home exhibition game against one such WBC participant, Team Italy, on March 8.
Oakland will play 36 games in all, closing out the preseason schedule back in the Bay with the Giants, as customary. The Giants will play host to the A's on March 30-31, before crossing the Bay Bridge for one final exhibition game at the Coliseum on April 1. The A's regular season begins April 3 at home against the Angels.
Assistant trainer to retire
A's assistant athletic trainer Walt Horn will retire following Sunday's regular-season finale, the team announced Friday. Horn spent 39 years in the organization as an athletic trainer, joining the A's straight out of college from Boise State University. After working in the Minors for more than two dozen seasons, Horn joined the Major League staff in 2008.
"Walt has been an integral part of our organization for four decades," A's executive vice president of baseball operations Billy Beane said in a statement. "He has had a positive influence on thousands of ballplayers both on and off the field. We thank him for his dedication and commitment to the A's. He will truly be missed. We wish Walt and his wife, Stacy, all the best."
A's manager Bob Melvin called Horn "a true gentleman in the game."
Valencia scratched from lineup
Veteran Danny Valencia was taken out of the A's lineup less than three hours before game time because of a neck issue, A's manager Bob Melvin said. Rookie Matt Olson replaced him in right field.
Valencia had two hits in Thursday's series opener and is batting .326 (14-for-43) over his last 12 games.
Jane Lee has covered the A's for MLB.com since 2010. Follow her on Twitter @JaneMLB.