A's finalize 28-man roster for Japan Series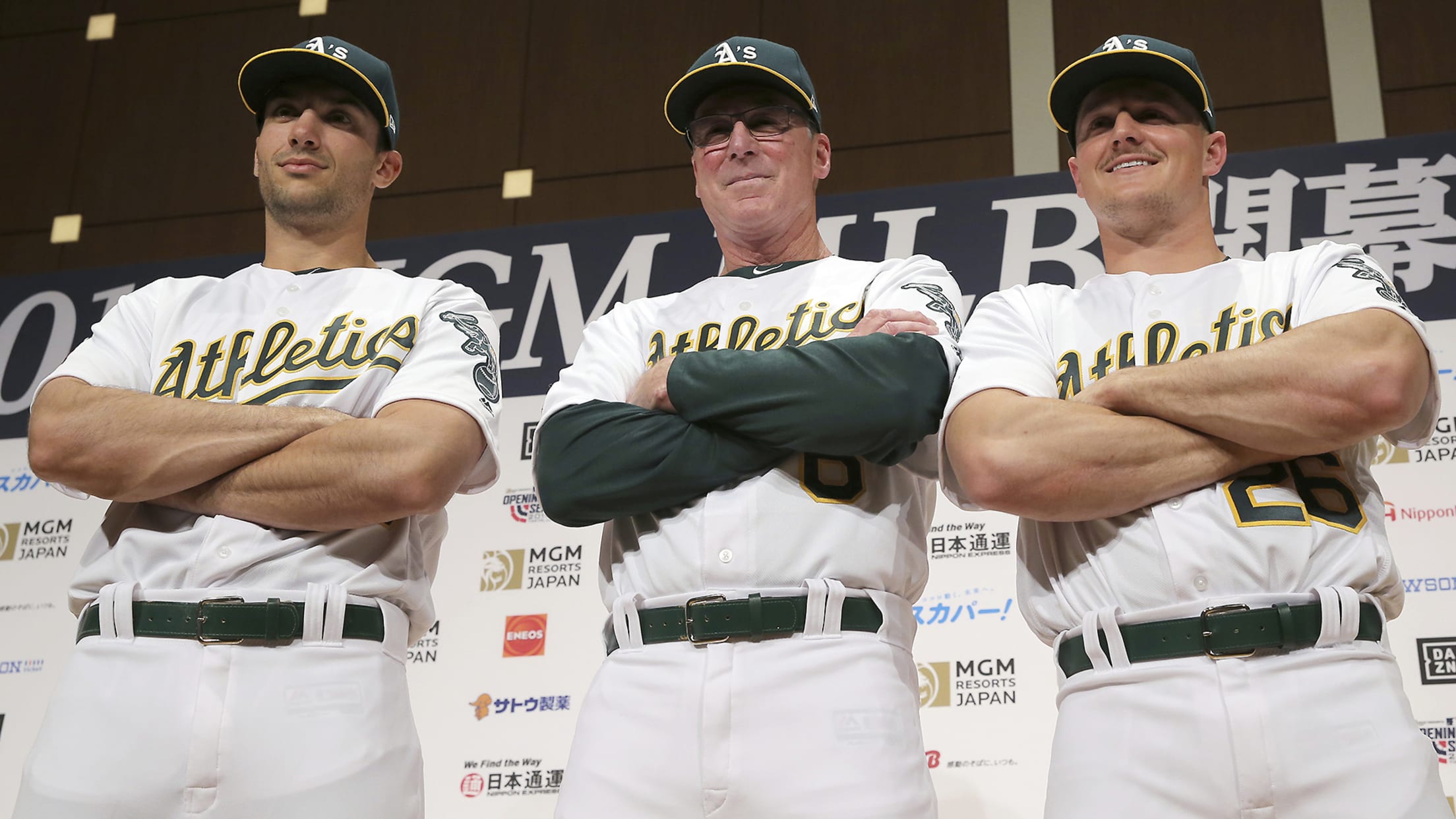 TOKYO -- The A's on Tuesday finalized their roster as they gear up for Wednesday's 2:35 a.m. PT first pitch against the Mariners at the Tokyo Dome. A handful of transactions were made in the process: The A's selected catcher Nick Hundley's contract in order to add him to the
TOKYO -- The A's on Tuesday finalized their roster as they gear up for Wednesday's 2:35 a.m. PT first pitch against the Mariners at the Tokyo Dome.
A handful of transactions were made in the process: The A's selected catcher Nick Hundley's contract in order to add him to the 40-man roster and placed right-hander Jharel Cotton (Tommy John surgery) and outfielder Nick Martini (sprained right knee) on the 10-day injured list, retroactive to March 17. Catcher Chris Herrmann (right knee surgery) went on the 60-day injured list.
Of the remaining 28 players on the roster, 25 had to be selected as active for this two-game Opening Series. Pitchers Brett Anderson, Chris Bassitt and Aaron Brooks have been assigned as the three inactive players. Infielder Cliff Pennington and catcher Beau Taylor are with the club in Tokyo but not on the roster.
The final group:
Catcher (2): Nick Hundley, Josh Phegley
Herrmann's injury opened room on the roster for both Hundley and Phegley, who were in competition with each other for the backup job at the start of camp. Each will get a start in this series.
First base: Matt Olson
Oakland's resident scoopmaster played in all 162 games last season, later taking home his first career Gold Glove Award.
Second base: Jurickson Profar
The A's acquired the switch-hitting Profar in a trade with the Rangers to offset the loss of veteran Jed Lowrie; early projections show Profar could match Lowrie's offensive output.
Third base: Matt Chapman
Chapman was slowed this spring while finishing his rehab from surgery on his left shoulder, but he's back in action and readying to build upon his 24-homer, Platinum Glove Award-winning season.
Shortstop: Marcus Semien
Semien remains the guy, with prospect Jorge Mateo waiting in the wings. Semien is the longest-tenured Athletic, preparing to enter his fifth season in green and gold.
Outfield (4): Mark Canha, Robbie Grossman, Ramon Laureano, Stephen Piscotty
Grossman won't start against most lefties, meaning he'll begin Opening Day on the bench. Laureano is likely to take over leadoff duties in his stead.
Designated hitter: Khris Davis
Davis returned from a left calf injury not much more than a week ago but now appears more than ready to add to his gaudy home run numbers. No one in the Majors has more homers over the last three seasons than Davis, who hit 133 over that span.
Utility (2): Chad Pinder, Franklin Barreto
With Seattle set to start a pair of lefties in Japan, Pinder will see plenty of action. Barreto hopes to get off the bench, too, before returning home and heading to Triple-A Las Vegas.
Starting pitchers (2): Mike Fiers, Marco Estrada
Fiers and Estrada will most certainly benefit from pitching in the Coliseum this season, but first these two fly-ball pitchers must tackle the Mariners within the confines of the hitter-friendly Tokyo Dome.
Relief pitchers (10): Blake Treinen, Lou Trivino, Joakim Soria, Ryan Buchter, Fernando Rodney, Yusmeiro Petit, Liam Hendriks, Frankie Montas, J.B. Wendelken, Ryan Dull
By only needing to carry two starters, the A's benefit by having 10 relievers at their disposal -- including Montas, who is strongly favored to join the rotation when the club returns to Oakland.