A's option Montas, add another arm to bullpen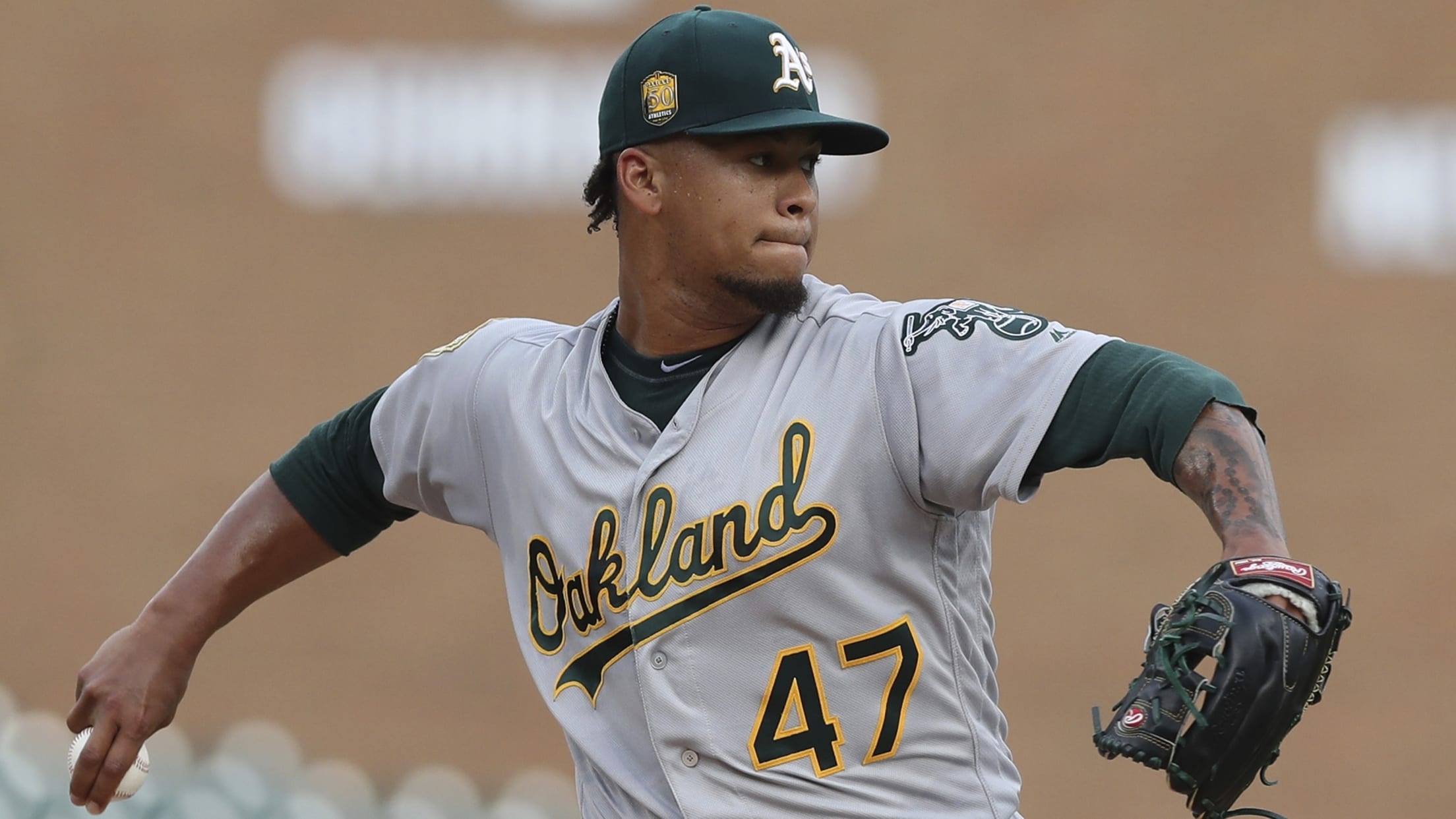 Oakland Athletics starting pitcher Frankie Montas throws to first on a pickoff attempt during the first inning of a baseball game against the Detroit Tigers, Tuesday, June 26, 2018, in Detroit. (AP Photo/Carlos Osorio) (Carlos Osorio/AP)
OAKLAND -- Planning for three off-days in an eight-day span beginning Thursday, the A's optioned right-hander Frankie Montas to Triple-A Nashville on Monday, subtracting from their rotation in favor of an extra reliever.Right-hander Ryan Dull's addition from Triple-A gives the A's nine options in their bullpen.Montas has pitched to a
OAKLAND -- Planning for three off-days in an eight-day span beginning Thursday, the A's optioned right-hander Frankie Montas to Triple-A Nashville on Monday, subtracting from their rotation in favor of an extra reliever.
Right-hander Ryan Dull's addition from Triple-A gives the A's nine options in their bullpen.
Montas has pitched to a 3.75 ERA in 10 starts over two stints for the A's, who will have a decision to make when adding a fifth starter again. Right-hander Daniel Mengden continues to wait his next turn at Triple-A Nashville.
"We'll condense the rotation a little bit and add an extra bullpen arm," Melvin said. "We've been using the bullpen quite a bit, so that's just kind of where we are right now. Typically, when you have these off-days, things slip around a little bit. We'll see where it goes, but for today we're one extra in the bullpen and one less in the rotation.
"There's different ways to win. We lean on our relievers a little bit more. It's just the way the roster sets up. I've been happy the way it's been going. We've had some guys that have been taxed."
Dull joins the A's for a fourth time this year. He has a 6.00 ERA and .300 opponents average in 20 appearances.
Cotton takes step forward
Nevermind that they were sock throws. Simply engaging in a throwing motion again got rehabbing starter Jharel Cotton excited Monday. It marked a significant step in his lengthy rehab from Tommy John surgery. Cotton underwent the operation in March.
"That's a big day for him," Melvin said. "To get to the point now where he gets to use his arm a little bit and sees a light at the end of the tunnel, I know he has a big smile on his face today."
Cotton, who has been rehabbing in Oakland, said he doesn't miss an A's game when the team is on the road, "jumping up and down the apartment" during the team's many comebacks in Texas last week.
Worth noting
• Outfielder Matt Joyce (lumbar strain) sustained a setback in his rehab, prompting a visit with Dr. Robert Watkins in Los Angeles on Monday.
• Andrew Triggs (arm nerve irritation) recently began a throwing program, while Daniel Gossett (elbow) and Paul Blackburn (elbow) remain shut down.
Jane Lee covers the A's for MLB.com.