A's hope rotation can help repeat 2018 magic
Oakland enters Spring Training with starting-pitching roles up for grabs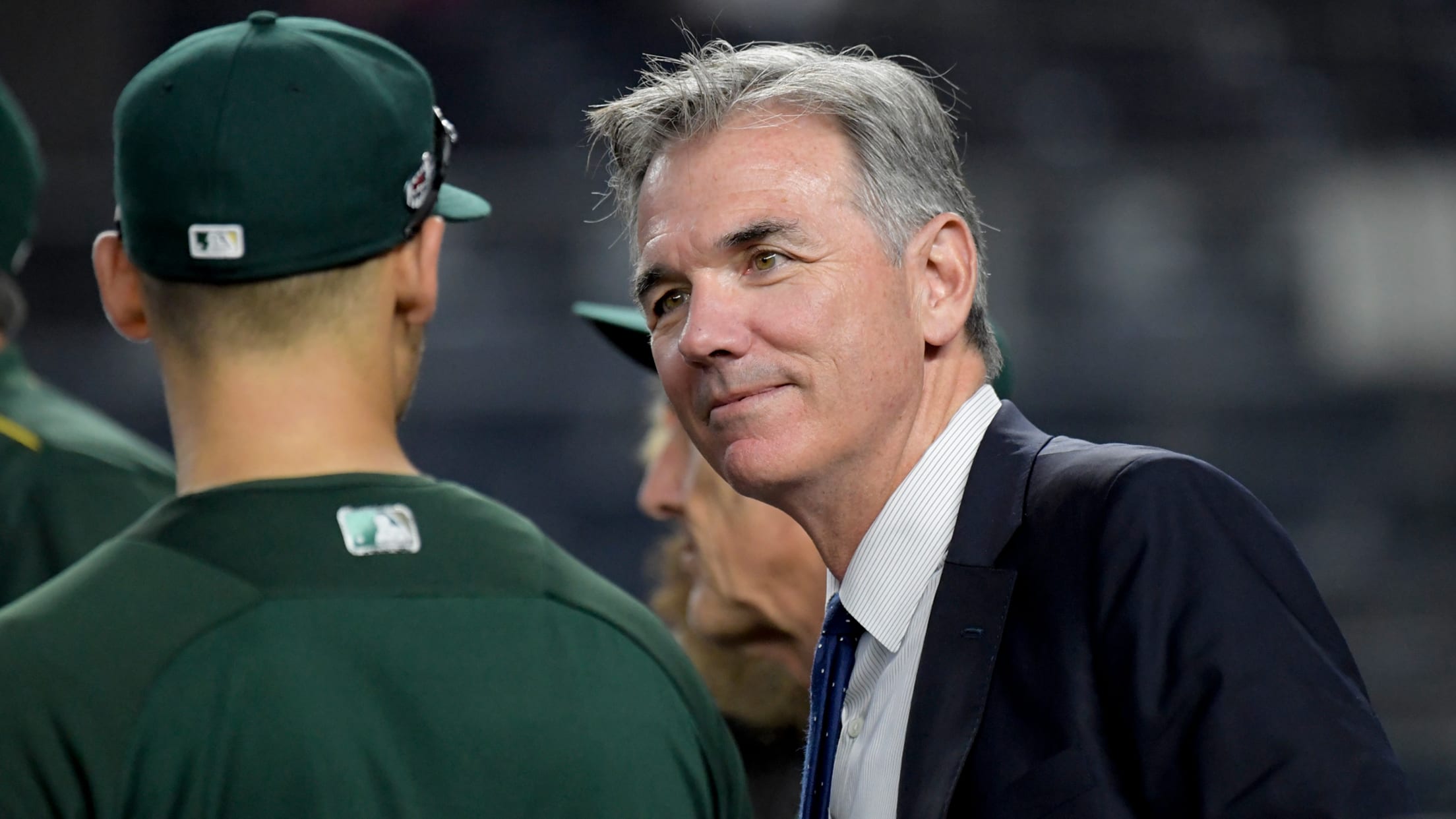 OAKLAND -- There were a dozen reasons -- a ransacked starting rotation among them -- why the A's should have missed the postseason in 2018. But they found their way there, anyway, and Oakland starred as MLB's best surprise story.An American League Wild Card Game loss in the Bronx hardly
OAKLAND -- There were a dozen reasons -- a ransacked starting rotation among them -- why the A's should have missed the postseason in 2018. But they found their way there, anyway, and Oakland starred as MLB's best surprise story.
An American League Wild Card Game loss in the Bronx hardly mitigated the magic that filled the A's stellar regular season, and they now yearn for more as the advent of Spring Training looms. So, can Oakland do it again?
• Here's your guide to A's Spring Training
:: Spring Training coverage presented by Camping World ::
Early projections say otherwise, but the A's, who managed 97 wins last year, have typically made a practice of defying expectations.
To reach the postseason again in 2019, Oakland will have to lean on a powerful offense, sturdy defense and formidable bullpen to offset the rotation mishaps that are still visible with Spring Training right around the corner.
At one point this winter, Oakland was without a sure thing in their rotation. Then the A's got Mike Fiers to return on a two-year contract and swung a deal for another free-agent veteran, Marco Estrada. The starting staff has since been solidified, yet it's still missing parts, which could be a cause for concern.
There is an array of in-house options, including Daniel Mengden, Paul Blackburn, Frankie Montas, Aaron Brooks and Parker Bridwell, as well as their No. 1 pitching prospect, Jesus Luzardo, who is expected to be in the conversation for an Opening Day rotation spot this spring. Even still, Oakland's rotation projects to look similar to the 2018 version, which used a whopping 15 different starters.
• A's Top 30 prospects
Key pieces, including Sean Manaea and Jharel Cotton, are still rehabbing injuries and won't be in consideration until at least midseason.
"We saw last year we had some issues with the rotation," A's manager Bob Melvin said. "We were able to identify some guys to hold down the fort and perform for us. Certainly the bullpen is a strength for us and continues to be."
To that end, the A's added veteran right-hander Joakim Soria to their relief corps this winter, bolstering a bullpen that already features All-Star closer Blake Treinen and flamethrower Lou Trivino. They also signed a familiar face in veteran left-hander Jerry Blevins to a Minor League deal.
Offensively, the A's look much the same minus one significant bat: Jed Lowrie. In replacing the All-Star second baseman, who signed with the Mets in free agency, Oakland traded for Jurickson Profar. Like Lowrie, Profar is a switch-hitter, and he could very well duplicate, or at least come close, to Lowrie's offensive output after hitting .254/.335/.458 with 20 homers and 77 RBIs for the Rangers in 2018.
"We feel like this is a guy who's just getting to what he's capable of," A's general manager David Forst said. "We feel like he's really ready to break out as one of the stars of the American League."
Profar isn't the only one in green and gold who could make that leap. Third baseman Matt Chapman has the makings of a superstar, and fellow AL Gold Glove Award winner Matt Olson is right there with him across the diamond at first base. Add in Khris Davis, who has hit a Major League-best 133 home runs over the past three years, outfielder Stephen Piscotty and shortstop Marcus Semien, among others, and the A's will boast one of the better lineups in the Major Leagues.
The vision is clear, but a postseason pursuit won't come easy. The rotation isn't the Oakland's only flaw, as the catching situation also remains in limbo. The A's brought in Chris Herrmann to pair with potential platoon partner Josh Phegley, but an upgrade could still be had.
"There are a lot of guys out there, and there are still some options in both of those areas [pitching and catching] for us," A's executive vice president of baseball operations Billy Beane said. "We're having conversations, but in some cases, some of these guys may not end up signing until we get right up into Spring Training.
"It's getting later and later each year, and this one, especially. There are a number of guys that we would have interest in that are out there that we're still having conversations with."
Jane Lee has covered the A's for MLB.com since 2010.