Braves release Spring Training schedule
Atlanta to open SunTrust Park with preseason game vs. Yankees on March 31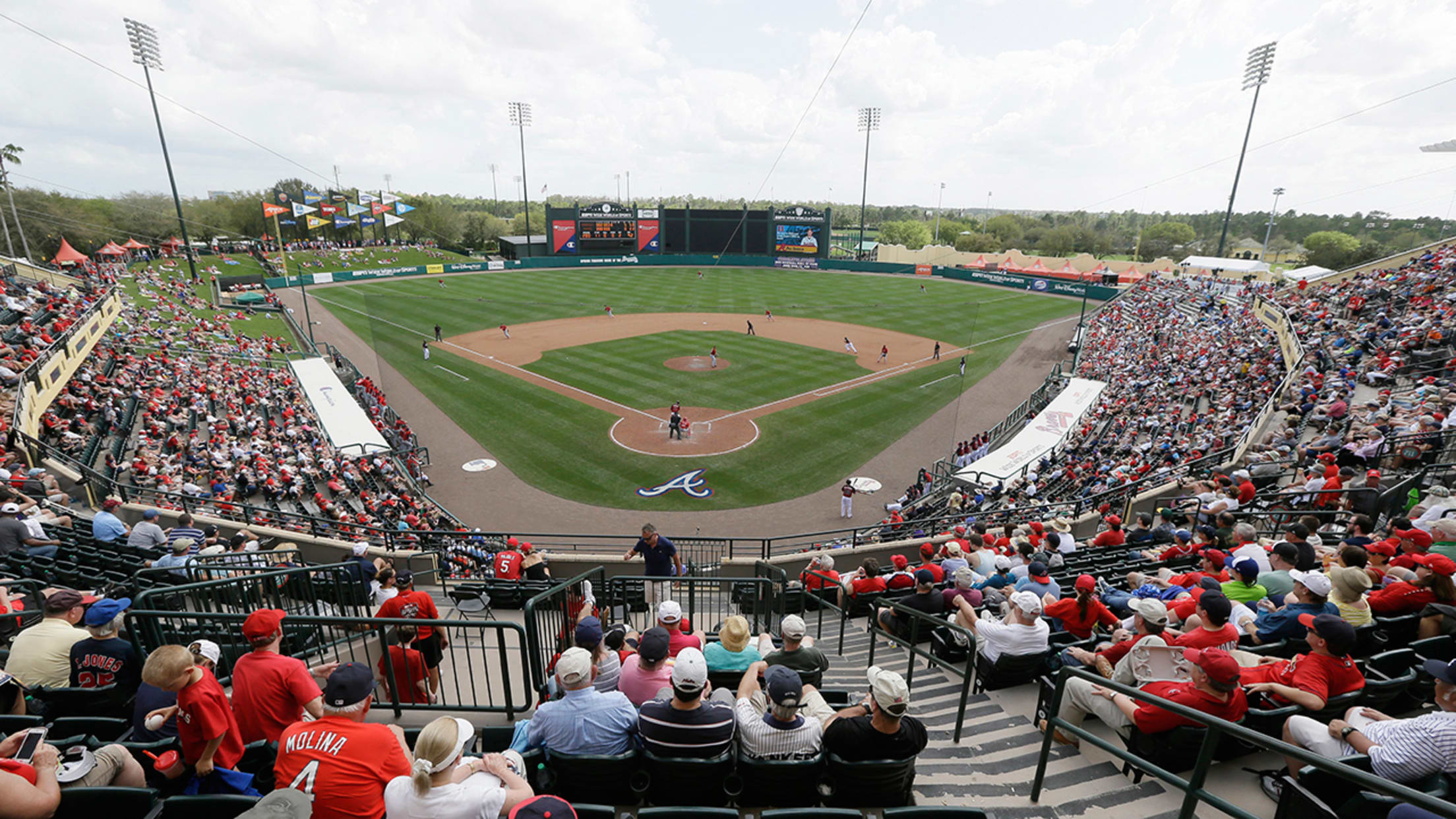 The Braves will play 18 of their 32 Florida Spring Training games at the Wide World of Sports Complex. (AP)
ATLANTA -- Braves fans have been looking forward to the first game at SunTrust Park in 2017, a March 31 exhibition matchup against the Yankees. But now they can also make plans to see Freddie Freeman and the rest of the gang at Spring Training games in Florida.The Braves will
ATLANTA -- Braves fans have been looking forward to the first game at SunTrust Park in 2017, a March 31 exhibition matchup against the Yankees. But now they can also make plans to see Freddie Freeman and the rest of the gang at Spring Training games in Florida.
The Braves will open their spring season with a Feb. 25 home game against the Blue Jays. This will mark the first of the 18 home games at ESPN's Wide World of Sports Complex in Lake Buena Vista, Fla., which will serve as Atlanta's Spring Training site for the 20th consecutive season.
• Braves' Spring Training schedule
After concluding a 32-game slate in Florida by hosting the Mets on March 29, the Braves will return to Atlanta to prepare for their much-anticipated spring finale at their new stadium. That March 31 game against the Yankees is scheduled to begin at 7:35 p.m. Fans must sign up to become Braves A-List Members in order to purchase tickets for this game. The Yanks also served as the opposition when the Braves hosted a pair of exhibition games before officially opening Turner Field in 1997.
Braves pitchers and catchers will report to Spring Training on Feb. 14, and the first full-squad workout is scheduled for Feb. 18. The regular season will begin on April 3 against the Mets at Citi Field. SunTrust Park's first regular-season game is on April 14 against the Padres.
With their previous nearby neighbors, the Astros and Nationals, moving to Palm Beach County this year, the Braves' spring schedule will include a little extra travel. But they will play seven games against the Tigers, the only club that trains within an hour of Atlanta's Spring Training site.
The Braves will play 18 home games against 11 opponents, including four games against the Tigers, three against the Mets and two apiece against the Cardinals and Marlins. The Blue Jays, Yankees, Astros, Red Sox, Phillies, Pirates and Orioles are all scheduled to play one game at the Wide World of Sports Complex.
Individual Spring Training game tickets will go on sale on Dec. 12 and can be purchased at braves.com/springtraining.
Mark Bowman has covered the Braves for MLB.com since 2001.