Now hot, Hedges unchanged behind plate
Chacin's home-road splits; notes on Myers, Margot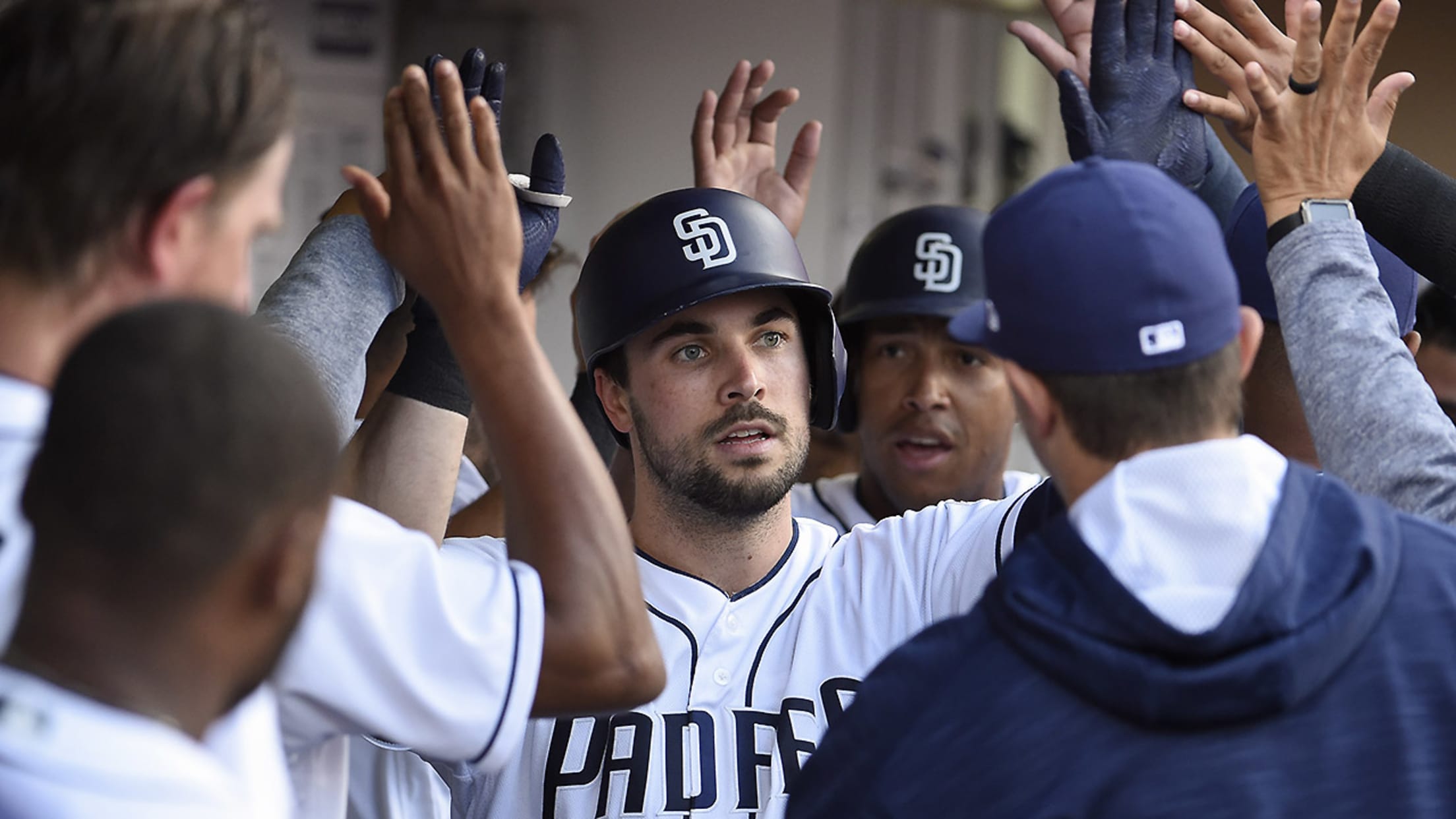 (Denis Poroy/Getty Images)
Bill Center, longtime sportswriter for U-T San Diego, is an employee of the Padres.Now that Austin Hedges is hitting, it's good to check back on what Padres manager Andy Green was saying about the catcher when he was off to that 0-for-24 start. At the time, Green talked about how you
Bill Center, longtime sportswriter for U-T San Diego, is an employee of the Padres.
Now that Austin Hedges is hitting, it's good to check back on what Padres manager Andy Green was saying about the catcher when he was off to that 0-for-24 start.
At the time, Green talked about how you couldn't place a high enough value on Hedges as a catcher -- and that catching is the No. 1 value as a catcher.
"He's going to hit," Green said of Hedges.
Well, on Monday night in Arizona, Hedges hit his sixth home run in the span of his last eight starts.
And Hedges is 11-for-36 (.305) since that 0-for-24 start, with two doubles and six homers for 13 of his RBIs. His on-base percentage during the run is .333 and his slugging percentage is .861 for a OPS of 1.194. He has raised his season batting average to .183 and his slugging percentage to .517.
How has that affected Hedges' catching and game-calling? Happily, not a bit.
"What he's doing speaks louder about Hedges than if he had started off 10-for-24," said Green. "He's stayed locked into every game. He cares about the pitchers. He puts them in position to succeed. He fights hard behind the dish. And he competed in his at-bats even before he found his stroke."
"The pitcher-catcher pregame planning is crucial. Austin Hedges and [pitching coach] Darren Balsley have spearheaded that. The ownership that Austin has taken over it has helped us get our game plans to the field more consistently than in the past. And that's one of the biggest differences."
"When you give ownership to the pitcher and the catcher and you look at them and expect them to handle it … and then you just provide the guardrails to make sure they're not going off course … that's a much better recipe than the staff telling everybody exactly how everything should work because players retain about 10 percent of what you tell them and they retain about 90 percent of what they teach."
"That's common sense. If they take ownership and Austin teaches it, then it takes off. I feel good about how that has taken off this year. Pitchers trust the fingers he puts down. People trust him because he does his work. That's why they trust Darren."
GAME NOTES
• Jhoulys Chacin loves pitching in Petco Park. He loved pitching here even before he became a Padre. He said so as much during the World Baseball Classic. His career record at Petco Park (before and after becoming a Padre) is a 4-1 record with a 1.82 ERA and 0.944 WHIP in six games (four starts). But his home-road this season is staggering.
In two starts for the Padres at Petco Park, Chacin is 2-0 and hasn't allowed a run in 14 2/3 innings. He has allowed six hits and two walks in 14 2/3 innings for a 0.545 WHIP. He has 10 strikeouts. By comparison, Chacin is 0-3 on the road this season with an 11.93 ERA and a 2.333 WHIP. In 14 1/3 innings over three road starts, Chacin has allowed 20 runs (19 earned) on 24 hits and eight walks with 11 strikeouts.
• William Myers has hit in 11 straight road games after going hitless in the season opener at Dodger Stadium. That is one game shy of Myers' longest road hitting streak of 12 games set in 2013. Myers is hitting .375 (18-for-48) on the road with four doubles, two triples and three homers for 10 RBIs. He has a .392 on-base percentage, .729 slugging and 1.121 OPS on the road compared to a .324 on-base/.500 slugging/.824 OPS at home, where he is hitting .306 (11-for-36) with a double and two homers for four RBIs.
• Manuel Margot is 7-for-17 (.412) with a double, a triple, a RBI and four runs scored in a four-game hitting streak. Hunter Renfroe also has a four-game hitting streak, going 5-for-15 (.333) with a homer and two RBIs.