Wallach family together from field to feast
Former All-Star Tim has coached each of his 3 sons in Minors or Majors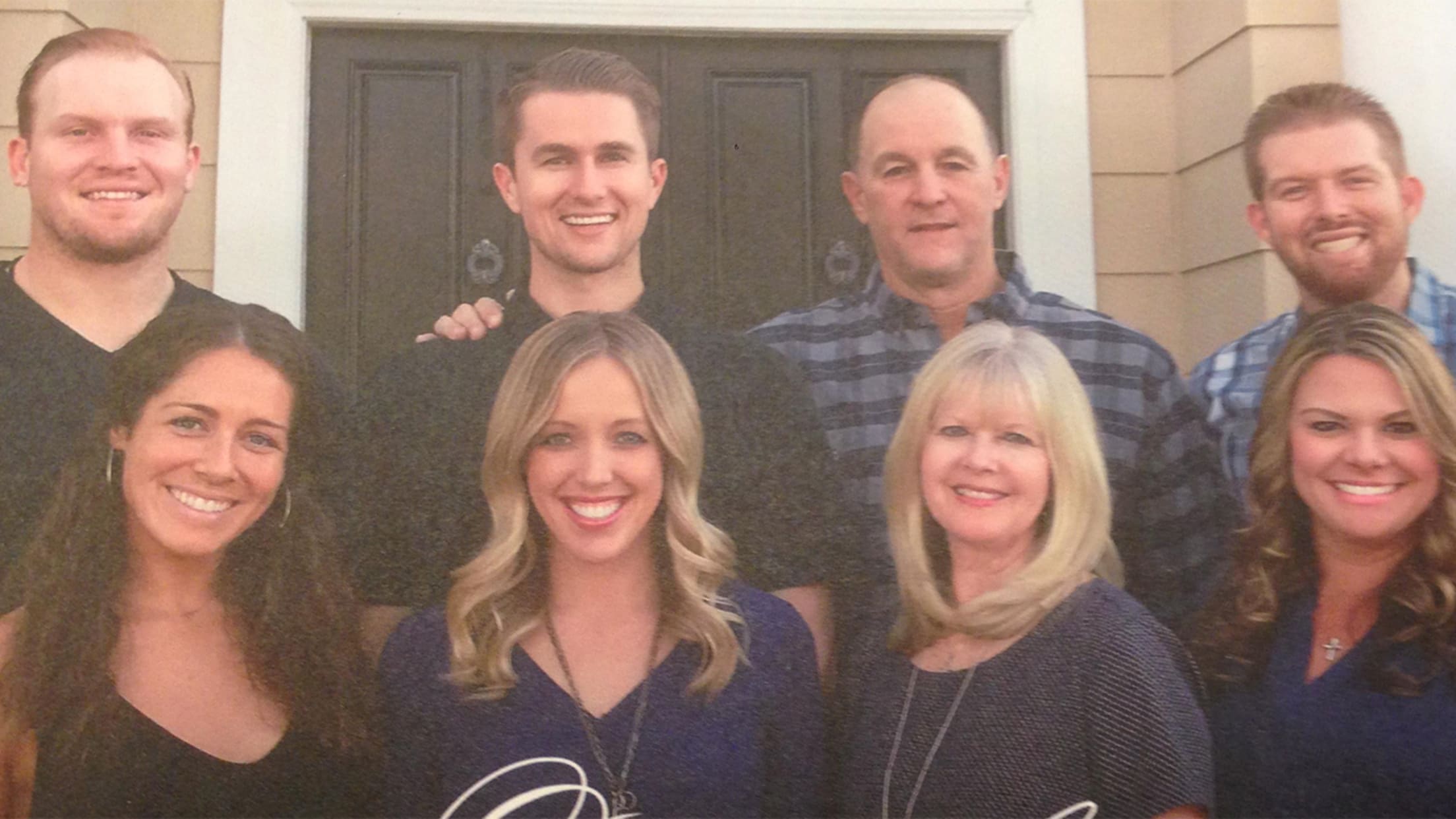 Marlins bench coach Tim Wallach and his family have a Christmas Eve tradition that goes back more than 30 years. (Wallach family)
MIAMI -- Life in professional baseball keeps you on the go, but the Christmas season is about stability, family and tradition for Marlins bench coach Tim Wallach.A long-time resident of Yorba Linda, Calif., Wallach has three sons who all have played pro ball, including his youngest, Chad, who is back
MIAMI -- Life in professional baseball keeps you on the go, but the Christmas season is about stability, family and tradition for Marlins bench coach Tim Wallach.
A long-time resident of Yorba Linda, Calif., Wallach has three sons who all have played pro ball, including his youngest, Chad, who is back with the Marlins.
"There's always been baseball of some sort around the house for as long as I could remember with the boys," Wallach said. "Them playing, or me coaching. Actually, after I retired, there was a time I coached all three of them at different levels and ages, and things like that."
The entire family lives within a close proximity in California, and it gets together each year for Christmas. Christmas Eve has a longstanding tradition that has spanned more than three decades.
"For Christmas Eve, we usually have tamales and chili," Wallach said. "You could put chili on your tamales and make it double hot, or you can do one or the other. We've always done Christmas Eve. We have some friends we've been friends with for years. It's about a 32-year tradition. It's pretty cool."
On Christmas Day, the sons usually stop by around lunch, and their annual spread is more traditional -- usually turkey and ham.
"It's really nice that we can have everybody around for Christmas," Wallach said.
Wallach was a standout player in his own right. He was a five-time All-Star during his 17-year career, which included stops with the Montreal Expos, Dodgers and Angels.
Growing up in a baseball family, it's not surprising the sons aimed to follow the footsteps of their father.
"That was important to me after I retired to spend a lot of good time with them," Wallach said. "Happily, they took up baseball. Not because I forced it on them, or anything like that, but they were around the clubhouses when I played. They loved it, and it was something they all wanted to do."
Wallach is entering his third season as Miami's bench coach on manager Don Mattingly's staff.
Previously, he was with the Dodgers, and all three of his sons actually were drafted by Los Angeles -- Matt (2007), Brett ('09) and Chad ('10).
Chad didn't sign with the Dodgers, opting to play at Cal State Fullerton. The Marlins selected him in the fifth round in 2013, and in '14, he was dealt to the Reds, along with Anthony DeSclafani, for Mat Latos.
The Marlins claimed Chad off waivers on Nov. 3, and he currently is on the 40-man roster and a candidate to be catcher J.T. Realmuto's backup.
"It was pretty special," Wallach said. "I was lucky enough when I was in L.A., Matt, my oldest, was in camp, I believe, two years with us. That was nice. I kind of know how that worked. There won't be any surprises. I loved every minute of it.
"My son, Brett, was in the Minor Leagues with the Dodgers, as well. So I could spend spring with him, but not really camp. This won't be anything new [with Chad], but certainly, it's nice that it happens that way."