These are baseball's top 10 bullpens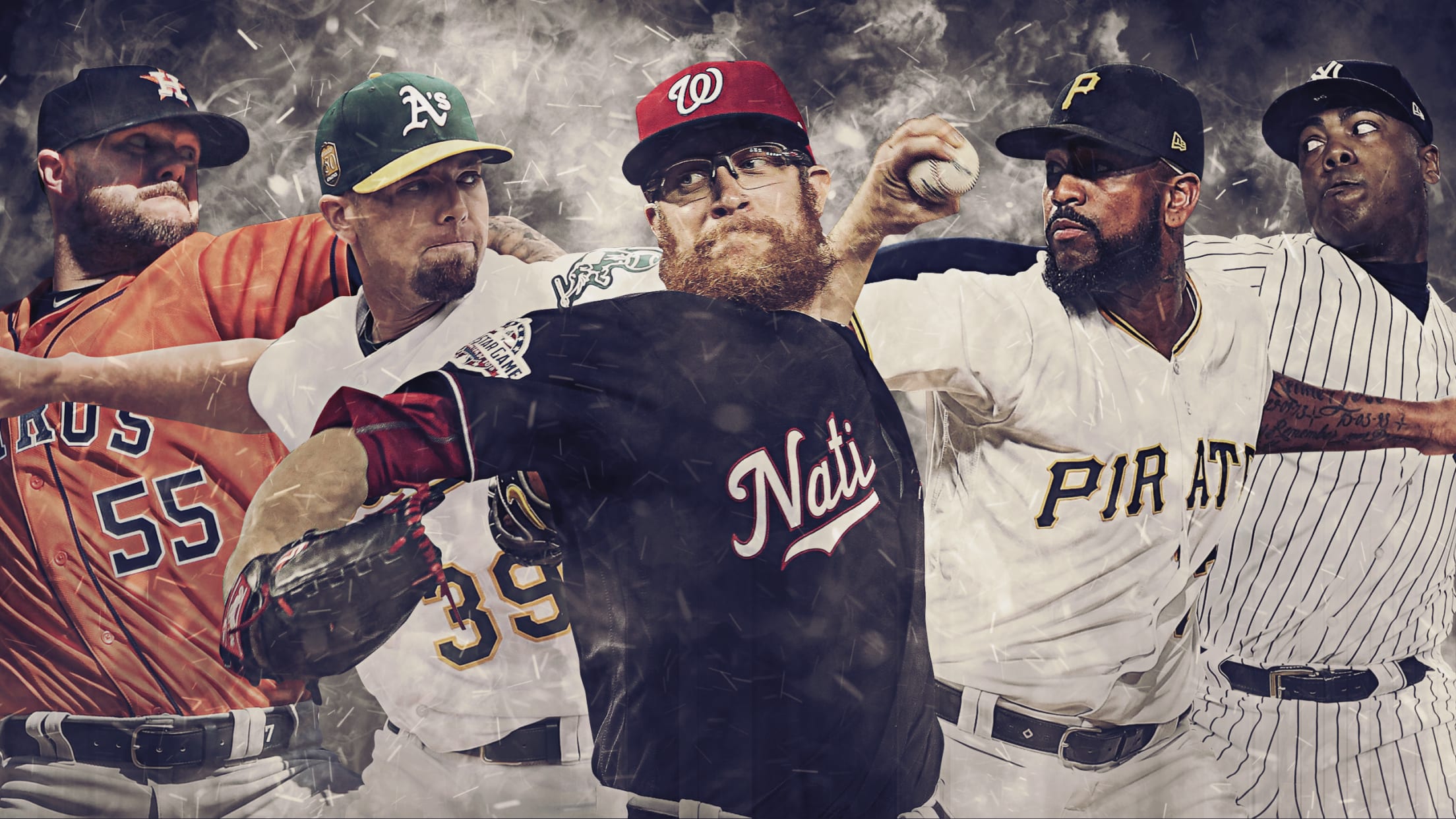 With precious few days before the baseball season begins in earnest and blows all of our projections and predictions out of the water, let's make some projections and predictions! We'll begin today with the Top 10 bullpens for 2019, continue on Tuesday with the Top 10 rotations and have one
With precious few days before the baseball season begins in earnest and blows all of our projections and predictions out of the water, let's make some projections and predictions!
We'll begin today with the Top 10 bullpens for 2019, continue on Tuesday with the Top 10 rotations and have one last Opening Day appetizer on Wednesday with the Top 10 lineups.
This bullpens list is especially fickle, given the nature of the role. But here are the 10 clubs that appear best equipped to lock down late leads.
1) Yankees
By one meaningful measure (Wins Above Replacement), the 2018 Yankees bullpen was the best of all-time. Now, Zach Britton is back for a full season and Adam Ottavino, who is coming off a dominant campaign in Colorado of all places, has been added essentially in place of the departed David Robertson. So the Yankees' bullpen projects to be even better in '19.
Obviously, that doesn't mean it will be better -- and all bullpen analysis comes with the caveat that things can blow up (and often do). But the Yankees have protected themselves in a pretty dramatic way in building this bullpen the last few years. And beyond the obvious stars, they've had breakouts from Chad Green and Jonathan Holder that have further lengthened this group.
2) A's
It's a credit to the Oakland bullpen that the A's lost literally the entirety of their Opening Day rotation over the course of 2018 but still reached the postseason anyway. The group is anchored by Blake Treinen, whose turbo sinker and cutter are two of the nastiest pitches in baseball right now. Lou Trivino emerged as a source of sick stuff in his rookie year (2.92 ERA and 82 strikeouts in 72 innings) in setup situations. After finishing second in the AL in relief ERA last year, the A's further improved this group by adding veteran Joakim Soria, who proved in '18 -- with career-bests in opponents' swinging-strike rate and chase rate, to go with a 4.33 K/BB ratio -- that he's still got it.
3) Pirates
This group evolved a lot over the course of 2018, so you might not realize what the Buccos put together by season's end. In Richard Rodriguez, trade acquisition Keone Kela and closer Felipe Vazquez, the Pirates had three back-end relievers who struck out at least 30 percent of the batters they faced in '18. Toss in Kyle Crick and Edgar Santana, and the Pirates finished the year with five relievers who had ERA+ marks of 120 or better. The only other club with that many was the Yankees.
4) Astros
After turning to starters to fill key relief roles during the run to the 2017 World Series title, the Astros beefed up their bullpen considerably over the course of '18, signing Hector Rondon and Joe Smith before the season and adding Roberto Osuna and Ryan Pressly in July trades. Pressly has emerged as a real monster, taking advantage of his elite spin rates and attacking up in the zone to post a 10.67 strikeout-to-walk ratio with a 0.77 ERA after being acquired from the Twins.
The Astros could use a lefty presence. But they have good veteran pieces in Will Harris and Chris Devenski, and it will be interesting to see if rookie Josh James impacts them in the 'pen after a right quad injury yanked him out of the rotation competition.
5) Nationals
Sean Doolittle, Kyle Barraclough and Trevor Rosenthal give the Nats three experienced closing arms in the back of their 'pen. Rosenthal will be a major X-factor this season, after missing all of 2018 following Tommy John surgery. He had some command issues in camp, but his stuff has looked sharp. The Nats recently made another solid addition in Tony Sipp, a lefty who can be used as a southpaw specialist but who actually has fairly neutral platoon splits in his career.
Most importantly, he provided this pun opportunity …
Nats bullpen has Sipp and Doolittle. That's how I like to spend my weekends. https://t.co/jwMedJ9PtP

— Anthony Castrovince (@castrovince) March 13, 2019
6) Mets
Only the season can truly dictate whether a Mets bullpen that put up an unflattering 4.95 ERA last season deserves to be on this list. But the offseason additions of Edwin Diaz and Justin Wilson -- as well as the re-acquisition of Jeurys Familia, after a mid-2018 swap sent him to the A's -- have the potential to reinvent the reputation of this group.
Diaz is coming off an outrageous season in Seattle in which he posted a Major League-best 57 saves (five shy of the record) with a 1.96 ERA, 124 strikeouts and a 0.79 WHIP in 73 1/3 innings. Wilson gives the Mets a veteran lefty presence who sharpened his command as 2018 evolved, and Familia is familiar to the Mets, though he'll now occupy the setup spot as opposed to working the ninth. Converted starters Robert Gsellman and Seth Lugo lengthen this group.
7) Brewers
Milwaukee's relief corps is a source of fascination and fear, given the way it buoyed the pitching staff overall last season and took on a ton of innings along the way. Both Jeremy Jeffress and Josh Hader contributed north of 80 innings, and Jeffress' shoulder issues already have him behind to start 2019, though the club hopes to have him back by mid-April. Corey Knebel, another linchpin of the 'pen, is out with a UCL injury. So after a fantastic '18 in which skipper Craig Counsell expertly deployed this unit to alleviate the pressure on the rotation, regression is certainly possible here.
But because Hader is one of baseball's biggest relief forces and Jeffress has had some positive momentum in his recovery of late, I still feel the Brewers belong on this list for now. The big question at this point is whether they'll complete a deal with free agent Craig Kimbrel.
8) Phillies
Bringing Robertson aboard added another degree of presence and stability to a unit that relied too heavily on rookie Seranthony Dominguez (1.60 ERA in the first half, 4.81 in the second) last season. Robertson allows manager Gabe Kapler to more properly deploy Dominguez, who can provide multiple innings but sometimes struggled with outings on back-to-back days last season. Veterans Pat Neshek and Tommy Hunter (who battled an elbow strain in camp) are important pieces here.
The Phillies deserve to be on this list after the Robertson addition, though one wonders if they should have gone just a little bit further with the "stupid" money and acquired even more bullpen depth.
9) Dodgers
Hopefully now past his ordeal with an irregular heartbeat, Kenley Jansen can get back to focusing solely on being one of the game's elite closers. Amid the health scare and an early season dip in velocity, Jansen's peripherals took a nosedive last year, though he still managed to post a sub-1.00 WHIP. Renewed strength and energy could compel a return to prominence in 2019.
The Dodgers are setting him up with Joe Kelly, who has always had electric stuff and finally seemed to know what to do with it last postseason. The upside of Julio Urias, even if it's just in a temporary relief role, and the overall depth of starting options that can bleed into the bullpen are other reasons to believe the Dodgers are equipped to handle the late innings.
10) Giants
We could go in many different directions with this final spot. The Padres and Twins have interesting upside, an Andrew Miller bounce-back could push the Cardinals to the forefront, and the Rays' progressive deployment of a 'pen anchored by Chaz Roe and Jose Alvarado adds to the overall value of that group.
But my colleague Mike Petriello put forth a deep dive on how the Giants have put together one of the more interesting collections of bullpen arms in baseball for 2019, and his analysis -- centered not just on the established likes of Mark Melancon, Will Smith and Tony Watson, but on the methodology that could unlock the potential of a Statcast standout like Ray Black -- is compelling enough to earn San Francisco this wild-card spot on a list that is bound to evolve a lot over the coming weeks and months.