Chasing Joe D: BTS elite vying for $5.6M
4 Streakers 70% of way to payday; Bogaerts moving up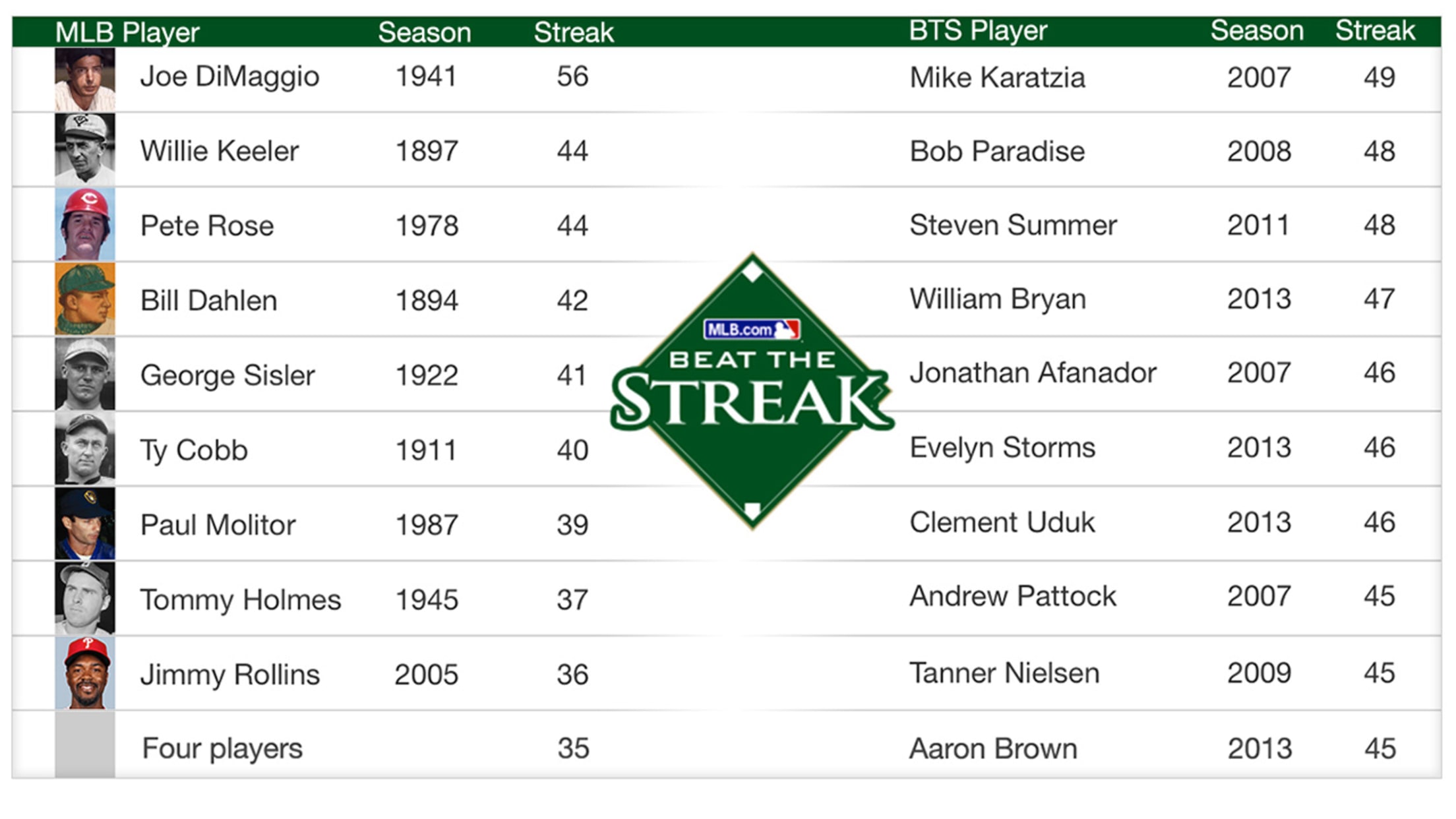 Precisely 75 years ago yesterday, Joltin' Joe DiMaggio notched a pair of hits in a nondescript Yankees loss.The New York Times, under blocks of other news deemed more fit to print, wrapped up the recap with the following nugget: "DiMaggio, incidentally, has hit safely in nineteen straight games."Of course, said
Precisely 75 years ago yesterday, Joltin' Joe DiMaggio notched a pair of hits in a nondescript Yankees loss.
The New York Times, under blocks of other news deemed more fit to print, wrapped up the recap with the following nugget: "DiMaggio, incidentally, has hit safely in nineteen straight games."
Of course, said footnote would slowly but surely morph into a national headline, as the Yankee Clipper went on to tally hits in an MLB-record 56 consecutive contests.
In the three-quarters of a century since the magic of 1941, no one has come close to DiMaggio's mark.
The streak obsession has only strengthened during the ensuing decades, with MLB.com creating the "Beat the Streak" contest in its honor 15-plus years ago.
Play Beat the Streak; win $5.6 million
To Beat the Streak, one has to best Joe D.'s remarkable run by one. But of the millions who have tried to tally a 57-game "hitting streak" in BTS, none has persisted long enough to win the grand prize, now a whopping $5.6 million.
Four BTS participants, however, are getting awfully close. Although their true identities remain largely shrouded in secrecy, "guyballgame," "beyerm," "patmendes2000," and "peterose4477" are garnering a great deal of attention for their successes; the former two have made 41 straight successful selections -- 72 percent of the way to the life-changing payday -- with the latter pair lagging one correct pick behind.
One of the leaders -- guyballgame, real name Geordie -- has already dreamed of life with an extra $5.6 million.
"I'm going to fly the family down to Spring Training in a new airplane! Cessna 185 on floats!" Geordie exclaimed. (Don't worry. He's a pilot.)
Geordie's success has been fueled by the Red Sox, his former hometown team. Needless to say, the 45-year-old aviator has been boosted by Boston shortstop Xander Bogaerts, the owner of an active 26-game hit streak of his own.
"All I can say is I live and die with my beloved Bosox! The Red Sox offense is prolific this year!" the former New Englander said.
You may be sitting at work or home -- readying to play BTS on your computer or smart phone -- and asking the very question posed at MLB.com today: Which streak -- the BTS leaders' or Bogaerts' -- is likelier to last?
If you look at history, the answer is simple. While BTS and MLB players alike face an uphill battle, 56 is easier to approach in the virtual realm.
The stats speak for themselves. Since 1941, only one big leaguer -- the Reds' Pete Rose -- has reached the 44-game mark. In fact, no one has hit in 39 straight since 1987, when Paul Molitor busted out base knock after base knock for the Brewers.
Comparatively, dozens of BTS participants have reached "Club 40" in recent years, including our famed four -- introduced several paragraphs back.
Such makes sense. On the road to $5.6 million, fans can pick two hitters per date (Double Down), get do-overs via a "Mulligan" or sit out an evening. Or two. Or 10.
Of course, these amenities are not available to real MLB players like Bogaerts in pursuit of Joe D.'s magical 56-game run in 1941.
Still, Astros manager A.J. Hinch -- one of many impressed by Bogaerts -- believes the 23-year-old has what it takes to best Joe D.'s spot in immortality.
"[Bogaerts] can hit the ball the other way and hits the ball low and finds a way to hit the ball to the outfield a lot," Hinch said.
The Astros' skipper was asked not about Bogaerts specifically, but rather his choice for the likeliest batter to hit in 57 straight. Hinch picked Bogaerts all on his own, and he was not alone.
The current BTS leaders clearly have confidence in Bogaerts, too, having collectively ridden his bat more than a dozen times in the past week. The American League's current batting-average leader (.348) has clearly come through.
The next few weeks may be challenging for our BTS users and Bogaerts alike, assuming their runs remain alive.
But with the right mix of strategy and luck, the summer of '16 might turn out to be a real hit.
Zachary Finkelstein is MLB.com's fantasy baseball editor.