Tigers' tech helps Burrows get back in sync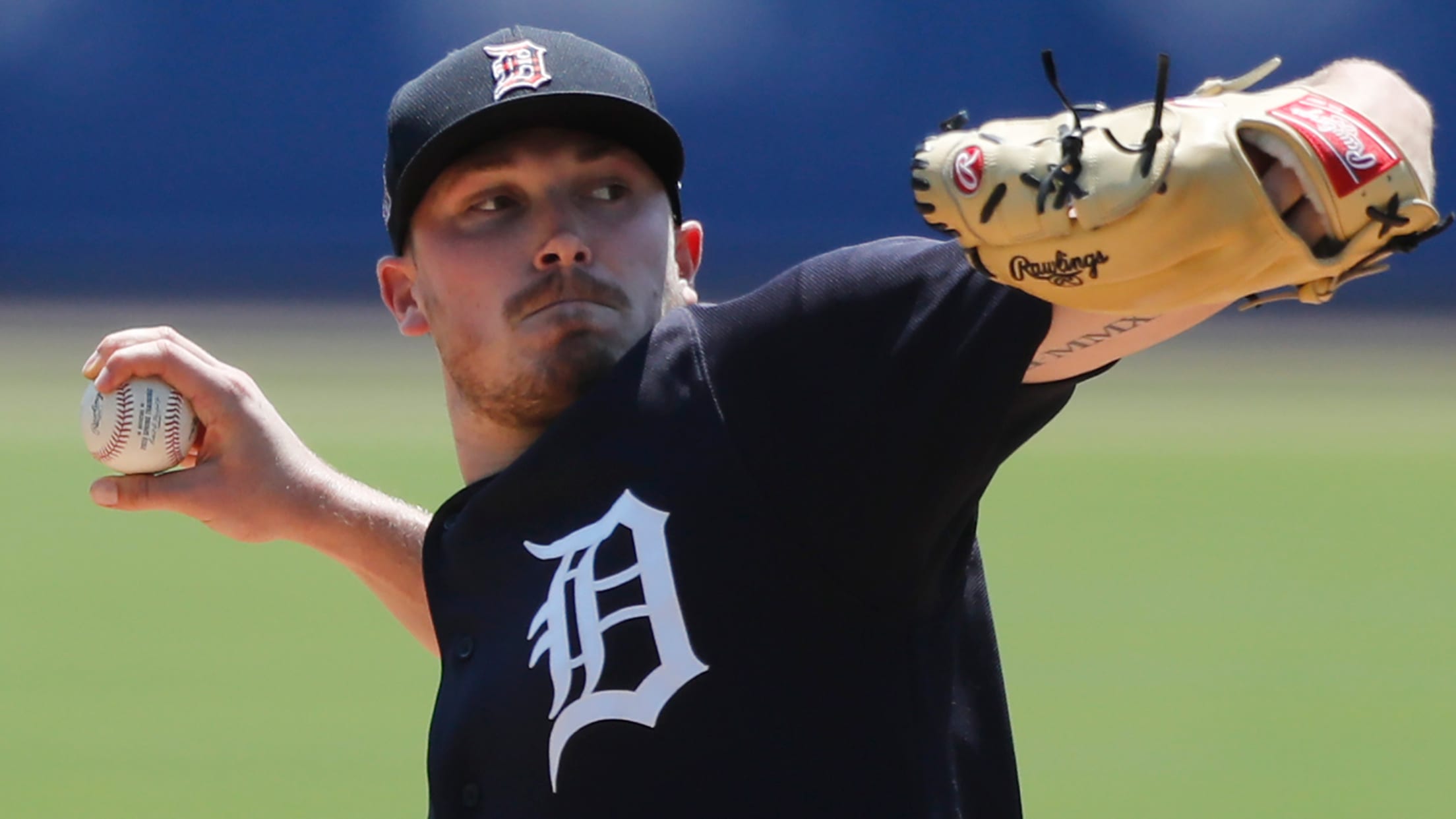 DETROIT -- Beau Burrows had been anticipating that moment to step on the mound at Comerica Park for the better part of five years, through the twists and turns of his difficult climb up the Tigers' farm system. Once he set foot there this week, it didn't matter that he
DETROIT -- Beau Burrows had been anticipating that moment to step on the mound at Comerica Park for the better part of five years, through the twists and turns of his difficult climb up the Tigers' farm system. Once he set foot there this week, it didn't matter that he was facing players from his own organization in an intrasquad game.
"Once you set foot on the field, for me, your focus and intensity goes up," he said. "It doesn't matter if there's any fans in the stands or what. It makes you want to stay. You don't want to go back to the Minor Leagues. You want to stay in big league stadiums. It's definitely pretty cool."
It was cooler when Burrows worked through two scoreless innings Sunday, striking out two while flashing the power arsenal he threw with regularity not long ago.
This is what he anticipated last summer, when general manager Al Avila said Burrows was in line to make his big league debut soon. A rough stretch and an oblique injury spoiled that plan. A disastrous Spring Training outing to begin his first Major League camp in February during which he allowed five runs and recorded just two outs made that moment seem further away.
The key to getting from there to here came with his step into the smart cage the Tigers set up in Lakeland, Fla., the product of their heavy investment in performance technology the past few years. With cameras and sensors on him, Burrows got a look at what he was doing wrong.
• Farmer thinking -- and looking -- like a reliever
"It's nice to see how your body works and how it moves on the mound," Burrows said. "Having all the sensors, all the cameras, it was cool to actually see what my body was doing. I got instant feedback. We had the Rapsodo [machine], which gave us feedback, so it was nice to do stuff pitch by pitch and see what I was doing. That helped out a lot."
Burrows' arm path was out of whack, as he put it. His upper and lower body were out of sync in his delivery. How his mechanics went so awry so quickly was beyond him, though it might be related to the oblique injury. He made the adjustments and put them to work on the back fields.
"It literally clicked in a week," he said. "I was back to my old self. I was throwing hard again off the mound. We just kept working on that, trying to repeat it over and over again, and I just took that over to the quarantine time. And it's been good ever since."
The fact that the Tigers brought Burrows to Summer Camp was a good sign that team officials still believe in him. He's expected to open the season working with other prospects at Triple-A Toledo, where his 2-6 record and 5.51 ERA in 15 starts last year marked by far the roughest stop of his pro career.
Where he fits long term is still to be defined. The Tigers will have plenty of top pitching prospects with him at the alternate training site, though Tarik Skubal and Alex Faedo are currently on the 10-day injured list for undisclosed reasons. The rise of Detroit's top prospects has given rise to the idea of Burrows' future being in the bullpen. So far, Burrows said, he hasn't been told anything.
"We like the young man. He's got good stuff and he hides the ball," manager Ron Gardenhire said. "We're happy with where he's going. I think the pitching coaches are all on the right path here, not trying to develop too many different pitches rather than master the ones that he's throwing right now."
Quick hits
• Non-roster invite Shao-Ching Chiang again showed electric pitching Sunday in his bid for a bullpen spot, tossing two innings. His pitch count was elevated by two walks and several three-ball counts. "We really like this guy's arm," Gardenhire said. "He's a strong young man. He's got a good fastball. He has pitches. He just has to learn to pitch with your pitches to keep them off-balance a little better."
• Dillon Dingler became the first of the Tigers' recent Draft picks in camp to get a hit, though he had to endure some pain for it. The team extended Sunday's intrasquad game for one batter to get him an at-bat, then reliever Anthony Castro hit him with an inside fastball. Dingler picked up the ball in front of home plate, gave it back, then got back in the box to continue his at-bat. He legged out an infield single a couple of pitches later.
• The Tigers will continue streaming their intrasquad games this coming week at tigers.com, except for Thursday night's game, which will be aired on Fox Sports Detroit. Monday's intrasquad game starts early at 10 a.m. ET.