Lively among top prospect performers Friday
Phillies' No. 24 strikes out 10 in six hitless innings for Triple-A Lehigh Valley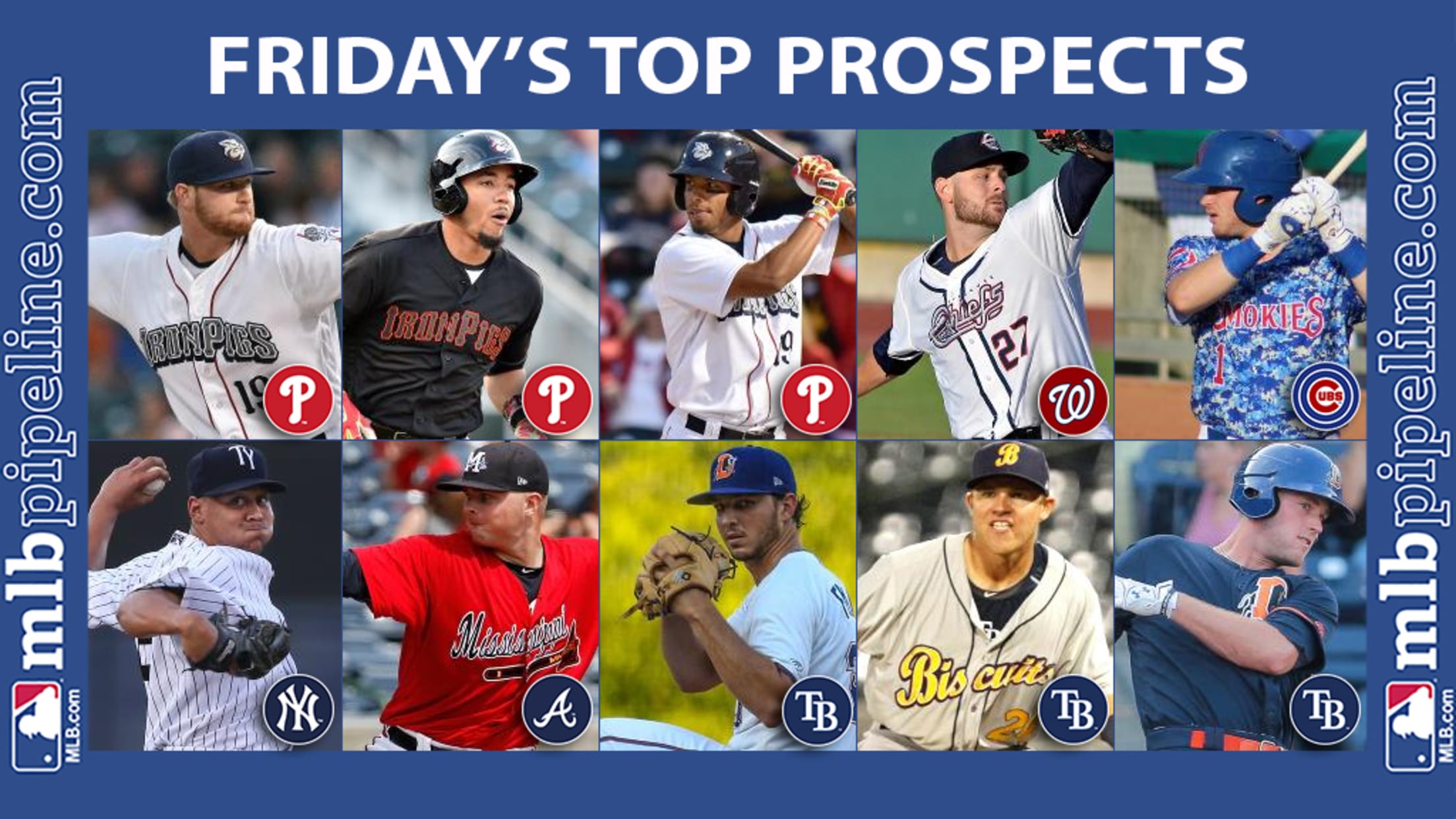 With a trip to the International League playoffs on the line, Ben Lively was at his best for Triple-A Lehigh Valley.Lively, the Phillies' No. 24 prospect, hurled six hitless innings to pace the IronPigs in a 7-1 victory over Rochester. He struck out 10 of the 19 batters he faced
With a trip to the International League playoffs on the line, Ben Lively was at his best for Triple-A Lehigh Valley.
Lively, the Phillies' No. 24 prospect, hurled six hitless innings to pace the IronPigs in a 7-1 victory over Rochester. He struck out 10 of the 19 batters he faced and did not issue a walk, throwing 57 of his 79 pitches for strikes. The only batter to reach base against Lively did so on Nick Williams' error in the bottom of the second inning.
"For me, I keep thinking about last season," Lively told MiLB.com. "I had an up-and-down year but putting this start in to get us into the playoffs was great. I'm ready to keep staying at it and give our team a chance to win a ring."
MILB Video - Title: Lively finishes six hitless innings - Url: http://www.milb.com/r/video?content_id=1127843383
Right-hander Joely Rodríguez replaced Lively on the mound in the seventh and promptly tossed two hitless frames to extend Lehigh Valley's combined no-hit bid. In the ninth, Elvis Araujo recorded two quick outs before issuing a walk to James Beresford, who then advanced to second base on defensive indifference and scored on a single by Reynaldo Rodriguez.
Lehigh Valley's strong effort on the mound was backed by equally strong offensive performances from two of the Phillies' top prospects. Shortstop J.P. Crawford, the Phillies' No. 1 prospect and No. 2 on the Top 100 collected a team-high three hits, while Williams (Phillies' No. 3 and No. 52 overall) delivered his 13th home run and scored a pair of runs.
With his win on Friday, Lively (18-5) became the Minor Leagues' first 18-game winner since 2008, according to MiLB.com. The 24-year-old right-hander has been excellent since his promotion to Triple-A in late May, going 11-5 with a 3.06 ERA, 0.93 WHIP and .196 opponents' batting average in 19 starts. He began the season in the Eastern League, where he was 7-0 with a 1.87 ERA in nine starts.
The rest of the best performances from top prospects Friday
• No. 3 overall prospectLucas Giolito (Nationals' No. 1) completed eight innings for the first time in his career in a scoreless performance for Triple-A Syracuse. The top-ranked pitching prospect allowed two hits and one walk while striking out five, also generating 12 ground-ball outs. Though he's struggled across four starts with the Nationals, Giolito, 22, has been plenty sharp during his time in the International League, with a 2.17 ERA and 40-10 strikeout-to-walk ratio in 37 1/3 innings (seven starts).
MILB Video - Title: Giolito notches strikeout - Url: http://www.milb.com/r/video?content_id=1128051183
• No. 23 overall prospect Ian Happ (Cubs' No. 1) connected on two solo home runs in a three-hit, three-RBI effort for Double-A Tennessee. The multi-homer performance was his second of the season and first since joining the Smokies in late June, and gives him 15 homers in 131 games.
MILB Video - Title: Happ rips his second homer of game - Url: http://www.milb.com/r/video?content_id=1128230783
• No. 50 overall prospectSean Newcomb (Braves' No. 3) was perfect through five innings for Double-A Mississippi before giving up a leadoff single in the sixth. The hit was the only one allowed by the 23-year-old lefty, who recorded eight strikeouts against one walk and threw 69 of his 102 pitches for strikes. Three of his past five starts for the M-Braves have been of the scoreless variety.
• No. 80 overall prospectJake Bauers' (Rays' No. 3) went 3-for-5 and drove in four of Double-A Montgomery's 10 runs in a win over Tennessee. One of those hits was his 14th home run -- a two-run shot in the third inning -- and he also plated a run with singles in the fifth and sixth innings, respectively. In his age-20 season, Bauers is hitting .275/.370/.421 with 42 extra-base hits, 76 RBIs and an impressive 71-86 walk-to-strikeout ratio.
• Making his Double-A Trenton debut, No. 85 overall prospectJustus Sheffield (Yankees' No. 7) permitted one unearned run on two hits in four innings, walking three and striking out nine. Prior to his promotion, the 20-year-old left-hander had posted a 1.73 ERA with 27 strikeouts and 14 hits allowed in five starts for Class A Advanced Tampa.
• Mets No. 24 prospect David Thompson went 3-for-5 with three extra-base hits including two home runs in Class A Advanced St. Lucie's win against Jupiter. Having already tallied a double in his first trip to the plate, the 2015 fourth-rounder padded St. Lucie's lead with his seventh-inning solo homer and a two-run shot in the eighth.
• Phillies No. 20 prospect Elniery Garcia set a new career high with 11 strikeouts and fired seven innings of one-run ball for Class A Advanced Clearwater. The southpaw yielded more walks (three) than hits (two) in the outing. One of the top pitchers in the Florida State League, Garcia's 12 wins has him tied for second on the circuit, and he also ranks fifth with a 2.68 ERA.
• Rays No. 5 prospectJacob Faria allowed one hit and three walks in seven scoreless innings and faced two over the minimum as Triple-A Durham blanked Gwinnett, 14-0. The 23-year-old righty struck out four and generated six ground-ball outs, with 54 of his 96 pitches going for strikes. Pacing the Bulls at the plate was Casey Gillaspie (Rays' No. 9), who hit a pair of doubles and a triple and collected a career-best five hits to lift his Triple-A average to .304 from .284.
MILB Video - Title: Gillaspie notches fifth hit - Url: http://www.milb.com/r/video?content_id=1128365083
• Reds No. 13 prospect Tony Santillan was dealing in his seventh start for Class A Dayton, as he fanned 10 hitters for the second time in four starts and tossed a career-best seven scoreless innings. The 19-year-old righty scattered three hits and walked one while pounding the zone with 60 of his 86 pitches. Santillan had allowed a combined nine earned runs in 3 2/3 innings in his previous two starts for the Dragons.
• Rockies No. 26 prospect Garrett Hampson's first two career home runs proved the difference as Class A Short Season Boise defeated Everett, 2-1. The 2016 third-rounder is hitting .293 through 65 games in his pro debut, with 22 extra-base hits and 33 steals in 37 attempts.