Zobrist (back) slated for spring debut Tuesday
Strop closer to game action; Morrow set to pitch Tuesday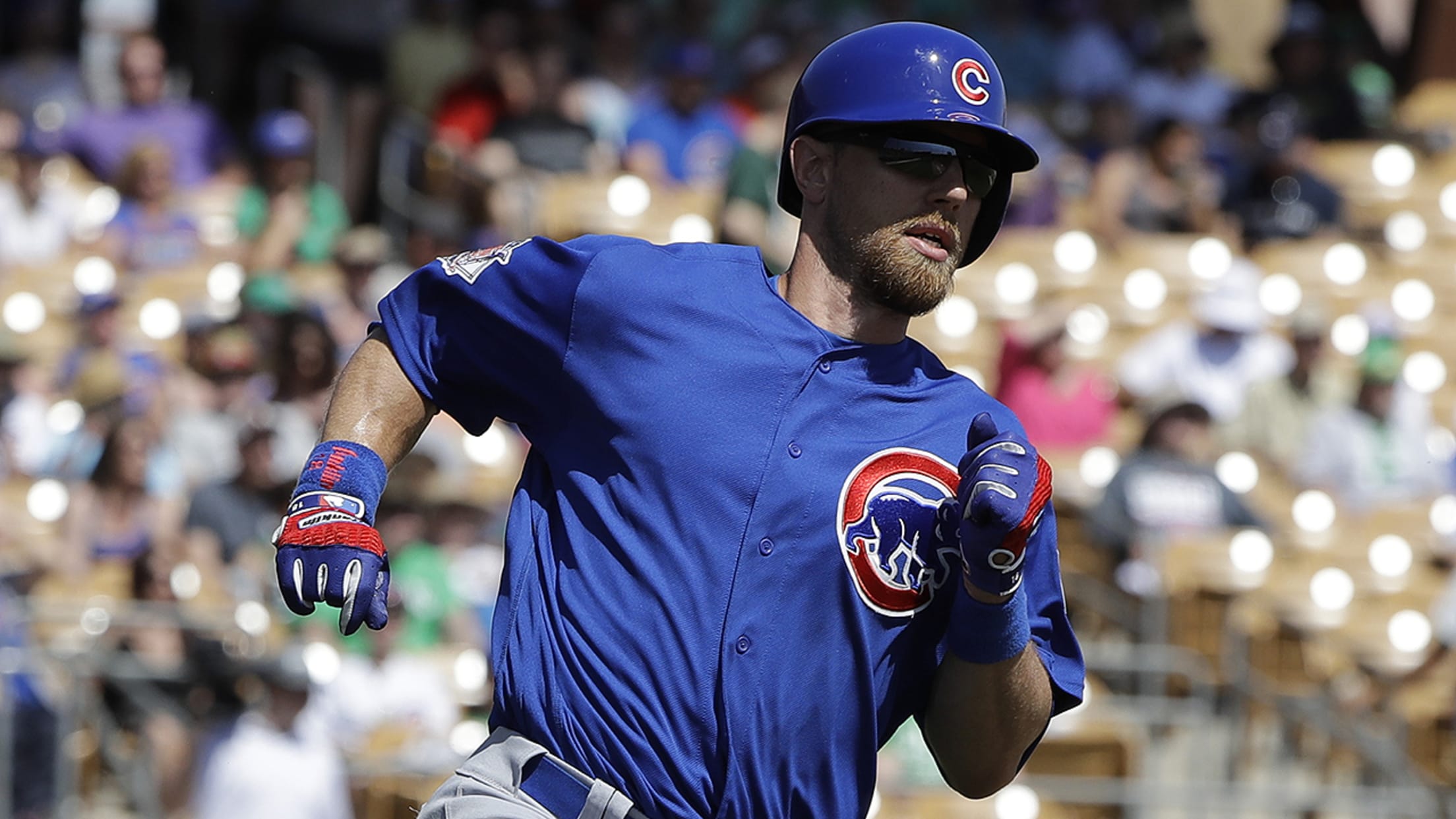 Chicago Cubs' Ben Zobrist runs during a spring training baseball game against the Chicago White Sox, Friday, March 17, 2017, in Phoenix. (AP Photo/Darron Cummings) (Darron Cummings/AP)
SCOTTSDALE, Ariz. -- Benjamin Zobrist will finally get in a game, starting Tuesday when the Cubs play host to the Dodgers. He's been sidelined as a precautionary measure after reporting to Arizona with some back issues."The last hurdle is running the bases for the second time," Zobrist said Sunday. "Once
SCOTTSDALE, Ariz. -- Benjamin Zobrist will finally get in a game, starting Tuesday when the Cubs play host to the Dodgers. He's been sidelined as a precautionary measure after reporting to Arizona with some back issues.
"The last hurdle is running the bases for the second time," Zobrist said Sunday. "Once that's done, then I'm full go. They're just going to let me start with a home game. If a home game was Monday, I'd probably play Monday. I'm excited to get back out there."
• Spring Training:Info | Tickets | Schedule
In other injury news, reliever Pedro Strop, who has been out with a sore left calf, also was getting close to pitching in a game.
• A fifth Cubs player made a $10,000 donation to manager Joe Maddon's Respect Bald event, raising the total raised from players and fan donations to $93,000. Several Cubs players got their heads shaved Saturday as part of the event to raise money in the battle against pediatric cancer, including Zobrist, Anthony Rizzo, Kyle Schwarber, Brian Duensing, Adbert Alzolay, Justin Wilson, Charcer Burks, Eddie Butler and Chesney Young.
"I was blown away by the generosity of our players and the participation in the event," Maddon said Sunday, sporting a new shaved head as well.
:: Spring Training coverage presented by Camping World ::
D-backs 2, Cubs 0
The Cubs totaled two hits in a loss to the D-backs in front of 13,782 fans. Jonathan Lester took the loss, serving up a solo homer to Nick Ahmed in the second.
Lester threw 25 pitches in the first inning, including 16 to Paul Goldschmidt and Jake Lamb combined. Both drew walks. Lester got some revenge in the third when he struck out both Goldschmidt and Lamb, and was then lifted after throwing 53 pitches.
Wilson sharp this spring
Wilson has given up one hit over two innings in two outings, striking out two and walking none. Maddon has seen a difference in the lefty, whom the Cubs acquired last July and struggled with the team. He had a 2.68 ERA in 42 games with the Tigers but posted a 5.09 ERA in 23 games with the Cubs.
"First of all, he's much calmer about the whole thing," Maddon said. "He looks more at ease on the mound like he had in the past. Coming over when he did, it probably thrust him into a position or situation that didn't play well early. Right now, he's doing this the right way. His delivery looks great, the adjustment he makes when he gets off-kilter, I anticipate he's going to maintain."
Bote impressing Maddon
Infielder David Bote is opening some eyes in camp.
"He's a perfect example of an under-the-radar guy," Maddon said of Bote, an 18th-round pick in 2012 who batted .272 at Double-A Tennessee last season. "He's got great tools. I didn't know he could play third base that well.
"On top of all of that, if you say 'David Bote' very quickly, it sounds like 'David Bowie,' so I'm encouraging him to use 'Rebel, Rebel' as his walk-up music," Maddon said.
Whatever works.
Camp battles
Jason Heyward led off for the second time this spring Sunday and went 0-for-3. It's part of Maddon's auditions for the leadoff job. Albert Almora Jr., who also has led off this spring, batted sixth and remained hitless.
What's next
Kyle Hendricks will make his second Cactus League start Monday at 2:10 p.m. CT, when the Cubs travel to Scottsdale, Ariz., to face the Rockies. In his first outing, Hendricks gave up two unearned runs on one hit -- a home run -- over two innings. The game will be broadcast exclusively on a live audio webcast on cubs.com.
New closer Brandon Morrow was expected to make his Cubs debut Tuesday. Because Morrow pitched an extra month last year with the Dodgers going to the World Series, the Cubs decided to take a cautious approach this spring.