McEwing effuses praise for Sox
Renteria remains behind Thursday for series opener in Detroit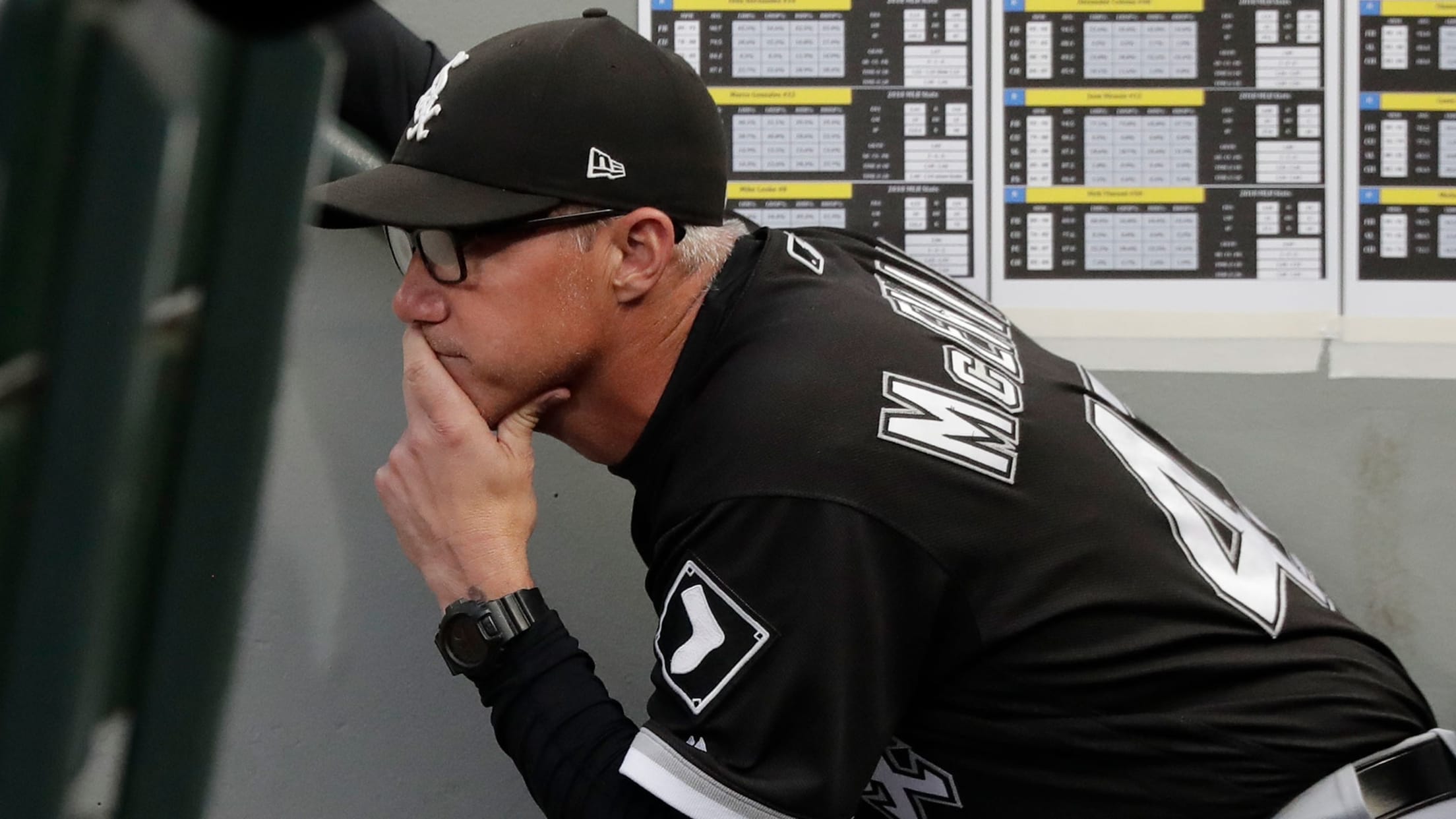 DETROIT -- Manager Rick Renteria was not in Detroit for the White Sox series opener against the Tigers at Comerica Park on Thursday. Renteria is still experiencing lightheadedness and will undergo further testing at Rush University Medical Center in Chicago. Bench coach Joe McEwing has taken over managerial duties for
DETROIT -- Manager Rick Renteria was not in Detroit for the White Sox series opener against the Tigers at Comerica Park on Thursday. Renteria is still experiencing lightheadedness and will undergo further testing at Rush University Medical Center in Chicago. Bench coach Joe McEwing has taken over managerial duties for the time being and had a positive update on Renteria.
"I talked to him this morning, and he's doing well," McEwing said. "He's in good spirits and sounded great."
The second-year White Sox manager had an episode of lightheadedness before Monday night's game against the Twins and underwent testing at a Minneapolis hospital, where he was released the next day.
McEwing said the cause of the lightheadedness has not been determined.
"Ricky's put us all in an amazing spot, a position to succeed," McEwing said. "Not just our whole coaching staff, but our ballclub. Just following and continuing to learn from him every day."
The White Sox clubhouse has had much to adjust to recently. Along with an absent manager, two staples in the lineup, Leury Garcia and Jose Abreu, have gone to the 10-day disabled list in recent days. Garcia has a strained left hamstring and will be out three-to-six weeks. Abreu had outpatient surgery on his lower abdomen/groin area and will be out at least two weeks.
"They're rallying around them pretty well," McEwing said of the clubhouse. "They have an amazing amount of energy, and they go out there and compete for 27 hard outs every single day and leave it all out there. They've been rallying around them."
McEwing praises adjustments by Engel and Anderson
Adam Engel has placed an emphasis this season on keeping the barrel of his bat in the hitting zone longer. His .229 average isn't raising eyebrows, but five multi-hit games since Aug. 12 suggests progress is coming along. Since the All-Star break, Engel is slashing .266/.275/.443/, all of which are better than his pre-break numbers.
"His at-bats have gotten so much better," McEwing said. "He's more consistent on a daily basis. You don't see the gaps from day to day. It's more consistent every single day. He's making better contact, harder contact, and he's putting himself in a good position right now."
Tim Anderson's .969 fielding percentage would be the best he's posted in his three-year Major League career at shortstop, and McEwing contributes his improvement to a growing sense of maturity.
"He's figuring out himself in a lot of ways," McEwing said. "He's learning what his body is capable of doing, throwing from different angles. He's gotten so much better on his backhand, going into the 6-hole, and being able to throw from different angles. Before, he would go to a backhand and come up and just try to make a strong throw. Now, he's going to his backhand and getting rid of it quicker."
Did you know?
During his session with the media before Thursday's game, McEwing was reminded that he hit his last Major League home run in Detroit. McEwing was a member of the Royals in 2005 when he hit a third-inning home run off Tigers starter Nate Robertson.
"It was a cutter down and in," McEwing recalled. "I was cheating on the cutter down and in, and I got it."
Tyler Fenwick is a reporter for MLB.com based in Detroit.