Here's the best Draft prospect at every position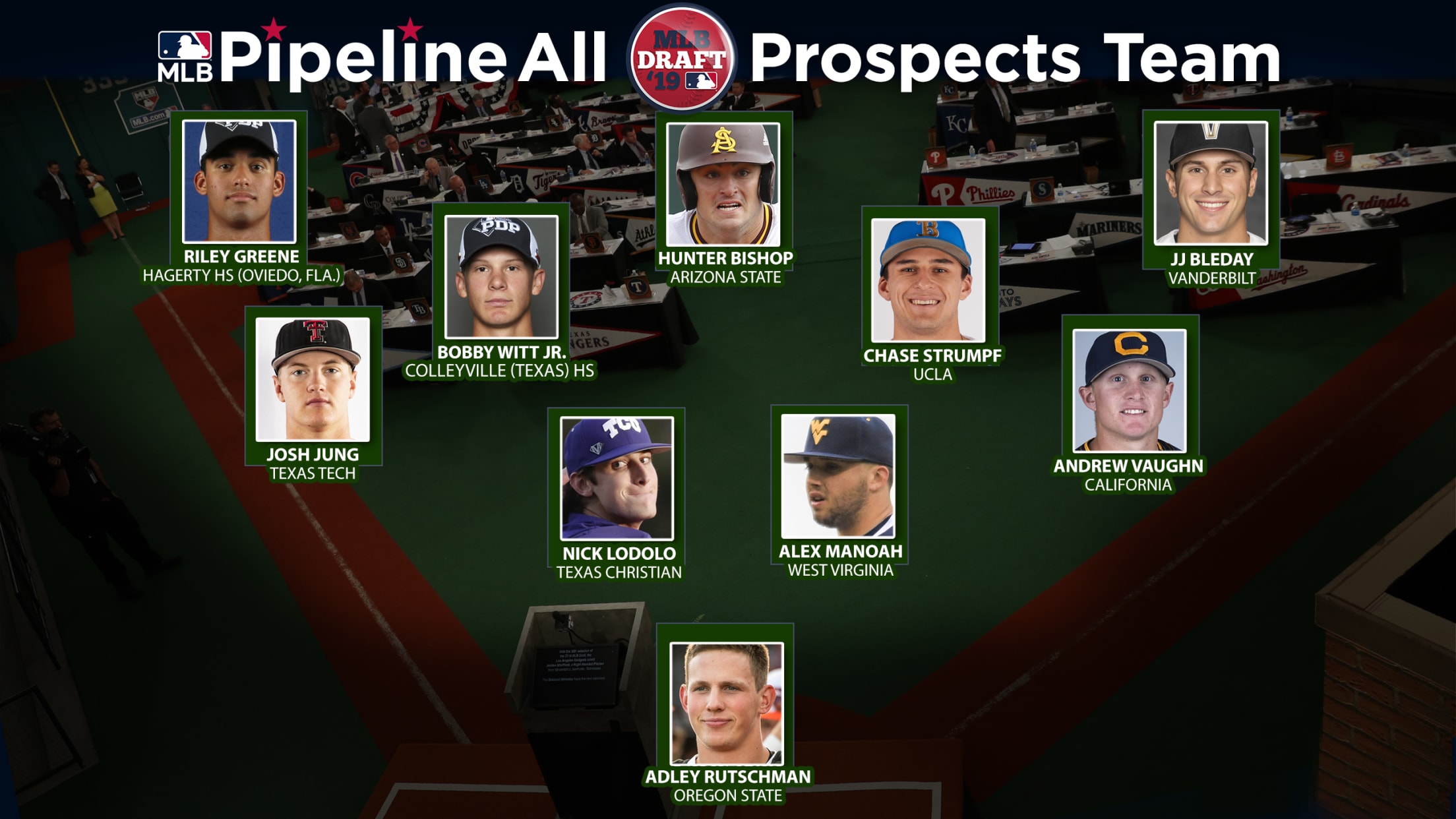 Major League scouting staffs don't have the luxury of filling out a full lineup with only the top Draft prospects in the country. Here at MLB Pipeline, however, we're doing exactly that as we edge closer to the start of the 2019 Draft on June 3. There is no shortage
Major League scouting staffs don't have the luxury of filling out a full lineup with only the top Draft prospects in the country. Here at MLB Pipeline, however, we're doing exactly that as we edge closer to the start of the 2019 Draft on June 3.
There is no shortage of college players on this year's All-Draft team, as they account for eight of the 10 roster spots. That group is headlined by the top two players in the country, Oregon State catcher Adley Rutschman and Cal first baseman Andrew Vaughn
Shortstop Bobby Witt Jr. and outfielder Riley Greene represent the high school ranks, rounding out a deeply talented crop of players who should hear their names called on the first day of the Draft.
Here's a look at the best Draft prospect at every position:
C: Adley Rutschman, Oregon State (Draft No. 1)
The top-ranked prospect in this year's class and projected No. 1 overall pick in Jim Callis' most recent mock Draft, Rutschman, a switch-hitter, has managed to elevate his already soaring stock this spring by batting .427/.584/.772 with 16 homers and a 69/36 BB/K ratio for the Beavers after earning College World Series Most Outstanding Player honors as a sophomore. To go along with his impact bat, the 21-year-old is a strong defender with great makeup behind the plate.
1B: Andrew Vaughn, California (No. 3)
Vaughn garnered PAC-12 Freshman of the Year honors in his first season and then batted .402 with 23 homers as a sophomore in 2018 to win the Golden Spikes Award. He's continued to rake this spring, albeit not quite at his 2018 pace, and some believe that he's the best all-around hitter in the Draft thanks to his ability to hit for a high average, as well as power, from the right side of the plate.
2B: Chase Strumpf, UCLA (No. 40)
Strumpf stands out for the combination of natural hitting ability and power potential that enabled him to hit .363/.475/.633 with 12 homers and 23 doubles as a UCLA sophomore. And while he hasn't shown as much pop this spring, he's continued to barrel up balls consistently from the right side of the plate while showing the profile of an offensive-minded second baseman.
3B: Josh Jung, Texas Tech (No. 16)
Jung was the Big 12 Conference Freshman of the Year in 2017 and last season helped lead Texas Tech to the College World Series while pacing the Big 12 in hitting (.392), OBP (.491) and RBIs (80). The 6-foot-2, 215-pounder is viewed by scouts as one of the college baseball's better offensive prospects for the 2019 Draft, and few have a stronger record of hitting for both average and power.
SS: Bobby Witt Jr., Colleyville (Texas) HS (No. 2)
A potential five-tool shortstop with a big league pedigree, Witt, the son of 16-year MLB pitcher Bobby Witt, is the top high school prospect in the 2019 class. He was the highlight of every major event on the summer showcase circuit, winning the High School Home Run Derby at the All-Star Game and claiming MVP honors at the Under Armour All-America Game, the States Play Series and the 18-and-under Pan-American Championships in Panama. His raw power and speed are both plus tools, which, combined with his baserunning instincts, could make Witt a 20-20 player, and he has the requisite plus defensive tools to stick at shortstop.
OF: JJ Bleday, Vanderbilt (No. 5)
After standing out as the top prospect in last summer's Cape Cod League, Bleday has erupted this spring during a breakout junior campaign to hit an NCAA Division I-leading 25 home runs for the Commodores. The emergence of the 6-foot-3, 205-pounder's power this season -- he's always shown advanced hitting ability and feel for controlling the strike zone -- has him poised to become one of the first college players selected on June 3.
OF: Riley Greene, Hagerty HS (Oviedo, Fla.) (No. 6)
Greene, a standout on USA Baseball's gold medal-winning 18U National Team in the Pan-American Championships, is the best pure high school bat in the country, and there is no doubt among evaluators that his hitting ability will translate at the next level. The Florida commit has big raw power that he'll eventually tap into, too, and scouts have been pleased with his improved athleticism this spring.
OF: Hunter Bishop, Arizona State (No. 7)
The Sun Devils' center fielder has done more than probably any other player this spring to improve his stock, going from a .759 OPS and five homers as a sophomore to a 1.274 OPS and 22 homers this spring. The 6-foot-4, 205-pound left-handed hitter has massive raw power and has hit some tape-measure blasts this spring while vying for the NCAA Division I lead. The fact that scouts think he has a chance to stick in center only enhances his profile to go along with his raw power.
LHP: Nick Lodolo, Texas Christian (No. 8)
The Horned Frogs' junior has put it all together this spring, pitching to a 2.18 ERA with 113 strikeouts and 19 walks in 91 innings (14 starts) to emerge as the top college arm in a down year for college pitching. A 6-foot-6 lefty, he's topped out at 96 mph with his fastball and usually sits 90-94 while working on a steep plane. His low-80s slider and deceptive changeup give him a pair of quality secondary pitches, with both offerings earning above-average grades from scouts, and his improved feel for repeating his arm slot has resulted in better command.
RHP: Alek Manoah, West Virginia (No. 10)
An imposing presence on the mound at 6-foot-6, 260 pounds, Manoah, after mostly pitching out of the bullpen as a West Virginia underclassmen, led the Cape Cod League in strikeouts last summer while pitching exclusively as a starter. He's continued down that path this spring, pitching to a 1.91 ERA in 14 starts to separate himself as one of the top college arms in the Draft. Featuring a combination of power stuff and command, he'll sit in the 94-97 mph range with sinking action and show a slider that flashes plus at times and has been a reliable weapon for him. He also has a good changeup but hasn't needed it much this spring.